Trump Supporting Roseanne Returns With Giant Ratings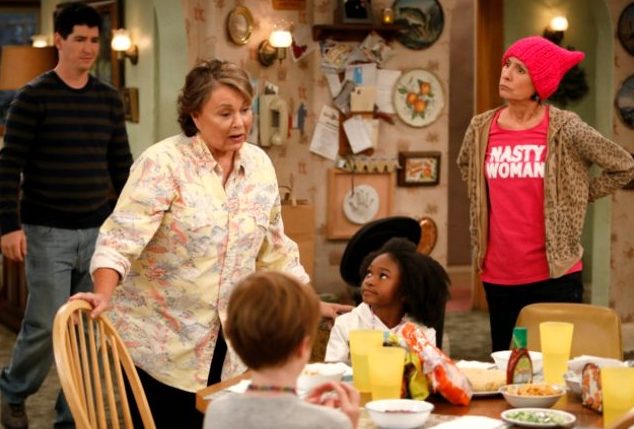 VOTE NOW! Is this Funny or Offensive?
Posted in:
Spoiler Alert: The following contains spoilers from last night's premiere episode, so we apologize for any surprises. It also contains spoilers from the original series run, but that one wrapped in 1997 so if you haven't watched it by now it's not really our fault. 
March 28th, 2018 – Roseanne returned to the small screen last night after fading to black almost 21 years ago. The show has made its revival alongside other network sitcoms that recently got a second greenlight. And just like Will & Grace, it had some storyline roadblocks to contend with.
The season 10 premiere quickly addresses the "death" of Dan as John Goodman jokingly asks "Why does everyone always think I'm dead?" The patriarch is indeed still alive. The writers also set up a world where both actress who played Becky can each take a seat on the old couch again. Sarah Chalke, who took over the role of daughter Becky in 1993 after Lecy Goranson left the show for school, now plays Andrea, a woman who has asked the original Becky to be her surrogate.
These storyline roadblocks turned out to be fairly easy to content with. After all, this is what writers and producers get paid to do. Perhaps more complicated will be how they contend with the audience's reaction to the real life politics of star Roseanne Barr and her character, Roseanne Conner.
The loud, crude, tell-it-like-it-is Roseanne Conner was a revolutionary character when the show originally premiered. While giving a voice to the working middle class, the "Domestic Goddess" also  pushed for progressive ideas and opposed racism and homophobia. Fast forward 20 years, and the show is still tackling complex social issues but now doing it with Roseanne being a Trump supporter.
In an increasingly divided, and often times heated, political world having an actor who once said it was only "59,537 minutes until the Imam in Chief is no longer POTUS" be the catalyst for conversations meant to heal our differences can be a hard pitch to sell.
The truth is that I loved the original #Roseanne, but she isn't simply a Trump supporter.

She's continually made racist statements against Muslims and spreads #Pizzagate and #SethRich conspiracy theories. Sometimes you can't separate the real person from the character. — Nick Jack Pappas (@Pappiness) March 28, 2018
The producers of the show, and even Barr herself, are using her polarizing views as a gateway to the storytelling that can happen for the Conner family.  And it's not going to be as political as people, and most media coverage, has made it out to be.
"People think this show is more political than it is," Sara Gilbert said in a roundtable interview with The Hollywood Reporter. "It's more about how a family deals with a disagreement like that. But I get it, it creates website clicks."
"I wanted to do it this way," Barr said in response to a question about having her character vote for Trump. "It's the conversation everybody is having. Families are not speaking to each other. People are still shocked and upset about it. It's the state of our country."
Goranson, who has returned to play Becky, is another voice calling for those who oppose Barr's personal politics to give the 2018 version a chance. As a self-professed "proud feminist" who disagrees with Barr on a variety of topics, she believes the show shouldn't be diminished simply because the star is a polarizing figure.
"The fact is, the hero is not a hero at the beginning of her story," she wrote in an article titled "RECKONING WITH ROSEANNE, MY TV MOM. "That is the purpose of her journey and narrative: Whether 'Roseanne' becomes a hero by the end of season 10. And that is debatable. But maybe it is worth debating."
"Like any great drama, Roseanne holds up a mirror to the American family. The Conners not only struggle with outside circumstances, they struggle with each other. And more than hate or criticism, I often hear from fans who say that watching Roseanne with their respective families gives them permission to address uncomfortable and painful issues with authority, sincerity, and moreover, humor. I hope, even in this chaotic and often isolating social-media climate, that our show continues to allow for cathartic discussion among its viewers."
So far, the show has opened the door for those very conversations. Whether it's Jackie and Roseanne mending a year-and-a-half long fight over their voting choices or Dan trying to learn how to best support his grandson who wears girls' clothing, the difficult conversations are taking place. The rest of the season will tackle other issues such as healthcare, the opioid crisis, race, and many other problems that showrunner Bruce Helford says other comedies wouldn't even go near.
And with 18.2 million viewers tuning in to last night's premiere, it seems like people are more than willing to let the Conners battle it out. The show also landed a 5.1 rating for the 18 to 49 demo.
Roseanne will air seven more episodes to round out its first season back in primetime.
What do you think of the return of Roseanne in the age of Trump? How do you reconcile your feelings about an artist with the work that they produce?