UK Lush Staff Goes Naked For New Package-Free Stores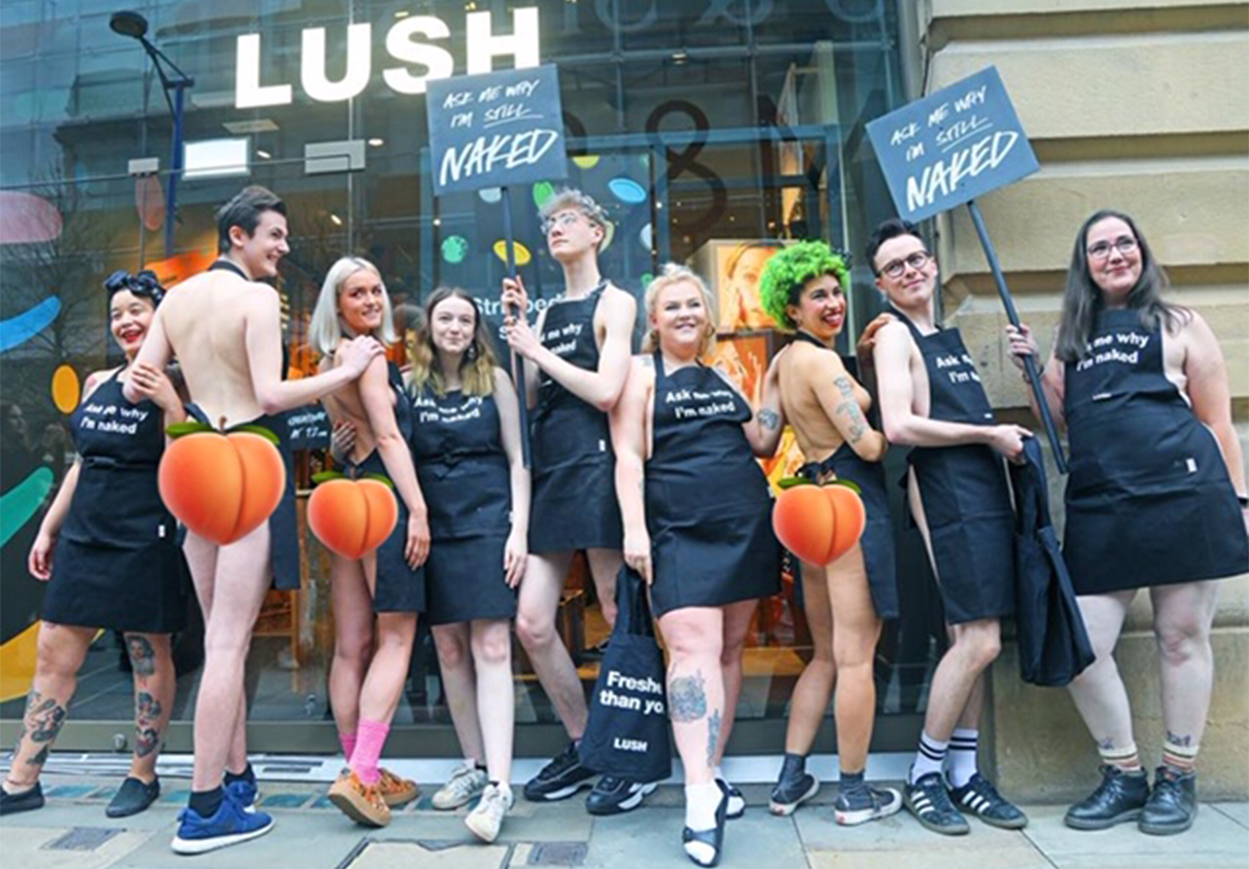 VOTE NOW! Is this Funny or Offensive?
Posted in:
"Ask Me Why I'm Naked"
January 25th, 2019 – Lush employees celebrated the birth of their package-free products by going to work in their birthday suits. Manchester's Market Street location officially re-opened last week as a "naked shop," meaning their handmade bath and beauty products are no longer sold in plastic bottles.
And if you went to their shop last Friday to snag some bath bombs, your sales associate would be happy to assist – wearing only an apron. The "cheeky" marketing idea is actually nothing new for the cosmetics company. In 2017, locations across the United States and Canada allowed willing employees to, umm, work without any restraints.
The Manchester location is the first Lush Naked store in the United Kingdom. After successful launches in North America, Milan, and Berlin, the company set their sights on a heavily visited shop in the UK.
"Today Lush Manchester lost the pot and went naked, becoming the first UK store to be completely packaging-free," a spokesperson for Lush Manchester said! "Today the staff wear nothing but aprons to highlight how plastic waste is still a global environmental crisis."
Since we're all up to speed on what being naked means in human form, Lush has given some information on what providing naked products means. The majority of their products, including bath bombs, shampoo bars, and massage bars, now have no packaging and no synthetic preservatives to keep them fresh.
Back in 2007, the company debuted their naked approach (both in body and business). They stressed the magnitude of the plastic problem our world doesn't often see as 55 shops across the UK stripped down.
"In just one year, a single person uses up to 200 pounds of plastic, 60 pounds of which are immediately thrown away," a Lush press release states. "The overuse of packaging is a huge problem: it takes a lot of energy, water and natural resources to produce packaging, and when we simply throw it away, it pollutes our environment, puts wildlife at risk and piles up in landfills where it can take centuries to decompose."
If you're ordering something online, your product will arrive in 100% biodegradable materials. In-store, you're encouraged to bring your own reusable container, but shops will also offer a "wall of ethically-sourced swag, regenerative containers, and vibrant Knot Wraps ensures your favourite, plastic-free goodies will get home ship shape."
While the freeing approach has raised some disapproving eyebrows, Lush maintains that they already have positive environmental results. For them, that's proof that their naked marketing approach was worth it.
In 2017, Lush customers saved 800,000 bottles from going to landfill.
"As a company, we tend to go all the way for causes we believe in," Brandi Halls, Director of Brand Communications, said in 2017. "If flashing our bums inspires consumers and industry to reconsider their packaging practices, then we'd say it's definitely worth a few blushes."
What do you think of the cheeky marketing tactic to promote Lush's "Naked" shops? Funny or Offensive? Vote and comment now…