Hillary Clinton Murals With Bikinis and Burqas Deemed Offensive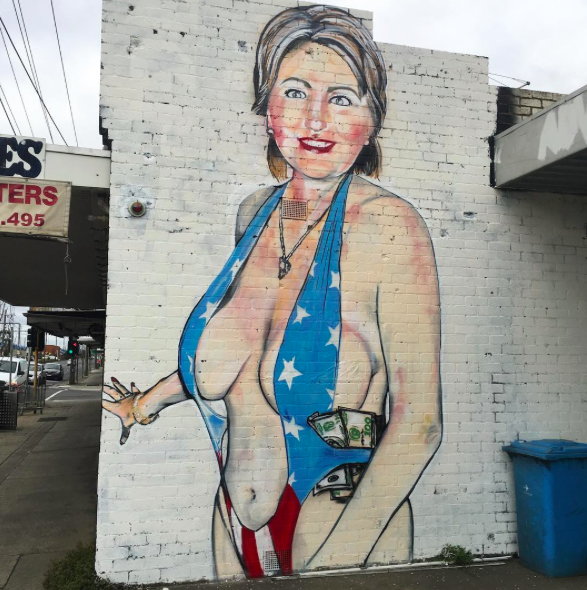 VOTE NOW! Is this Funny or Offensive?
Posted in:
Painting With A Broad Brush
August 1st, 2016 – It's not often that a graffiti artist vandalizes their own work, but that's exactly what Australian painter, Lushsux, did after his original mural of a bikini-clad, voluptuous Hillary Clinton drew criticism and protests. Lushsux's version of the first female Democratic Presidential nominee shows her wearing a patriotic swimsuit which leaves little to the imagination and shows where she keeps her cash donations.
The mural is on the side of a building in Melbourne; a city that has seen many controversial murals pop up lately. Lushsux had previously debuted "The Dongald" which showed what you would think, and he also provided an edit to that piece where Hillary's face is covering a certain area on Donald's body. According to HeatStreet, the Maribyrnong Council sent a letter to the bold artist declaring the Hillary mural offensive and clearly stating that they will take action to secure its removal.
Lushsux also had his Instagram account removed temporarily, prompting him to create a secondary one where he states "censorship sucks." In an effort to get in front of the story and make it work to your advantage, he decided to paint over Hillary's body and face leaving only her eyes visible. This re-imagined re-imagining of Hillary shows her wearing a burqa with the words "IF THIS MUSLIM WOMAN OFFENDS U, U R A BIGOT, RACIST, SEXIST ISLAMOPHOBE."
Currently the mural and the artist's social media presence are still up and drawing attention. A video of the mural being updated was uploaded to @lushsux2's account this afternoon and has racked up over 17,000 views. Using the caption area, the painting button-pusher flips the coin and deems anyone who finds the Muslim woman offensive as "a sexist, racist, islamophobic, xenophobic, uncultured and ignorant bigot."
Perhaps the number of times these murals get re-imagined will be the speak to question of where to draw the line and who gets to decide where that line lives. Even with one change, plenty of people have already voiced their opinions.
What do you think of the murals? What would you have done if you were the artist?