The 2019 Vladimir Putin Calendar Is Here, And, Yes, He's Shirtless Again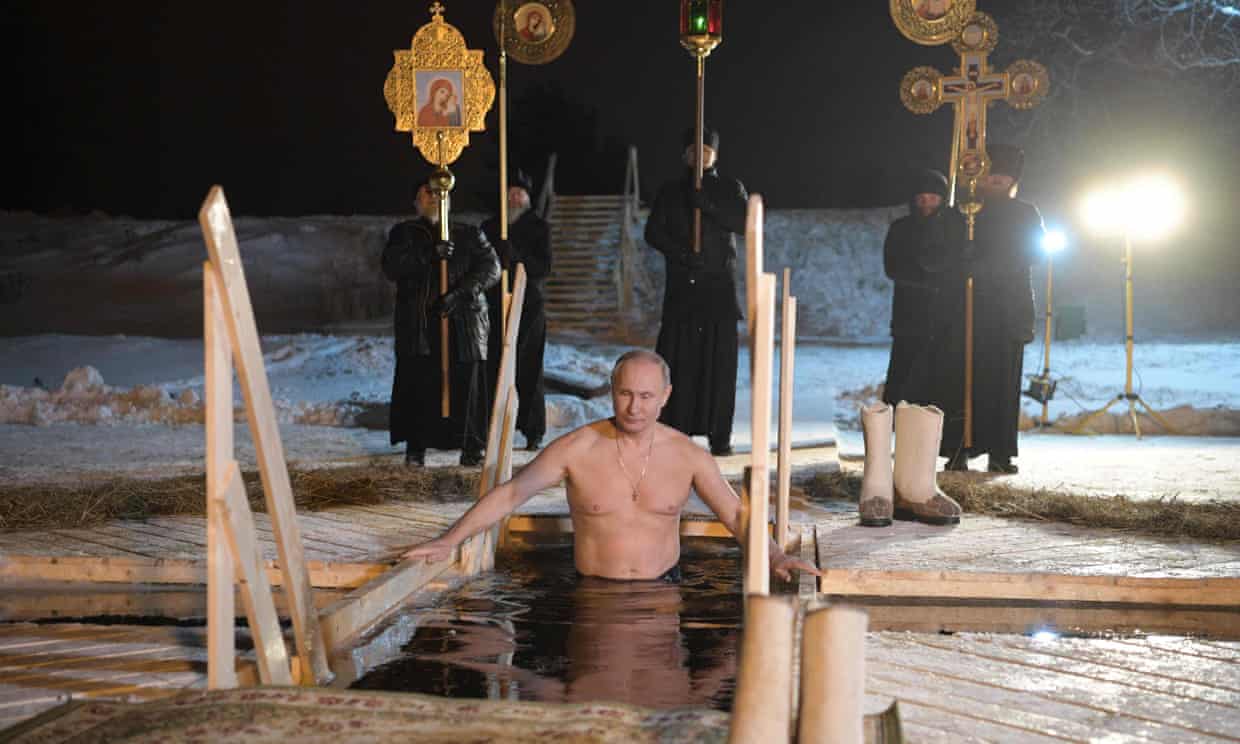 VOTE NOW! Is this Funny or Offensive?
Posted in:
What A Year
October 9th, 2018 – 2019 is still 85 days away, but you can get your annual Vladimir Putin calendar ready for display today. The Russian president has graced the cover for several years, and the upcoming months again find him showing off his love of sports, animals, guns, and posing shirtless.
Putin has reigned over Russia as either president or prime minister since 1999. The calendars, much like the state-run media, serve to cement an image of strength, power, and camaraderie to citizens as they make their Christmas wish-lists. In past years, Putin has taken on the four seasons by sharing photos of himself practicing martial arts, fishing topless, and of course, holding kittens.
Non-Russian media reports haven't nail down the actual source of the calendars, but we're guessing that with the Kremlin's relationship with propaganda and control the 12-month beauties wouldn't be sitting at kiosks if the government had any objections. CNN reported that the 2019 version aims to counter the recent failing popularity of Putin by positioning him as a "man of the people."
To accomplish that task, Putin is shown playing hockey, biking, cuddling a cub, and even taking an icy plunge at Lake Seliger to mark the Russian Orthodox Epiphany.
Putin seems to recognize the benefits of a good photo-op, and he certainly knows how to use a prop to his advantage. He famously brought his black lab to a 2007 meeting with German Chancellor Angela Merkel, who has long had a well documented fear of dogs. This time around, another dog was used to merge Putin's strong and softer sides.
The plan seems to have worked on some citizens as they hoisted their glossy president over other world leaders.
"I think not many countries have a president as strong as ours," one Russian woman said as she looked at the 2019 calendar. "And I think many people would like to have such president in their countries. And it's always good to see and hear from our president. His statements and appearances are always so well done.
Not everyone agreed, however, as some bookstore and kiosks owners believe that the calendars are primarily popular among tourists and Russian lawmakers.
"I'm sick of them, I don't want to sell them anymore," kiosk seller Valentina Lebedeva told The Daily Mail. "Who likes (this president?)…not ordinary people!"
Last year's calendar was sold to Russians at kiosks for 95 cents. This year, those outside the Red Square can snag a copy from Amazon for around $15.
What do you think of the 2019 Vladimir Putin calendars? Funny or Offensive? Vote and comment now…