Weather Lady Forced to Put on Sweater When Viewers Can't Handle Her Little Black Dress (video)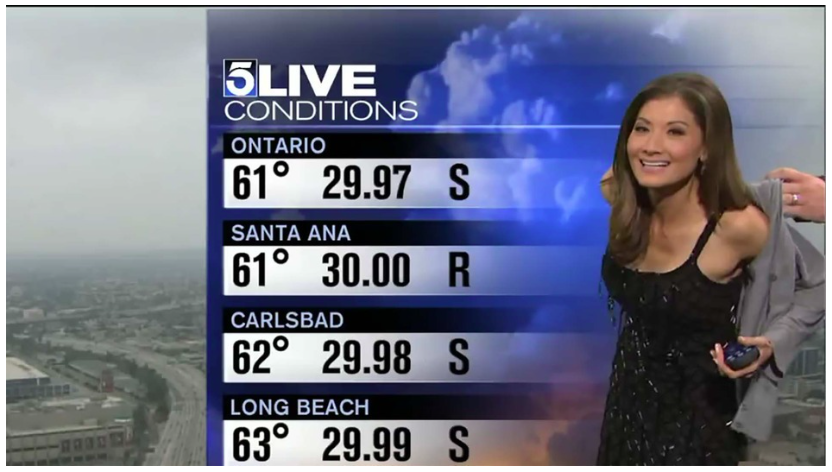 VOTE NOW! Is this Funny or Offensive?
Posted in:
Forecast Calls for a Cardigan with a Possible Chance of Sexism 
"We're getting a lot of emails."
"What," she asked? "Whats going on? You want me to put this on? Because it's cold?"
"We're getting a lot of emails," Burrous said.
She appears to be surprised and confused but goes ahead and lets Burrows place the little black dress chaperone over her arms. "I look like a librarian now," Chan observed while Burrows replied with "That works!"
What followed was KTLA getting a whole lot more than some emails. The story went viral and Twitter and Facebook exploded with their take on "sweatergate." Viewers of the original story as well as viewers of the now story about the story had a lot to say.
@CGBPosts its the weather. U dont show blatant t&a on the news. And none of the men wear spandex shirts and crotch hugging pants.#sexist — richard david (@richiedvd0009) May 14, 2016
@LizMillerVA32@libertechan@Heather_Poole@KTLAMorningNews@AidanMattox it's a place of work. Not a cocktail lounge. Unprofessional

— peter whittaker (@petew77) May 16, 2016
@TheChoons@libertechan@KTLAMorningNews@AidanMattox@PistolandStamen if I were her friend, I would tell her she doesn't look appropriate.

— Olga Coulter (@olcoiu) May 15, 2016
Gersh Kuntzman of New York Daily News called out a lot of problems with the airing:
Even if KTLA was getting 1,000 emails a minute and was threatening to crash Google's secret servers, who is Chris Burrous to undermine his colleague? Imagine

how you'd feel at the office if a co-worker mocked your work

in front of everyone (my reaction is always the same: "Isn't that a job for the boss, not you?"). Until your co-workers can fire you, their job is to say, "Great job today," and move on.
Chan took to her personal blog to share her own thoughts on the matter. She explains that the sparkly black dress was actually a backup option, because the pattern on the original black and white dress was problematic with the weather wall. She also spends a great deal of time defending the station, her bosses and her co-worker.
The news team has maintained that there is no controversy at the station and no feelings of sexism between any on-air talents. But in an age where "mansplaining" articles are just as prevalent as Presidential campaign articles, this incident was certainly a conversation continuer.
Watch the awkward situation unfold here courtesy of Liberté Chan and KTLA:
What's your take on sweatergate? Was the on-air interruption to cover up a meteorologist with a cardigan Funny or Offensive? VOTE and COMMENT below…