10 Memorable Jokes From The White House Correspondents' Dinner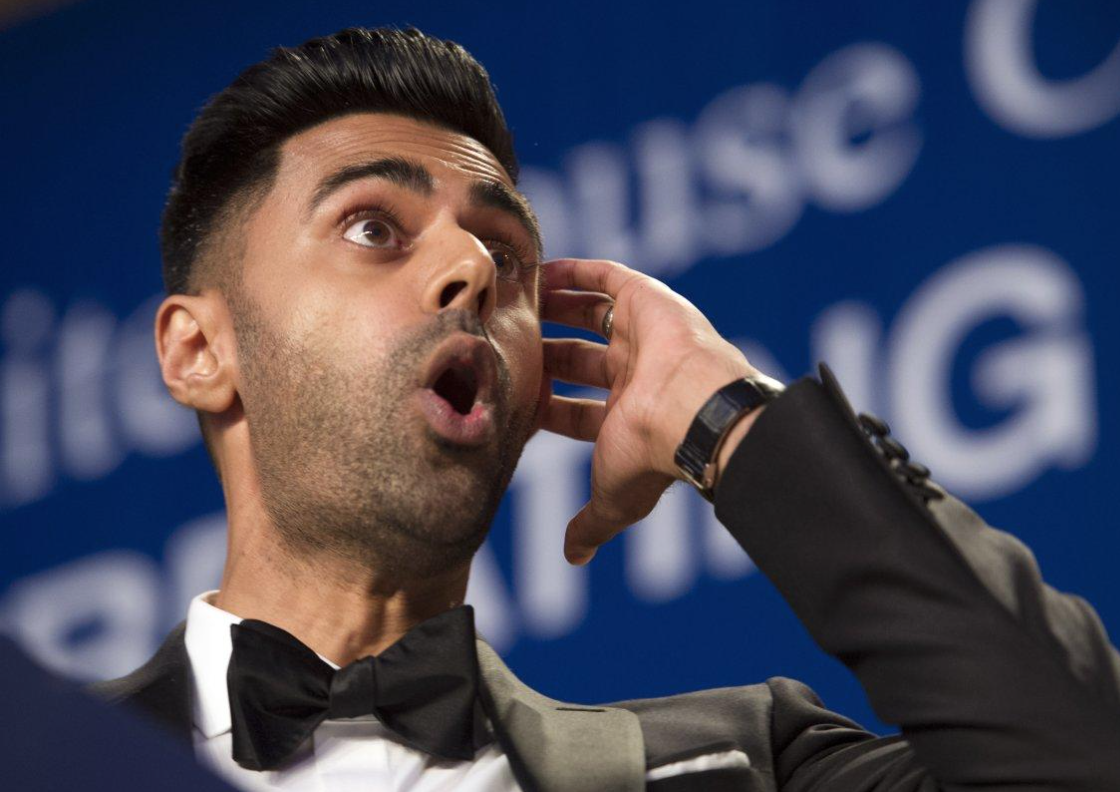 VOTE NOW! Is this Funny or Offensive?
Posted in:
And the Not the White House Correspondents' Dinner, Too
April 30th, 2017 – There were essentially two White House Correspondents' Dinner Saturday night, but absolutely not one president in attendance. Jokes and pointed critiques reigned supreme at both the traditional White House Correspondents' Dinner and Full Frontal's Not The White House Correspondents' Dinner. Hosting the former was The Daily Show comedian Hasan Minhaj who capitalized on President Trump's absence. Samantha Bee hosted the alternative event and shared in Minhaj's target, also aiming hard at CNN, Fox News and Mike Pence.
Samantha Bee and her team had planned the Not The WHCD before Trump made the announcement that he would skip out on the event – instead holding a campaign-style rally in Pennsylvania. Being the first president to miss the dinner in 36 years, there was a lot of roasting by Bee alongside comedians, musicians and directors. The roasting was paired with a focus on empowering the free press and highlighting the Committee to Protect Journalist, which was gifted a $200,000 donation from ticket sales.
Minhaj didn't let the irony of a "first generation Indian-American Muslim kid" being able to get on a stage and make fun of the president pass him by. He categorized the event as an incredible tradition reminding everyone that the dinner proves that even the president is not beyond the reach of the First Amendment.
The reach of the First Amendment was anchored with jokes Saturday night. Lots and lots of them. Take a look at the 10 most memorable jabs Minhaj and Bee slung in and at Washington.
1. Minhaj wonders where our president is:
"The leader of our country is not here, and that's because he lives in Moscow. It's a very long flight. It would be hard for Vlad to make it. It's a Saturday.

As for the other guy, I think he's in Pennsylvania because he can't take a joke."
2. Bee kept the ill-fated Fyre Festival in the news:
"You sold people on huge expectations and lies, but all you've managed to do in 100 days is invite a bunch of rich wankers to town and deliver a dangerous, poorly executed shit sandwich. You're basically the presidential Fyre Festival."
3. Minhaj drills Trump on joke-taking again:
"I would say it's an honor to be here, but that would be an alternative fact. It is not. No one wanted to do this, so of course it lands in the hands of an immigrant. That's how it always goes down. No one wanted this gig! No one. Don Rickles died just so you wouldn't ask him to take this gig. RIP to Don Rickles, the only Donald with thick enough skin to take a joke like that. RIP to the legend."
4. In a pre-taped segment, Bee had some famous friends throw the shade:
Carl Reiner: "I was in Ocean's 11, a movie about a casino heist. Trump didn't find the movie believable because it revolved around a casino that was actually making a profit."

Billy Eichner: "You ever notice Betsy DeVos and a duffel bag of orphans' bones are never seen in the same room together? Makes you think."
5. Minhaj drops a mother of all bombs:
"Historically, the president usually performs at the correspondents' dinner, but I think I speak for all of us when I say he's done far too much bombing this month."
6. Bee goes after head of CNN, Jeff Zucker:
A clip of Zucker commenting on CNN's coverage: "You can call it entertainment. You can call it a reality show. But there was news in it almost every time."

Bee's response: "Almost every time? CNN gives you news like your shitty boyfriend gives you orgasms. Either way, you wind up lying in the wet spot and he's snoring."
7. Minhaj reminds us about Kellyanne Conway:
"Even if you guys groan, I've already hired Kellyanne Conway. She's gonna go on TV Monday and tell everyone I 'killed.' It really doesn't matter."
8. Bee gives an In Memoriam:
"Let's pause now to remember what we've lost," Bee joked. "Two media titans who were snatched—sorry—taken from us. Far too late."
9. Minhaj picks a fight with "mother."
"Mike Pence wanted to be here tonight, but his wife wouldn't let him because one of you ladies is ovulating."
10. Bee drills joke-fleeing Trump again:
"The maker of American greatness again ran away from the Vietnam war, he ran away from two Republican debates, and now he's run away from the Correspondents' Dinner. I guess we know why he wears those lumpy, ill-fitting, old man pants: It's because he's constantly shitting himself. It just goes to show you: A giant pussy can get elect President, as long as he doesn't have one."
What did you think of the White House Correspondents' Dinner and Bee's Not the White House Correspondents' Dinner? Did any jokes go too far? Should President Trump have faced the jokes? Give us your thoughts!