Immigration Hotline Flooded With Prank Calls About Space Aliens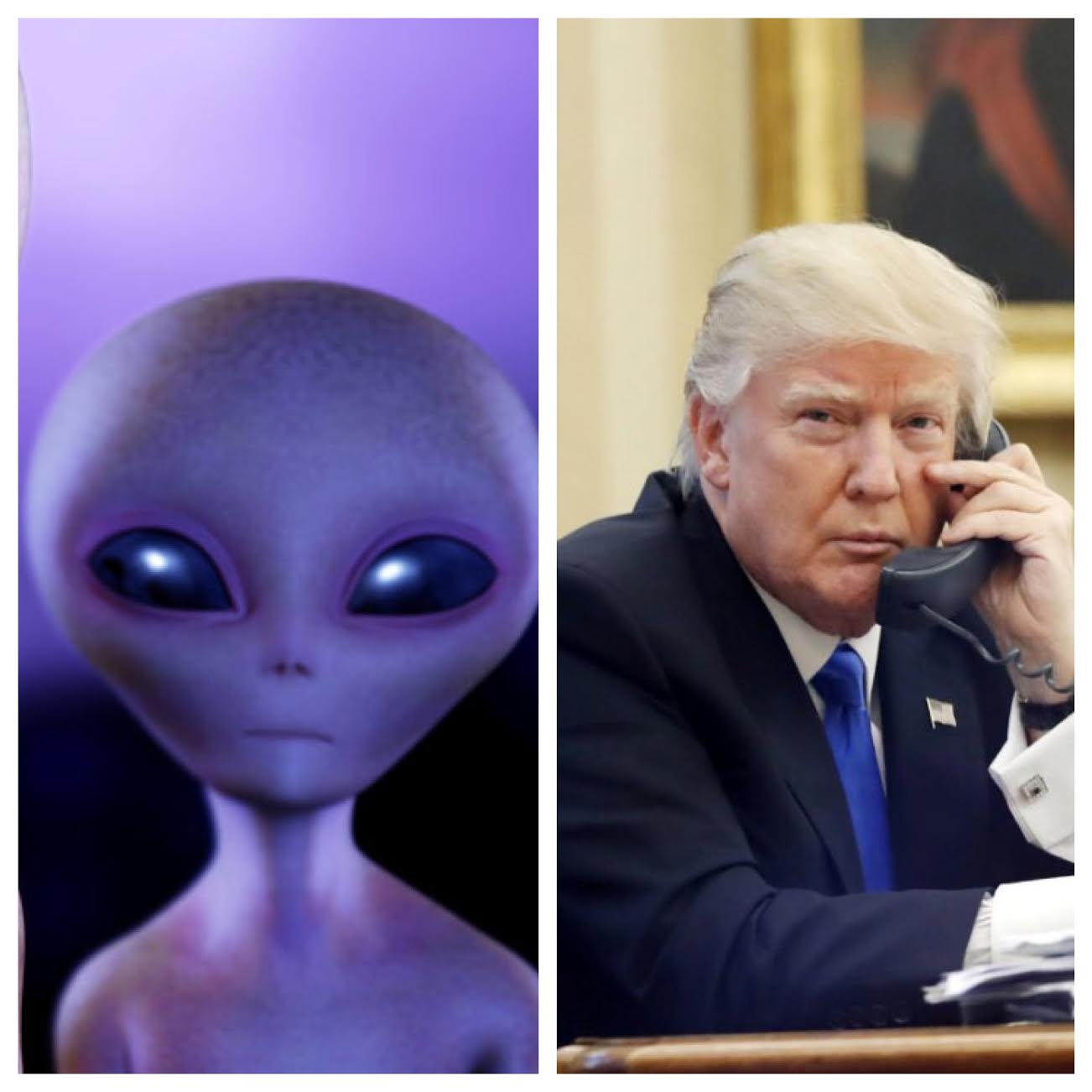 VOTE NOW! Is this Funny or Offensive?
Posted in:
UFOops
April 30th, 2017 – During the 2016 presidential campaign, Trump surrogates urged people to take then-candidate Donald Trump "seriously" but not "literally." Their messaging may need to change after people jokingly took the now-president extremely literally when he asked them to call the VOICE hotline if they've been victims of crimes at the hands of illegal aliens. The problem: they announced this initiative on National Alien Day. The other problem: people troll hard.
Twitter began sharing the hotline number and encouraged users to call in and share their encounters with aliens of the extraterrestrial variety.
Wouldn't it be a shame if millions of people called this hotline to report their encounters with aliens of the UFO-variety. https://t.co/Cl048Gihnk

— Alexander McCoy (@AlexanderMcCoy4) April 26, 2017
1-855-48-VOICE

I plan on calling every day to report how badly these green aliens from outer space are treating me. How about you?

— Jean Bonifacio (@Jeaniebonotex) April 26, 2017
Alexander McCoy is a veteran of the Marines and spoke to BuzzFeed News about his civic participation in the administration's new initiative. He said he called Wednesday afternoon and waited about 20 minutes before telling an operator he had been abducted by a UFO. The vet said it took the person on the other end of the line a little while to get the joke and then, after a heavy sigh, the operator told him he should wait for the DHS to investigate the report. Click. "I plan to call again tomorrow," McCoy told BuzzFeed.
"I think it's powerful to see the response there's been," he added. "I think there are a lot of people who have been searching for something they can do to speak out, and I'm glad that so many people are showing solidarity with the immigrant community."
The deluge of creative calls continued throughout the week as people decided to report all kinds of encounters. There was Melania victimizing tax paying citizens, a "Most Wanted" list that includes Superman and E.T., Big Foot terrorizing the U.S./Canada border, and even an orange colored alien spotted at a famous D.C. address.
@AlexanderMcCoy4 They hung up on me. I reported I was being victimized by an immigrant living in NYC on my tax dollars. I feel like they'd heard it already

— Helena (@gohexyourself) April 26, 2017
@ALT_uscis @DHSgov They did not think I was funny, but I cracked myself up when I called.

— Helena (@gohexyourself) April 26, 2017
If any of you need to report space aliens to our government, please call their hotline: 1-855-48-VOICE. Here are some of their Most Wanted: pic.twitter.com/nWnVYdDdpG

— Steven Santos (@stevensantos) April 27, 2017
Don't forget to call 1-855-48-VOICE & let them know if you've seen the illegal alien Sasquatch (aka Big Foot), on the ??/?? border ! pic.twitter.com/pAfOOR0ZqS

— Jordan (@_Jordan_J_) April 27, 2017
somebody call 1-855-48-VOICE, an orange colored, toupee wearing alien in a bathrobe has been spotted at 1600 Pensylvania Ave ?#AlienDay

— modrax (@modrax) April 27, 2017
VOICE, Victims of Immigration Crime Engagement, was announced back in January when President Trump signed an Executive Order on immigration. ICE officials stated that the VOICE hotline would employ 21 community relations officers and 27 specialists in victim assistance. No budget was provided for the office, but officials claimed it would be funded with existing resources.
Critics of the office worry that this will only unfairly target a certain group of people (who are statistically less likely to commit crimes than American citizens) and further raise the number of hate crimes.
ICE officials, however, don't approve of the methods being used to voice opposition to the initiative. They spoke to BuzzFeed News and suggested the prank calls have hampered the intended purpose of the service.
"There are certainly more constructive ways to make one's opinions heard than to prevent legitimate victims of crime from receiving the information and resources they seek because the lines are tied up by hoax callers," an ICE spokesperson said.
He added that they may adjust resources if the hoax calls continue to dominate. Current "alien voice hotline" searches on Twitter seem to suggest that the calls are still rolling in.
more pesky aliens… where's that hotline… i needa CALL SOMEBODY

1-855-48-VOICE pic.twitter.com/3NTpfUvle7

— ~Robin White~ ? (@Str8S1xx) April 29, 2017
Trump's VOICE hotline for reporting immigrant crimes has been overwhelmed with calls about space aliens!

Good work people! hahahaha!

— InxsySparxs (@InxsyS) April 27, 2017
Do you think the space alien calls to VOICE cross a line? Or is this a clever way to resist an agenda you disagree with? Funny or Offensive? Vote and comment below.