Woman Found Guilty for Laughing at Jeff Sessions Faces Year in Prison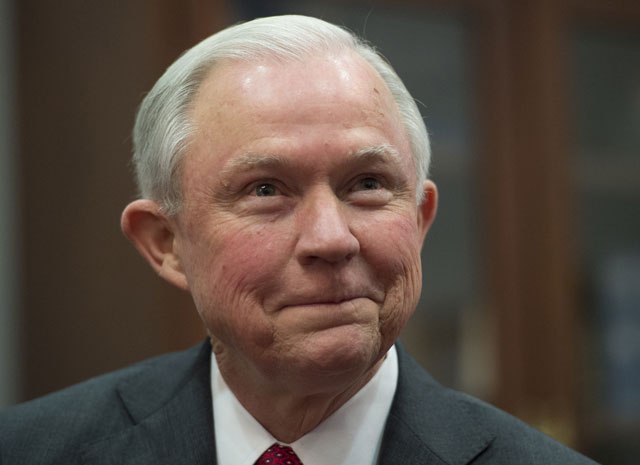 VOTE NOW! Is this Funny or Offensive?
Posted in:
Nevertheless, She Snickered
May 3rd, 2017 – This is no joke – a woman may face jail time for laughing at Jeff Sessions during his Senate confirmation back in January. Code Pink activist Desiree Fairooz attended the hearing for now Attorney General Sessions and reacted with laughter when Sen. Richard Shelby (R-AL) introduced the controversial nominee by saying his history showed "treating all Americans equally under the law is clear and well-documented."
Sessions' voting history, his critiques of the Voting Rights Act of 1965, and his denial of a federal judgeship in 1986 were highlighted by people protesting his nomination. He voted against hate crime legislation seeking to protect members of the LGBTQ community saying "Today, I'm not sure women or people with different sexual orientations face that kind of discrimination. I just don't see it." He also said he believed the Ku Klux Klan was OK until he learned its members smoked marijuana – Sessions later claimed this was simply a joke.
Federal prosecutors don't seem to be interpreting Senator Shelby's introduction as a joke and therefore classified Fairooz's laughter as "'disorderly and disruptive conduct' intended to 'impede, disrupt, and disturb the orderly conduct' of congressional proceedings."
Fairooz's defense combats these charges by saying her laughter was merely a reflex. She was reacting to the moment and did not have any planned intention to disrupt the hearing. They also focus on her placement in the room and conclude that with her being in the back of the room her laughter had seemingly no impact.
David Stier, a Justice Department attorney arguing for the prosecution in the D.C. Superior Court, said "A number of heads turned around because it was loud. I would submit that laughter is enough, standing alone," to warrant a charge.
Fairooz, a 61-year-old long-time activist, admits to using disruptive tactics in the past. While protesting the Iraq War, she used fake blood on her hands and confronted then–Secretary of State Condoleezza Rice. This incident of laughter, however, is deemed by her attorneys as "totally spontaneous," "unintentional," and could "barely" be heard on the C-SPAN coverage.
Fairooz was joined by two other members of the group Code Pink, Tighe Barry and Lenny Bianchi, at the hearing, and they were dressed in Ku Klux Klan gear pretending to be Sessions supporters. Fairooz claims her only vocal disruption came while being escorted out of the hearing by Capital police. "I was going to be quiet and now you're going to have me arrested?" she said. "For what? For what? He said something ridiculous. [Sessions'] voting record is evil."
Another protester escorted out of Sessions hearing. Her original offense appeared to be simply laughing. pic.twitter.com/p6lWzBVFRW

— Ryan J. Reilly (@ryanjreilly) January 10, 2017
Fairooz faces a fine of up to $500 and up to six months in prison for cackle-gate. She is also charged with another misdemeanor for "allegedly parading, demonstrating or picketing within a Capitol, evidently for her actions after she was being escorted from the room."
*UPDATE: Fairooz was found guilty on two counts: one for engaging in "disorderly or disruptive conduct" with the intent to disrupt congressional proceedings and a another count for parading, demonstrating or picketing. "She did not get convicted for laughing. It was her actions as she was being asked to leave," a jury foreperson said.
Do you think laughter inside a confirmation hearing is grounds for prosecution? Will the free speech crowd be on Fairooz's side? Give us your thoughts!