A Look Back At SNL's "It's Pat" and the Trans Community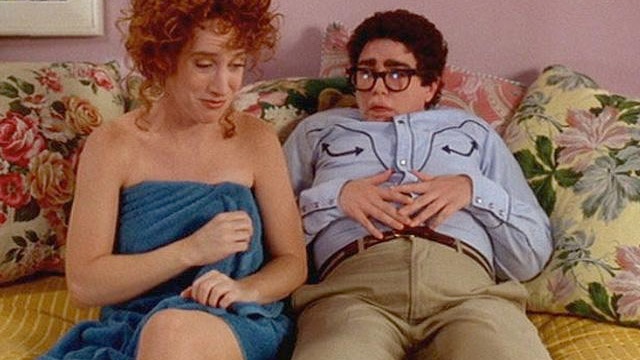 VOTE NOW! Is this Funny or Offensive?
Posted in:
Anti-Trans Propaganda?
September 14th, 2017 – SNL is no stranger to controversy, and in its 42 seasons has had to deal with accusations of sexism, racism and now transphobia. The complaint came from Jill Soloway during a panel on transgender representation on TV at the Television Critics Association press tour last month. The Transparent creator, who identifies as non-binary, was asked about the first time they saw themselves represented on TV in a way that broke her heart.
Their response was SNL's sketch from the 90s called "It's Pat." If you're trying to picture what a character named Pat on a sketch show in the 90s would look like, you're probably pretty close to the image makeup and wardrobe put together. Pat wore bunched-up khakis, a button-down shirt, and large, thick black glasses with a strap going around tightly wound curls.
Pat's appearance, body language and way with words left everyone wondering if she was a man or a woman. Pat was a ma…person…about town – making people uncomfortable at the gym, the barbershop, the drugstore, the office and many locations in a feature-length film. Touchstone Pictures released It's Pat in 1994 with the tagline "The comedic misadventures of a person of indeterminate gender."
The running goal of any Pat sketch was for the people around the gender-confusing character to work through a series of questions in order to figure out the male/female mystery. Pat, ever the ambiguous figure, gives vague answers with a side of annoying laughter.
According to Soloway, that presentation was a cruel representation of gender. The I Love Dick creator also put a lot of blame on how the supporting characters reacted to Pat saying the treatment was a "hateful, hateful, awful thing to do to non-binary people — to create this character that the whole world laughed at openly."
Pat sketches opened with a jingle that sets up the he or she debate:
A lot of people say, "What's that?" It's Pat!
A lot of people ask, "Who's he? Or she?"
A ma'am or a sir, accept him or her
or whatever it might be.
It's time for androgyny.
Here comes Pat!
Soloway reflects back on the time period and recognizes that, during the 90s, people may have not understood the anti-trans message she now believes "It's Pat" sent.
"We didn't understand that at the time, but looking back at that, what an awful piece of anti-trans propaganda that was handed out for many, many years," they said. "So, that's one that I look back at with a lot of sadness, that that was part of our culture."
Do you think SNL's "It's Pat" sketches unfairly targeted the transgender community? Would that character be accepted on a late-night sketch show if it aired today? Give us your thoughts below…