Anti-Semitic Cartoon Contest Opens in Iran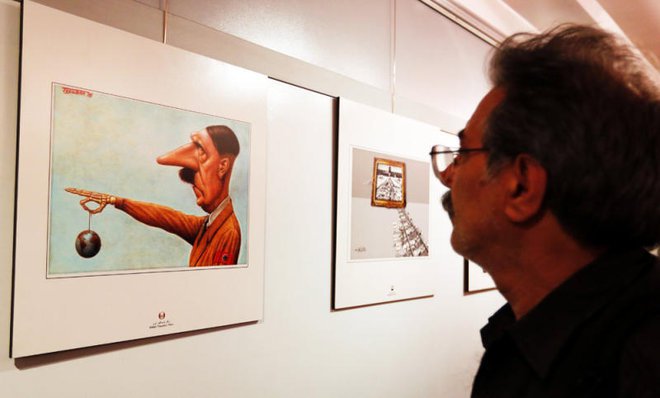 VOTE NOW! Is this Funny or Offensive?
Posted in:
Anti-Semitic Cartoon Contest Opens in Iran
May 20, 2016 – A competition of anti-Israel artwork opened this week in the capital of Iran, Tehran. Hundreds of entries from more than 50 countries around the world are on display in the exhibition, many of them featuring Israeli Prime Minister Benjamin Netanyahu. Although the Iranian government claims no involvement with the event, not much happens in the country without government approval. When asked why the government allowed the exhibition, Foreign Minister Mohammad Javad Zarif replied "Why does the United States have the Ku Klux Klan?" He added, "Is the government of the United States responsible for the fact that there are racially hateful organisations in the United States? Don't consider Iran a monolith. The Iranian government does not support, nor does it organise, any cartoon festival of the nature that you're talking about."
Competition organizer Massoud Shojaie Tabatabaie said "We are not seeking to confirm or deny the Holocaust." Later he said the exhibition was an artistic rebuttal to the cartoons depicting the Prophet Mohammed by French satirical weekly Charlie Hebdo, which was attacked by Islamic extremists last year.
In speaking with the Times of Israel, World Jewish Congress President Ronald S. Lauder said that he was "disgusted" Iran was again staging a global competition "showcasing cartoons denying and mocking the Holocaust."
"The Iranian government is making a mockery of itself and of the international community by allowing this Holocaust denial cartoon competition to be held under its auspices. Iran is constantly trying to convince the world that it has softened its edge and is ready to become a moderate member of the international community. The current government repeatedly distances itself from former President Mahmoud Ahmadinejad's desire to 'wipe Israel off the map,' saying that it has turned over a new leaf and poses no danger to the world."
Perhaps surprisingly, Tabatabaie was also behind an international exhibition of anti-Islamic State cartoons which featured images of  "top jihadists" as well as caricatures of Western and Arab leaders.
Israel marked Holocaust Remembrance Day earlier this month as well as the 68th anniversary of its formation.
The best cartoon will be awarded $12,000.