Barbra Streisand Under Fire For Sharing Gory Trump Political Cartoon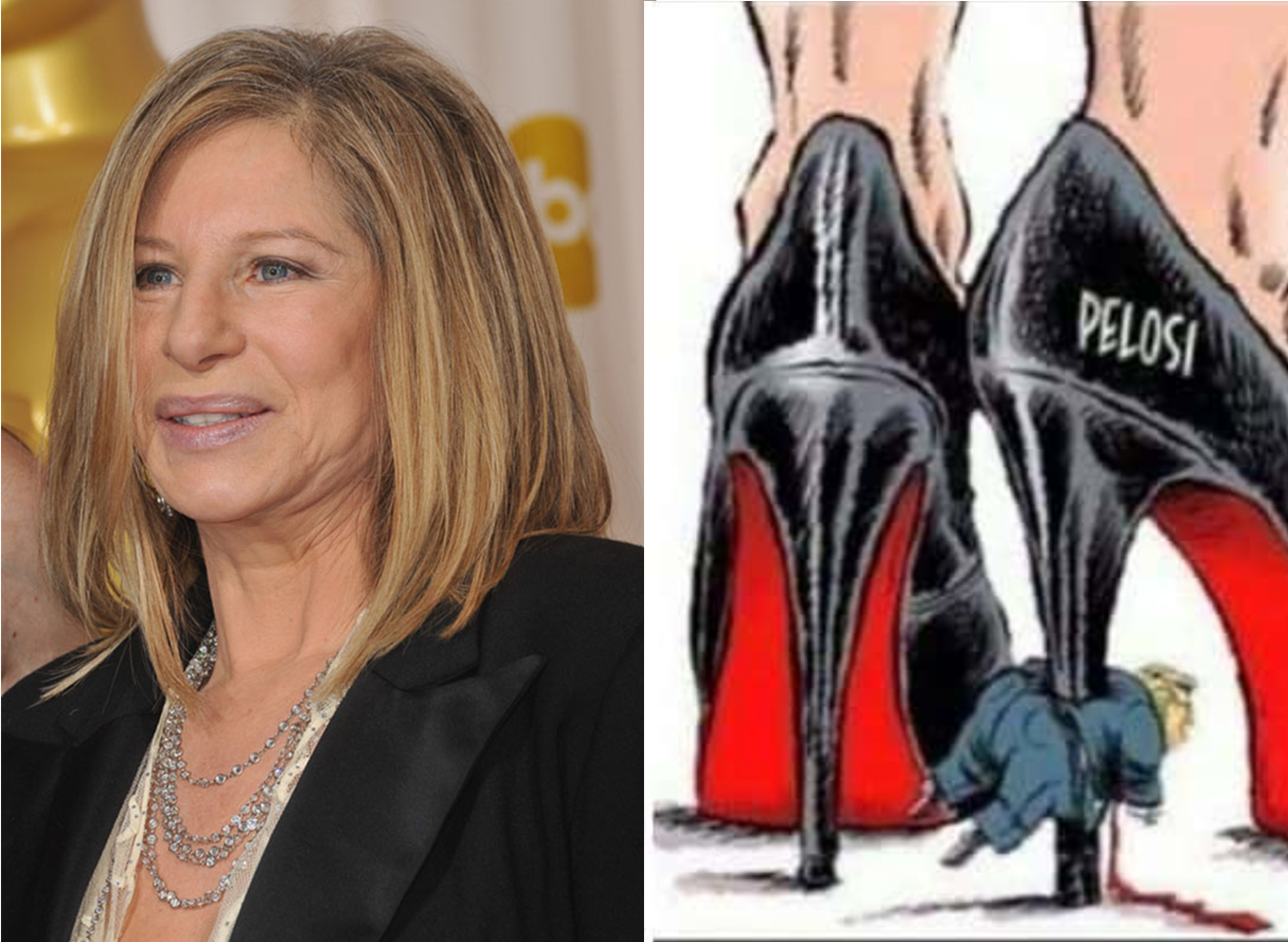 VOTE NOW! Is this Funny or Offensive?
Posted in:
Pierced President
October 23rd, 2019 – Barbra Streisand may have played a "funny girl" back in the 60s, but not everyone was laughing when she tweeted a gory political cartoon over the weekend. The Oscar-winning singer and actor took to Twitter to share a political cartoon of Nancy Pelosi's heel piercing Donald Trump's bloody body.
The image, which hasn't yet been attributed to any particular artist, shows a giant pair of shoes with "PELOSI" written on the right one. A plump president is then seen face down, impaled by the Speaker of the House.
Streisand didn't write a caption to accompany the image, but it still managed to take off. The tweet has now been liked over 8,000 times and has nearly 2,000 retweets.
October 19, 2019
Streisand has long been an outspoken critic of Trump, often tweeting about his potential removal from office. Last month, Speaker Pelosi announced that the House of Representatives would officially launch an impeachment inquiry after a whistleblower revealed details of Trump attempting to withhold military aid from Turkey unless the foreign government investigated his political rival.
Just one day after she shared the heel-piercing cartoon, Streisand tweeted some more impeachment content. This time, an image of a giant peach crushing Trump accompanied an article titled "The (Full) Case for Impeachment" from New York Magazine.
"One may argue about a narrow or broad impeachment resolution but Trump has committed multiple impeachable acts," Streisand's caption read.
One may argue about a narrow or broad impeachment resolution but Trump has committed multiple impeachable acts. https://t.co/jABlGwWuH4

— Barbra Streisand (@BarbraStreisand) October 19, 2019
Heels trumped peaches in the Twitterverse, and people responded to Streisand with outrage over the political cartoon of an impaled president. Several users called it "sick" and full of "hate" while comparing it to Kathy Griffin's photoshoot of a decapitated President Trump.
Assasinating the president by impaling him with a sharp high heel shoe worn by Nancy P. Wonderful example Barb. At least you, along with your celeb friends, are representing the far left accurately. A disgusting, murderous display of hate.

— Jack Vale (@jackvale) October 19, 2019
Sad to see you become such a hate filled person to post such disgusting posts about ANY President or person for that matter. Don think you would like it if folks displayed such hate on you or your family. To think America admired you at one time

— Jimmy Lee (@Real_JimmyLee) October 20, 2019
Supporters of Streisand pointed to President Trump's actions as the truly offensive thing people should be worried about.
If this is offensive to some .no less offensive what Trump is doing to the country we live in and the world. Someone needs to have the heels to pierce through this madness. #FreedomofExpression

— Leslie Grable (@purplesofa) October 19, 2019
With a cartoon. That she didnt draw. Oh the horror. The real horror is what Trump has done to this loving and open and once respected country.

— Share M Coughlin (@ShareC13) October 20, 2019
Was Barbra Streisand's Trump-piercing tweet Funny or Offensive? Vote and comment now…