Kathy Griffin Holds President Trump's Severed Head In Controversial Photo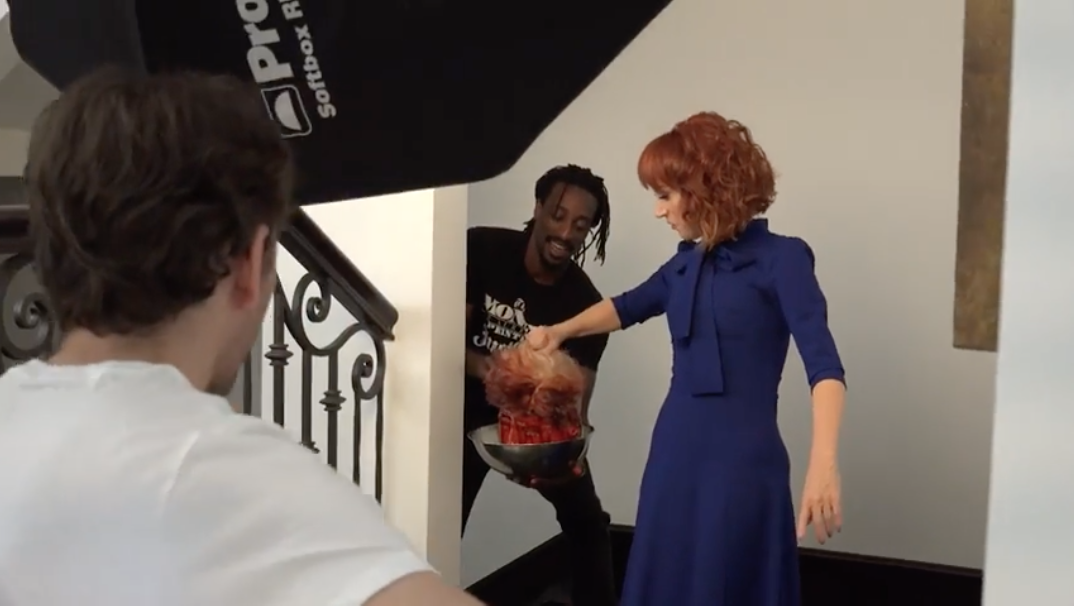 VOTE NOW! Is this Funny or Offensive?
Posted in:
"Mocking the Mocker-in-Chief"
Update: Kathy Griffin released an apology video after sweeping condemnation of the photo. She has asked the photographer to take the photo down and has added in part "I sincerely apologize. I'm just now seeing the reaction of these images. I'm a comic. I cross the line. I move the line. And then I cross it. I went way too far…It wasn't funny. I get it. I beg for your forgiveness. I went too far. I was wrong."

May 30th, 2017 – Kathy Griffin made shock waves after releasing video of her recent photoshoot with Tyler Shields where the controversial comic is seen holding the severed head of President Trump. The bloody image turned some heads, made some people scratch their heads and found others demanding that heads roll.
TMZ obtained photos and behind the scenes footage of the shoot. They noted that Shields, a photographer known for his gory imagery, was comically warned by Griffin that the duo may have to head south of the border after his latests snaps were published.
"Kathy joked that she and Tyler would need to move to Mexico once the pics got released, for fear they'd be thrown in prison."
Knowing the reaction would be fierce, Shields attempted to get ahead of the outrage by saying the imagery is intentionally uncomfortable to serve the purpose of art and that Griffin had wanted to make a bold political statement.
"That's what art is meant to do," he told Fox News. "Some people look at it and they love it. Some people look at it and they hate it… I understand there are going to be people that hate this. It's a very touchy subject… but this is not real. We didn't kill anybody nor do I feel anybody should be killed. It's no different from a movie. It just happens to be a still image."
Griffin herself attempted to preemptively get ahead of the controversy. Taking to Twitter, she said she's titling the piece after Trump's own controversial joke about former Fox News host Megyn Kelly – as then-candidate Trump said Kelly had "blood coming out of her wherever" after he didn't like her debate questions.
1/ I caption this "there was blood coming out of his eyes, blood coming out of his…wherever" Also @tylershields great Photog/film maker. pic.twitter.com/eKqr44NOl6

— Kathy Griffin (@kathygriffin) May 30, 2017
2/ OBVIOUSLY, I do not condone ANY violence by my fans or others to anyone, ever! I'm merely mocking the Mocker in Chief.

— Kathy Griffin (@kathygriffin) May 30, 2017
New York Magazine writer Yashar Ali also spoke with Griffin, who again fell back on the artistic expression defense.
1. Just spoke with @kathygriffin . She said, unapologetically, that the image of her that's gone viral is an expression of art

— Yashar Ali (@yashar) May 30, 2017
2. She believes Trump is doing tremendous damage to the country + the world and she wanted the art to reflect the seriousness of his impact

— Yashar Ali (@yashar) May 30, 2017
3. She said they were putting together a Trump mask and that led her to think of Trump's infamous statement early on in the primary.

— Yashar Ali (@yashar) May 30, 2017
4. The "blood coming out of her eyes, blood coming out of her ears, blood coming out of her wherever" statement.

— Yashar Ali (@yashar) May 30, 2017
5. She also said she does not condone any violence, that provocative art should remain just that: art. She does not want life to imitate art

— Yashar Ali (@yashar) May 30, 2017
Griffin and Shields aren't the only ones getting their opinions out in the open. Everyone from Don Jr. and Keith Olbermann to most likely your friends and your relatives were commenting. And while some drew from "remember whens" and referenced many instances of Obama noose imagery and recent White House visitor Ted Nugent's request for Obama to "suck on my machine gun," a great deal of people from both sides of the political spectrum seem to be condemning the photo.
HELLO IT IS I THE SPOKESMAN FOR THE MEDIA LEFT HERE TO SAY THE KATHY GRIFFIN THING SUCKS AND… IS BAD. PLEASE EMBED THIS TWEET ON BREITBART

— Luke O'Neil (@lukeoneil47) May 30, 2017
No one other than Kathy Griffin is defending Kathy Griffin here, as far as I've seen.

— southpaw (@nycsouthpaw) May 30, 2017
Leftists, tell me again about Trump's violent language ushering in an era of violence https://t.co/AZwANHL4Ti

— Ben Shapiro (@benshapiro) May 30, 2017
Just don't. Not helpful. https://t.co/BHTtolAcLh

— Rick Wilson (@TheRickWilson) May 30, 2017
If you weren't ok with Sarah Palin putting crosshairs on Gabby Giffords's district, don't be ok with Kathy Griffin mock beheading Trump.

— Regi Brittain (@RegiBrittain) May 30, 2017
Disgusting but not surprising. This is the left today. They consider this acceptable. Imagine a conservative did this to Obama as POTUS? https://t.co/QdghcbIjS7

— Donald Trump Jr. (@DonaldJTrumpJr) May 30, 2017
Nope. Too much. By a very long distance, way too much. https://t.co/I9977nKEAP

— Keith Olbermann (@KeithOlbermann) May 30, 2017
Imagine the meltdown if a conservative celebrity had posed with a mock-up of Obama's decapitated head. https://t.co/ERtRkqhAcP

— Paul Joseph Watson (@PrisonPlanet) May 30, 2017
I think Trump is a DISASTER as both a President and a human being.

I also think that Kathy Griffin photo is horrible and wrong.

— Mikel Jollett (@Mikel_Jollett) May 30, 2017
Let us hear from you. Was Kathy Griffin's photoshoot with a beheaded President Trump an artistic expression or one frame too far? Funny or Offensive? Vote and comment below.