Cocaine Ads From The 70s May Blow You Away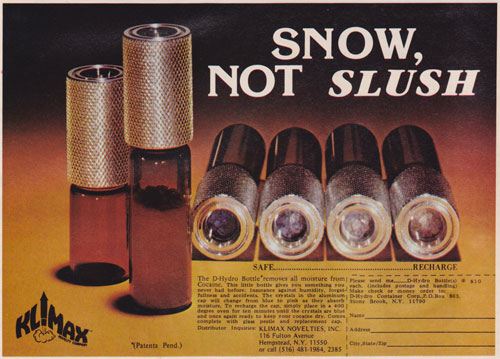 VOTE NOW! Is this Funny or Offensive?
Posted in:
"Tonight's Forecast: Snow"
January 18th, 2018 – Before we become too focused on the televised ads for 2018's Super Bowl, let's take a few moments to look back on some of the print advertising from the 70s. If we're about to lose your click, let us remind you that these prints ads were for cocaine.
Yes, the 70s were a time when the "war on drugs" and the sale of cocaine paraphernalia were simultaneously thriving. In 1971, President Nixon declared that drug abuse was "public enemy number one." Around the same time, Screenz told constituents that they should "be nice to your nose" by purchasing the original stainless steel coke screen.
Magazines such as Head, High Times, Rush, and Flash took in big advertising dollars to publish ads that touted items from a hot box – an instrument that will ensure you never buy a bad gram – to Noze – a wash that protects your nostrils from too much of a good thing.
The World's Best Ever shared a heavy dose of cocaine paraphernalia ads back in 2015, and since then the fascination for them has only grown. Take a look at a handful of the ads that were printed but remember to view responsibly.
What do you think about the cocaine ads from the 70s? How do you think this marketing would be received today?