Cocktails In the Time of Covid: See the Masks That Make it Happen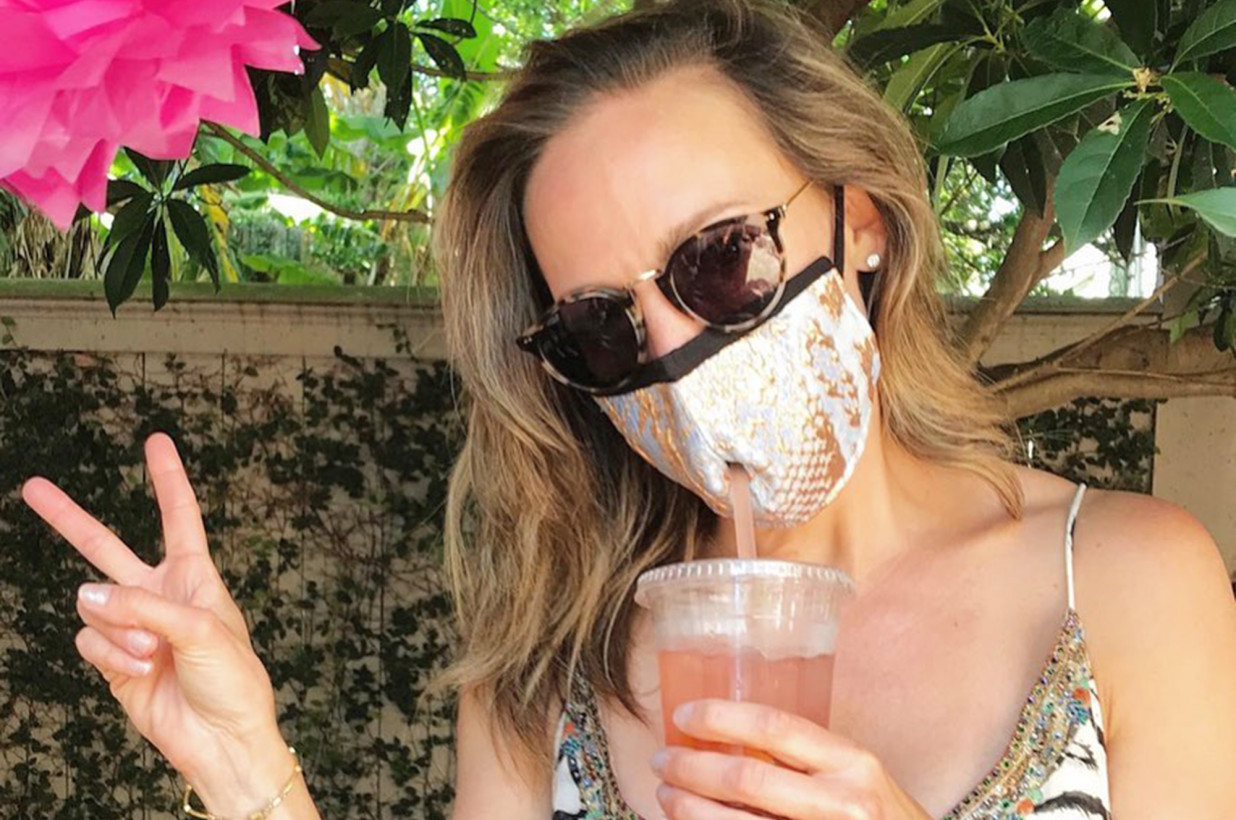 VOTE NOW! Is this Funny or Offensive?
Posted in:
A Feat of Interfering
May 13th, 2020 – A little, deadly virus won't stop one designer from giving the people what they want: a face mask that allows them to (hopefully?) survive and imbibe. New Orleans-based designer Ellen Macomber has created fashionable face masks with a hole drilled in the middle, allowing people to feel somewhat normal in the most abnormal of times.
Pre-Covid-19, much of Macomber's business relied on heavy tourism and local festivals, so like everybody else she has had to adapt her approach to keep afloat. Luckily, she had plenty of fabric laying around her place and, with the help of her assistant, disrupted the face mask industry. What a time to be an entrepreneur.
"We were thinking of doing a lip appliqué, where it would flap open and close but you'd have to touch your face." she said. "I was like, 'Well that won't work because you have to touch your mask.' That's when I was like, 'Dude, we just drill a little flap, an extra layer, and you angle the straw to get in. So the hole is never completely open.'"
According to Fast Company, Macomber made 40 masks within a week and sold them for $30 each. They sold out within 30 minutes. Those stats might not be surprising given her location.
"We're all in New Orleans, and here in New Orleans, we like to drink," she said. "This is the biggest shitshow I've ever encountered in my life. So I'm just rolling with the punches, and trying to provide my clients with what they're asking for: a mask. This is my take on it."
While a high volume of orders has been encouraging, over on Twitter people didn't seem to be all that impressed with the cocktail-enabling masks.
these condoms come with a hole to pee through https://t.co/WjcDPnZAE0

— David Mack (@davidmackau) May 13, 2020
I want to ask if you stole this from The Onion but I absolutely know people are this thoughtlessly, ridiculously, dangerously foolish

— Double-Edged Sword Lesbian (@sextoyspolitics) May 13, 2020
Guys, of course this will work. You think the virus can't tell that the little opening is for straws only?

— Jeff Mac (@JeffMacIsHere) May 12, 2020
Natural selection isn't a hoax! pic.twitter.com/TegpisBHPZ

— Chucks (@ChucksChucksjr) May 12, 2020
Responding to the obvious hesitations, Macomber is reminding people that she is not a public health expert. She's simply providing an additional option for when your errand lands more on the drinking with friends side than taking grandma to the grocery store.
"Anything is better than nothing, she said. "If we're going to be handling different errands…this is just one option for one of the variety of errands you're needing to do."
Macomber also shared that she will have regular masks available if demand continues. Oh, and keep social distancing while drinking with friends, too.
What are your thoughts on Ellen Macomber's straw-accommodating masks? Are you throwing out cheers or jeers? Funny or Offensive? Vote and comment now…