D.C. Bar Ditches "Pill Cosby" Drink After Public Outrage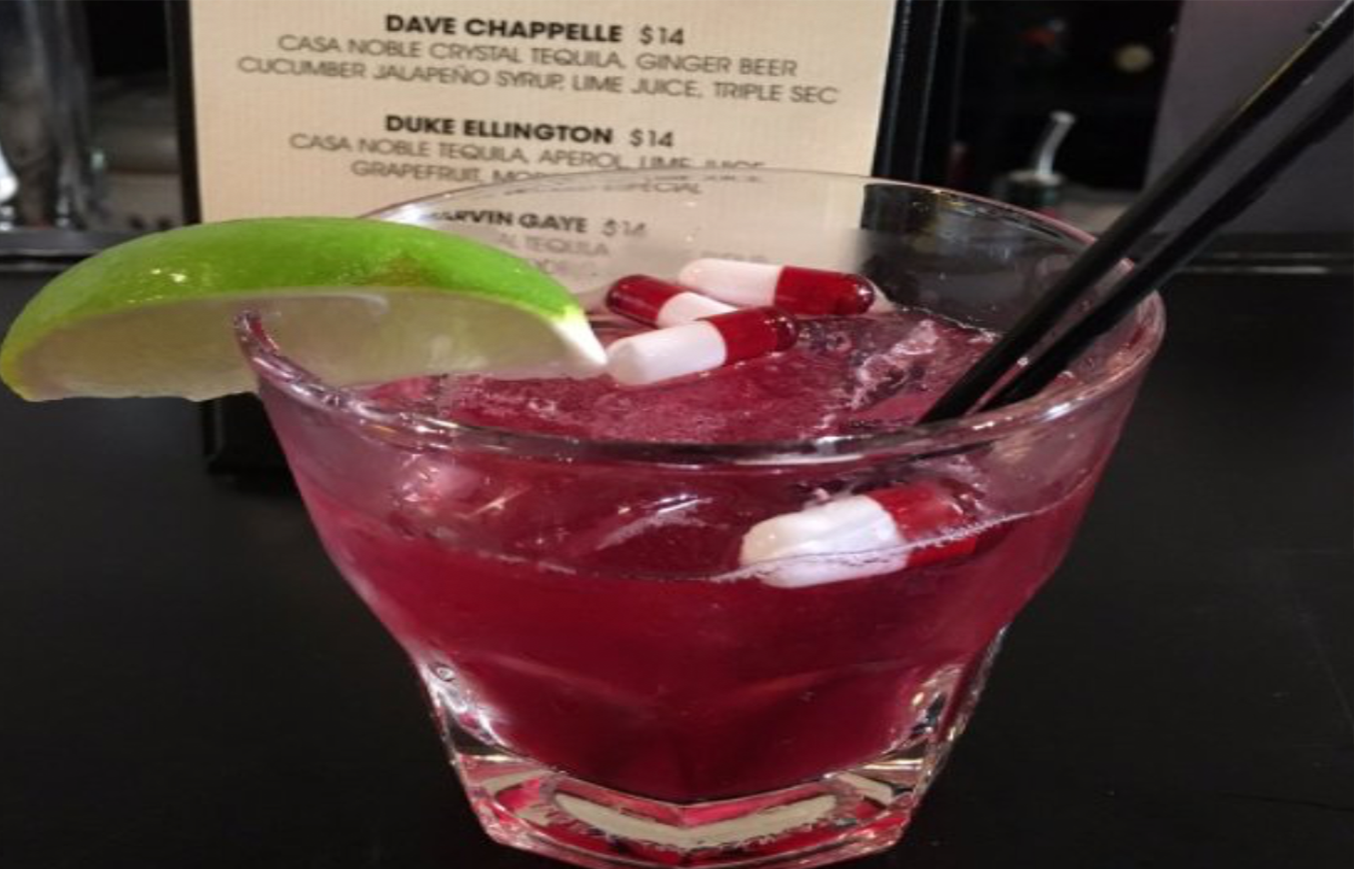 VOTE NOW! Is this Funny or Offensive?
Posted in:
Bill Cosby-Themed Drink
May 26th, 2017 – A Washington D.C. pop-up bar has one fewer drink on its menu after their "Pill Cosby" cocktail was widely rejected. At first glance, a tequila and hibiscus cocktail sounds refreshing but float a couple of empty pill capsules and name it after a once-beloved TV dad who will soon stand trial for drugging and sexual assault, and that drink became a lot less appetizing to many people.
"Diet Starts Monday" is the retail/restaurant/bar hybrid, owned and operated by three men, that came up with the Bill Cosby-inspired drink. While speaking to the Washingtonian, co-founder Davin Gentry said the concoction is partially meant to bring awareness to drugging in bars.
"It lets people be a little more aware," he told the publication alongside his business partners John Geiger and Kevin "Scooty" Hallums. 
Following the article's publishing and Twitter posts of the drink, the owners were quickly made aware of the many problems people had with the drink. The business' Yelp page was flooded with outrage over what many deemed was normalizing and making light of a very serious matter. They didn't see the drink as educational but rather a joke, and they weren't finding it funny.
Seriously.. Someone thought this was a great idea.. A drink called Pill Cosby.. With pills floating in it pic.twitter.com/S2beA8xdCk

— Jacques Michel ?? (@Coach_JoX) May 22, 2017
Hi @dietstartsmon__ your "Pill Cosby" drink perpetuates rape culture. It's gross.

Rape. Is. Not. Funny.

— Sophie Ellman-Golan (@EgSophie) May 22, 2017
That "Pill Cosby" drink claims to be "raising awareness of date rape" but that's men claiming it without consulting female survivors so.

— Kayleesi (@KayleesiTweets) May 22, 2017
Currently "Diet Starts Monday's" Yelp page has earned an "Active Cleanup Alert" highlighting the incident and warning visitors that posting reviews as a result of the news and not due to a personal experience may result in removal.
That hasn't stopped people from leaving a piece of their minds.
The bar has taken the drink off the menu and issued a formal apology saying:
"This drink was a one-time item — its inclusion as an offering of ours was in poor taste and we've taken all necessary steps to ensure it won't happen again," they wrote on Twitter. "We take full responsibility and apologize to anyone we offended. The allegations against Mister Cosby are serious and we in no way intended to make light of the pain surrounding his behavior. We rely on our community to help us guide everything we do. We appreciate all the feedback. This was a mistake, it will not be made again. We are sorry."
While the Diet crew does have some people defending them, the court of public opinion doesn't seem to be easing up.
There's a note up for the Pill Cosby people pic.twitter.com/2Zyz8xpWMb

— Kobayashi Mar-u-Lago (@jackoffkyle) May 22, 2017
The Pill Cosby drink doesn't bother me. What bothers me is people that actually rape people. pic.twitter.com/kNDpSVl8k1

— Cameron Grant (@coolcam101) May 22, 2017
@onedaylight I reflected upon this tweet and realized I was very wrong. We should be angry. Outraged. And the bar should also apologize.

— OneDayLight (@onedaylight) May 22, 2017
What did you think of the Pill Cosby drink? Just a funny cocktail or a serious misstep in judgment? Funny or Offensive? Vote and comment below.