Interstate Sign Advises Drivers That 'Trump Has Herpes'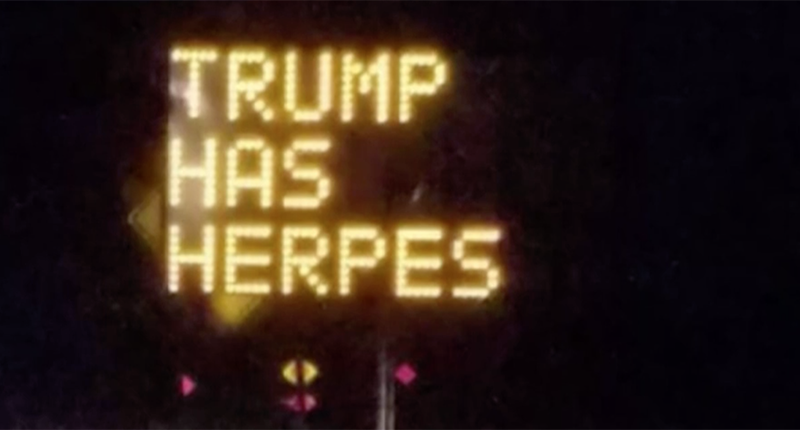 VOTE NOW! Is this Funny or Offensive?
Exit For Doctor  
August 4th, 2017 – Pranksters had a public safety announcement for California drivers this week advising motorists on an intersection near UC Davis that the President of the United States might want to see a doctor. The former Miss Universe owner and current occupant of the White House, Donald Trump, has just embarked on a 17-day vacation after six months of bucking the political norms of democratic life. The most recent critique of the Trump Administration came from unknown hackers who recently co-opted an electronic traffic sign on a stretch of Northern California's highway.
This isn't the first time one of the computerized signs was tampered with and previous hacks have produced messages ranging from zombie warnings to advising commuters of the location of the nearest adult services. This particular hack was also of the explicit variety as the sign was altered overnight to broadcast three simple words: "Trump Has Herpes."
The response was unsurprising as social media resounded with juvenile guffawing at the expense of a president who continues to battle a growing crowd. One Twitter user even made a point to mock Trump's signature self-important speech patterns and blundering cadence:
If #trumphasherpes you can be assured it's the best herpes, the greatest herpes ever, and Mexico is going to pay for it.

— Astorionics (@Astorionics) August 4, 2017
@realDonaldTrump an illuminated fwy sign in Dixon, Ca was hacked. It read "TRUMP HAS HERPES". We need more of these hacks! Make ppl laugh!

— Hansi (@HansJWurzler) August 4, 2017
While it seems that insulting the embattled real estate mogul turned politician online has become something of a cottage industry, officials with the state Department of Transportation, CalTrans, take the security of its equipment seriously. According to one local news report, Caltrans signs are locked with a secure password and as such the organization is conducting an internal investigation into how this particular sign was hacked and determine the identity of the herpetrator.
The sign, located off Interstate 80 was place to advice drivers of the status of a nearby bridge construction project and the vulgar message has since been removed in order to eliminate the danger of distracting drivers.
Do you think this just some good old fashioned free speech or is telling everyone on Interstate 80 that Trump has herpes make you burning mad? Funny or Offensive? Vote and comment now…