Pranksters Pass Out Russian Flags at CPAC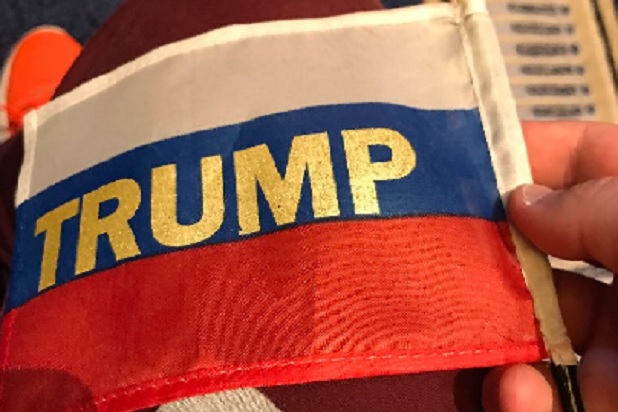 VOTE NOW! Is this Funny or Offensive?
Posted in:
CPAC Flag Flap
February 24th, 2017 – What was likely hundreds of people gathered in Washington D.C. this week for CPAC: the Conservative Political Action Conference whose big league minds in American conservative thought meet annually. The attendees spent upwards of $5,000 to hear from prominent right wing commentators and political figures including many current and, in the case of retired General Michael Flynn, one now former member of the Trump administration. Widely known as the signature event on the conservative political calendar, this year's event received special attention from one
politically astute group of progressive pranksters
.
Flags just distributed at CPac. Russia anyone? pic.twitter.com/7SQ5N2U3ZO

— Kylie Morris (@C4KylieM) February 24, 2017
Unknown parties passed out flags bearing the name "Trump" ahead of a planned keynote address to the assembly. The Trump name was only printed on one side, and the flags were red, white and blue but patterned after the flag of the Russian Federation.
The Trump administration has been dogged by allegations that senior members of the Trump campaign were in
close contact with people inside the Russian government
before the 2016 election. Despite the controversy (and investigations by the FBI and several U.S. intelligence agencies), the CPAC crowd seemed not to be in on the joke and were reportedly seen vigorously waving the Trump/Russia flags on the convention floor before CPAC officials moved to confiscate them.
Crowd at CPAC waving these little pro-Trump flags that look exactly like the Russian flag. Staffers quickly come around to confiscate them. pic.twitter.com/YhPpkwFCNc

— Peter Hamby (@PeterHamby) February 24, 2017
CPAC attendees told Politico's Tim Alberta they had thought the person who gave them the flags was a staffer. "They saw red, white & blue — with 'TRUMP' stamped across it" and "gave no thought to [the] Russian flag," he tweeted. 
Some on social media registered their concerns over the appearances of the flags at an American political event given recent stories about Russian involvement in the presidential race coupled with Donald Trump's noticeable reluctance to utter criticism about Russia or its head of state, Vladimir Putin. According to witnesses, CPAC attendees didn't seem bothered by the presence of the flags and the sight of Trump's name was enough to quell any anxiety over undue foreign influence. There has been no official comment from CPAC or the Trump administration.
Someone is passing out Russian flags with TRUMP on them. Protests come in all forms. #Freedom #Merica #CPAC pic.twitter.com/Ynx37ZjXxA

— #HappyDee (@DeeInHouston) February 24, 2017
Is the Russian flag prank Funny or Offensive? Vote and Comment now…