Fox Business Axes Trish Regan After 'Coronavirus Impeachment Scam' Rant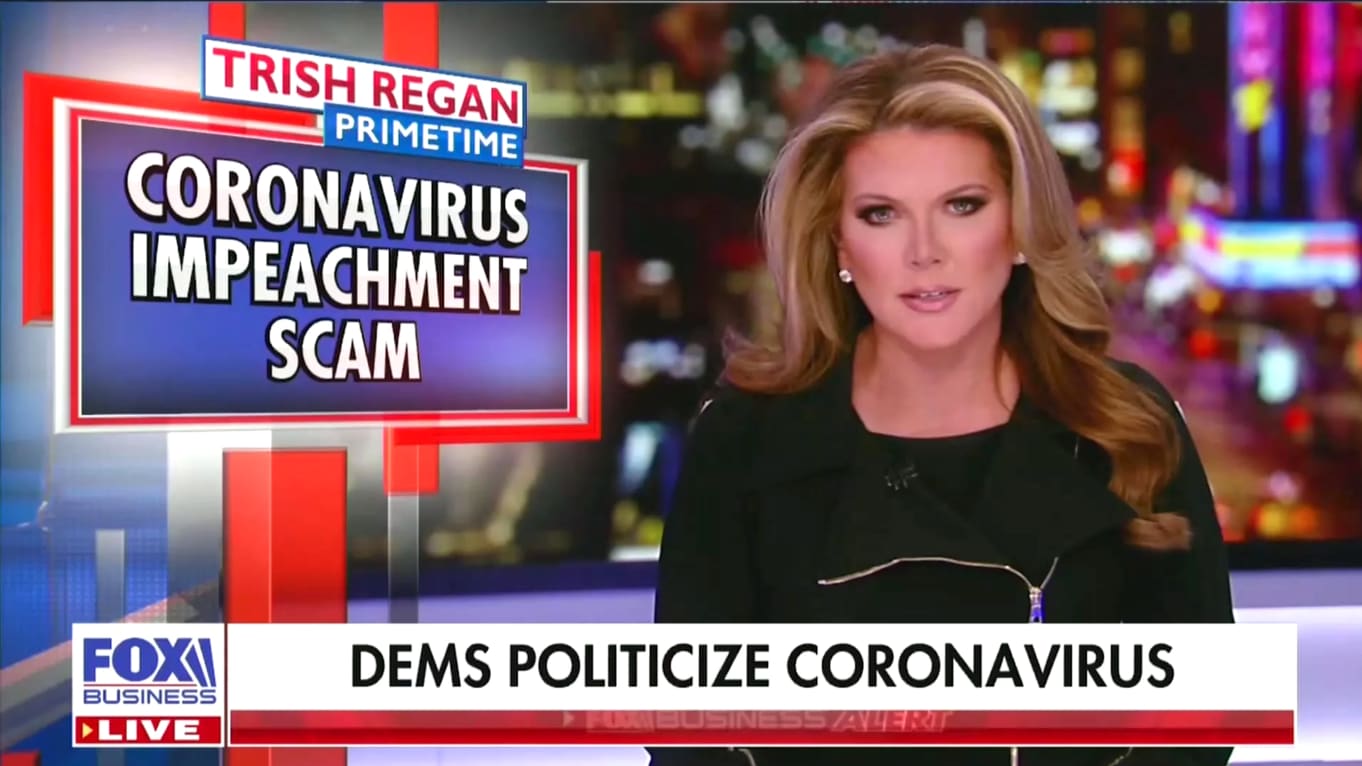 VOTE NOW! Is this Funny or Offensive?
Posted in:
Rant, Rant, Run
March 27th, 2020 – Fox Business Network has parted ways with Trish Regan, the conservative talk show host who had been sidelined from the airwaves after going on a controversial rant about Democrats and the Coronavirus. The official announcement comes nearly three weeks after Regan displayed a "Coronavirus Impeachment Scam" graphic during her primetime show.
"We thank her for her contributions to the network over the years and wish her continued success in her future endeavors," the network said in a statement. "We will continue our reduced live primetime schedule for the foreseeable future in an effort to allocate staff resources to continuous breaking news coverage on the Coronavirus crisis."
After calling out politicians and the liberal media for using the pandemic "to demonize and destroy the president," Fox placed Regan's show on hiatus. At the time they called it a move to reserve resources for staffing on other "critical market hour" shows.
"The chorus of hate being leveled at the President is nearing a crescendo as Democrats blame him — and only him — for a virus that originated halfway around the world," Regan said during her March 9th show. "This is yet another attempt to impeach the President. And sadly it seems they care very little for any of the destruction they are leaving in their wakes. Losses in the stock market, all this unfortunately just part of the political casualties for them…"
Many believed her words echoed those of President Trump, who called the virus a hoax during a rally in South Carolina in late February. He later "clarified" that he wasn't calling the virus a hoax but simply saying Democrats were using it to "pin" blame on him.
Labeling COVID-19, and its increased coverage, as merely an attempt to hurt Trump's re-election was a consistent message within Fox programming until recently. During February and early March, several prominent talk show hosts downplayed the seriousness of the virus.
How Fox News has shifted its coronavirus rhetorichttps://t.co/iWGZqoprvY pic.twitter.com/L9nITMkV6F

— The Fix (@thefix) March 17, 2020
Lou Dobbs, Maria Bartiromo, Tucker Carlson, Sean Hannity, and Laura Ingraham all remain on Fox and Fox Business' current lineup.
For her part, Regan thanked Fox and her show team for the opportunity and said she is looking forward to her next chapter.
"I have enjoyed my time at FOX and now intend to focus on my family during these troubled times," Regan said in a statement on Friday. "I am grateful to my incredible team at FOX Business and for the many opportunities the network has provided me. I'm looking forward to this next chapter in my career."
Do you think Fox Business made the right call in parting ways with Trish Regan after calling the Coronavirus an impeachment scam?