21 Zoom Scenes Going Viral During the Lockdown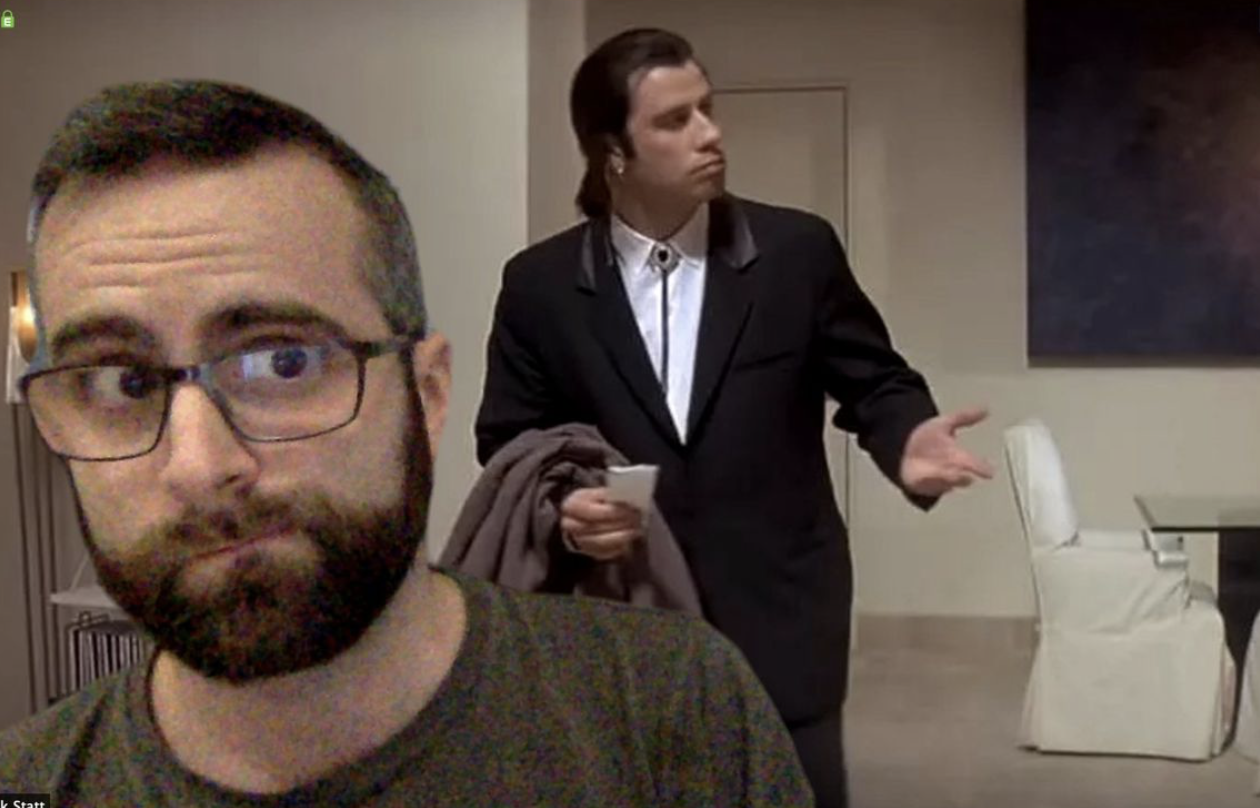 VOTE NOW! Is this Funny or Offensive?
Posted in:
Zoom Zoom Zooming Our Way Through The Coronavirus
April 3rd, 2020 – Four months into 2020, there are already several strong contenders for Word of the Year (we're looking at you, "pandemic," "quarantine", and "sh*tshow"). As our new normal changes hour-to-hour, "adaptability" also seems to have a shot at the title. With so many people now working from home, we've had to adjust from meeting in conference rooms to couches. Luckily, Zoom has made that transition fairly efficient and certainly humorous.
Zoom has risen above as the leading video conferencing service with people turning the word into a verb à la Uber or Lyft. The app allows for up to 100 participants and, most importantly, custom backgrounds. Users can choose from a large variety of options or upload a picture of their own. Users can also forget that they left their video active while using the bathroom in front of their co-workers. Hey, it's probably the least of our worries right now.
Two weeks ago our world looked very different: bosses weren't accidentally turning themselves into potatoes, pet parrots weren't interrupting classes, and people weren't picturing what The Last Supper would look like with Jesus and his disciples under Stay at Home orders.
We're trying to make it through a lot right now, but we think it'll be easy for you to get through the best moments of our new video conferencing lives. Enjoy, wash your hands, and mute your microphone!
Failing Up
If you do WFH and have a Skype meeting, always consider if the 'art' on the wall is:

A) In shot
B) Appropriate pic.twitter.com/CqRAvCV4AF

— Gareth Barlow (@GarethBarlow) March 18, 2020
my boss turned herself into a potato on our Microsoft teams meeting and can't figure out how to turn the setting off, so she was just stuck like this the entire meeting pic.twitter.com/uHLgJUOsXk

— Rachele with an e but pronounced Rachel (@PettyClegg) March 30, 2020
So apparently whoever was in charge of live-streaming my brother's church service knowingly or unknowingly used a googly-eyes filter on the priest. pic.twitter.com/3dGC6502iN

— Kelsey Lewis Vincent (@KelseyMLoo) March 22, 2020
My husband's working from home and just shouted to me from the living room: "I'm going into a video meeting…" so I jokingly shouted back "I guess I should put a shirt on?" and then he finished his sentence "…and they can hear you."😳

— Rita Meade (@ScrewyDecimal) March 17, 2020
Celebrities: They quarantine just like us
Zoom's virtual backgrounds are my new favorite thing pic.twitter.com/Bgjyy9791U

— Rahul Kothari (@rahulk013) March 13, 2020
March 30, 2020
Its Monday, and Zoom Backgrounds is live!

We're all working from home. Liven up your living room.

fun weekend project from your friends @ambitionsaleshttps://t.co/ncwAuu3vQs pic.twitter.com/KFQx9dWoA5

— brian trautschold (@BTrautschold) March 16, 2020
Making the most of this tricky situation! Our team practiced with @zoom_us today and of course we needed a little Brady Bunch action! (Watch with sound) #AHschools #ThisIsMonroe #distancelearning pic.twitter.com/pcZM24LBYV

— Chelsea Regan (@MsReganEDU) March 22, 2020
Zoom reflections
everyone in their online classes now pic.twitter.com/39xiLhEiQR

— sami ☾ (@sahirious) March 10, 2020
Day 2 of me showing up to the Quarantine Zoom meeting vs Day 14 of me showing up to the Quarantine Zoom meeting pic.twitter.com/pVaGbEvpsY

— Brett S. Vergara (@BrettSVergara) March 26, 2020
*professor asks a question during zoom meeting*
pic.twitter.com/1e5GnET42y

— bum dont touch me (@oobygail) March 23, 2020
During social distancing, it's important to remember good conference call etiquette:

– awkward silence
– can you hear me
– [weird small talk because someone is 10 min late]
– BEEP BOOP
– strange crunch
– heavy breath
– oops sorry you go ahead
– sorry no, you
– BOOP beep
– bye?

— Julieanne Smolinski (@BoobsRadley) March 10, 2020
Zoom Memes
New Zoom background. pic.twitter.com/04ix1sx0eb

— SIVA VAIDHYANATHAN🗽🤘🏽 (@sivavaid) March 30, 2020
Don't mind me. I'm just trying out Zoom virtual backgrounds for #onlineteaching in the age of #COVID19. pic.twitter.com/QQfXNmP7Yt

— P. Sean McDonald (@pseanmc) March 11, 2020
The perfect Zoom background doesn't ex… pic.twitter.com/FUWgQ6a99k

— Noam (@noamliss) March 14, 2020
Me: I'm a serious scientist, working hard on molecular diagnostics and advocating social distancing to counter coronavirus.
Also me, in Zoom meetings: pic.twitter.com/mqDRfI7jvz

— Michael Baym (@baym) March 11, 2020
Life Goes On
in my first zoom class prof started sharing screen and one of her folders is just in all caps DIVORCE

— Magdalena Paz (@magdalenapaz22) March 16, 2020
Lord help us
Are these Zoom jokes hitting the spot or making the Coronavirus quarantine more intense? Funny or Offensive? Vote and comment now…