Fox News' Jesse Watters Slammed For Alleged Ivanka Trump Oral Sex Joke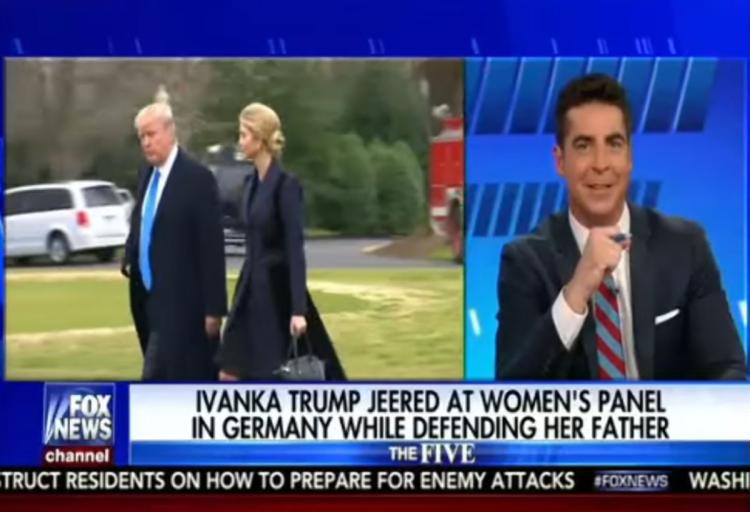 VOTE NOW! Is this Funny or Offensive?
Posted in:
Fox News In Hot Watters Again
April 26th, 2017 – Fox News was hoping to do a 180 on culture change after ousted Bill O'Reilly's sexual harassment allegations, but newly promoted on-air host Jesse Watters took them to a full circle 360 spin last night. The self-described political humorist worked alongside O'Reilly providing a segment called "Watters World" during The O'Reilly Factor days. Last night, however, he manned the center seat as co-host of Fox's The Five. His one-man line that caused the controversy was a seemingly sexually explicit joke about Ivanka Trump.
"So I don't really get what's going on here, but uh I really liked how she was speaking into the microphone," Watters said with a sly smirk and what appeared to be a quick hand job gesture.
The irony thickens when you read Watters' commentary just before making the controversial quip.
"The left says they really respect women and given an opportunity to respect a woman like that they boo and hiss," he said prior to the mic line. "And I always thought that Europeans were supposed to be so sophisticated and well-mannered."

Writer Yashir Ali, a contributor for New York Magazine, Mother Jones, The Daily Beast, was the first to call out the clip on Twitter. Many were quick to highlight the hypocrisy in what the panel was discussing versus what Watters said. The panel were minutes into grilling attendees of a women's conference in Germany who booed, hissed and laughed at Ivanka after saying her father is a "tremendous champion" for women.
I just noticed Jesse Watters jerked his hand up and down slightly as he joked that he liked how Ivanka holds a microphone. pic.twitter.com/I332JcgoMx

— David Mack (@davidmackau) April 26, 2017
Watters' alleged oral sex joke comes about six months after landing in hot water over a segment deemed by many as racist. He did a man-in-the-streets style interview in New York's Chinatown that critics claimed played into stereotypes while being mindlessly ignorant. Following outcry he said "My man-on-the-street interviews are meant to be taken as tongue-in-cheek and I regret if anyone found offense."
For this incident, Watters' misogynistic defense was that he was referring to the tone of Ivanka's voice.
On air I was referring to Ivanka's voice and how it resonates like a smooth jazz radio DJ. This was in no way a joke about anything else.

— Jesse Watters (@jessebwatters) April 26, 2017
According to ThinkProgress, a representative sent additional clarification on Watters' behalf:
"During the break we were commenting on Ivanka's voice and how it was low and steady and resonates like a smooth jazz radio DJ. This was in no way a joke about anything else."
The Twitter-sphere was, for the most part, not having it. Although there were supporters who didn't see how easily people made the leap to a sex joke.
Fox News: Respect Ivanka.

ALSO Fox News: Here's a dick joke about Ivanka. https://t.co/Ti0dyMy2Ap

— Mikel Jollett (@Mikel_Jollett) April 26, 2017
Congratulations, Jesse Watters, you're a disgusting pig as well as being a racist moron. https://t.co/lZbydxIV7l

— John Podhoretz (@jpodhoretz) April 26, 2017
A microphone is just a microphone, unless you're a bro from 20th Century Fox. (Is he Beavis or Butthead?) https://t.co/Tvg36EaL6X

— Jonathan Weisman (@jonathanweisman) April 26, 2017
And the baton has been passed https://t.co/FSGMnbkvjp

— Chris Meloni (@Chris_Meloni) April 26, 2017
"Why won't the Left respect this high government official I just made a leering blowjob joke about?" https://t.co/OixiT8ti2a

— David Frum (@davidfrum) April 26, 2017
Dear @POTUS -Its clear you support your daughter.I don't believe you want to celebrate a platform that disrespects her &women so blatantly. https://t.co/yviECzfVpm

— Stephanie Ruhle (@SRuhle) April 26, 2017
Go watch the clip, look at your hand motion and the leer and smirk after. Give me a break. You said how she holds she mic, not her voice. https://t.co/RV2BGDjzen

— Yashar (@yashar) April 26, 2017
Facebook going all in with this trending description on the Jesse Watters matter. pic.twitter.com/QFxHUWhZB4

— Yashar (@yashar) April 26, 2017
If someone compliments a woman's microphone skills and your mind immediately goes to "blow job" maybe the issue is with you.

Jesse Watters

— Sean Billings (@SeanJBillings) April 26, 2017
@jpodhoretz Jesse Watters can say anything he want to me! I would lick that microphone for him! PPL need to lighten up! SMDH

— SLIPPERY-SLOPE (@MomJar1) April 26, 2017
I might've given Jesse Watters the benefit of the doubt if it weren't for the little jerkoff motion as he said "speak into the microphone."

— Steve M. (@nomoremister) April 26, 2017
How did you take Jesse Watters' comment? Was it a lewd, sexist joke or was he simply drawn to her jazz-like voice? Funny or Offensive? Vote and comment below.