Couple's Gunpoint Wedding Photos in 'Ghetto Congo' Cause Uproar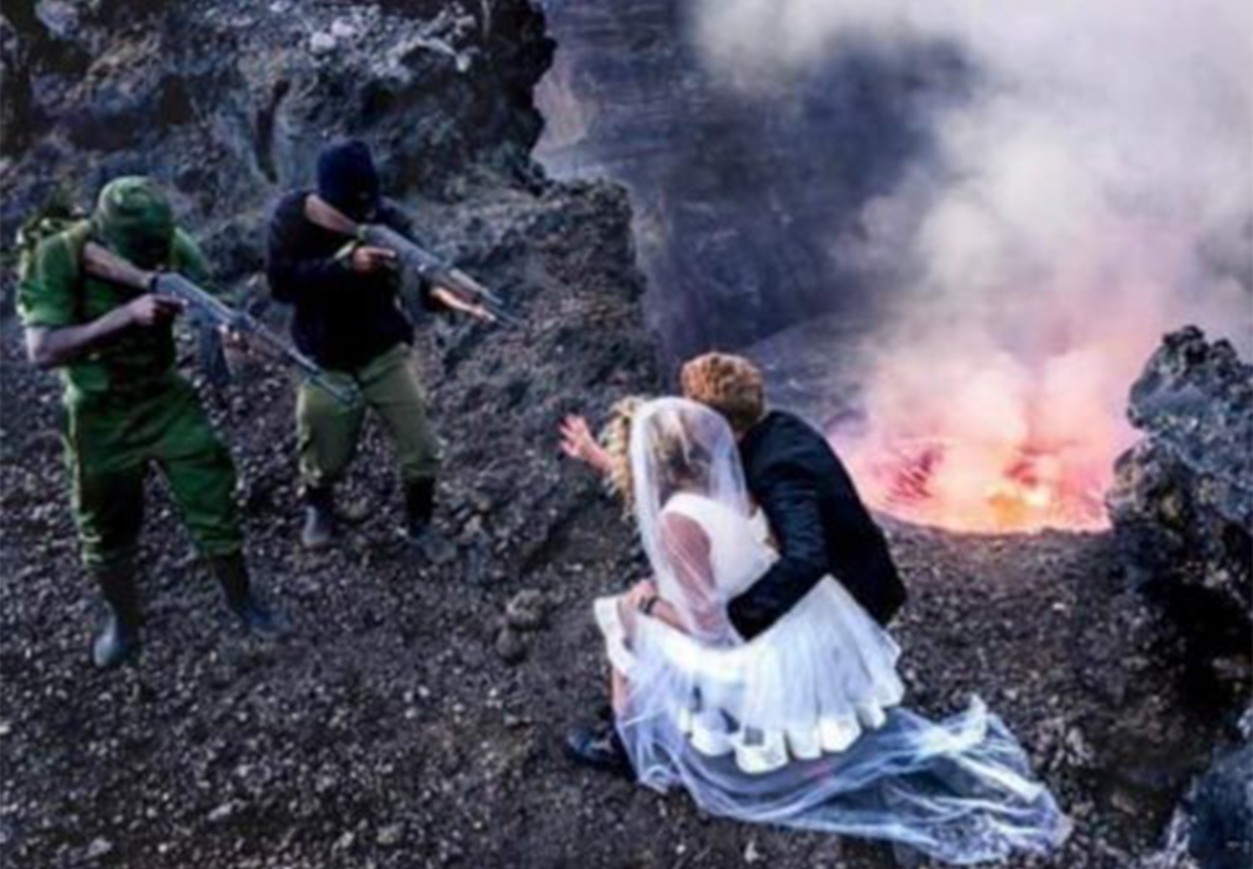 VOTE NOW! Is this Funny or Offensive?
Posted in:
"There are literally too many things wrong here"
October 28th, 2018 – A couple's wedding photos don't seem to be thriving during the "honeymoon phase." John Milton, a travel photographer, and his wife got married last February in the Democratic Republic of Congo – atop a volcano with men in masks pointing guns at them to capture the moment.
The photos were originally posted to Milton's Instagram account, which has now been deleted, and didn't initially attract much attention. That all changed last week when Cecilla Christin found the photographs on Instagram, where she also runs a travel-themed account.
"I decided to share these pictures in order to foster discussion within my friends and following, specifically about the accessorization [sic] of black bodies for this couple's photo shoot," she told Insider. She also said she had a problem with how the couple used "black and brown people and their experiences as props to gain a following." 
The newlyweds shared several photos including one where the bride's ring is placed on a rifle with the caption "'Blood diamonds' What a combo! Diamonds and an AK47." Another one shows Milton's wife posing with local people accompanied by the caption "Just cruising' thru the ghetto in Congo in a wedding dress."
When Christin shared the photos, she shed light on the motivations behind the couple's concept. In one of the screenshots, Milton responds to a commenter's question of why they chose to have locals point guns at them by saying:
"We just wanted to make sure we didn't have the typical goofy wedding shots :-)"
The shots weren't labeled "goofy," instead people were quick to call them "war porn," "poverty porn," and "misery tourism." The groom viewed them differently claiming that "Saying our vows at the top of an active Congolese volcano with a local tribe while a civil war is brewing below is surrealism at its best."
Prior to it being taken down, Milton's Instagram page had over 11,000 followers. In his bio, he described himself as an "outside the box adventurist, African tribes junkie" who "wed in Congo" and "survived Colombian narco rebels." In a 2016 interview with fellow photographer Eric Kim, he goes into greater detail about how he views both himself and his photography philosophy.
"I'm a yankee living in Budapest, Hungary for the past 20 years as an investment banker until recently when I decided it was time to retire and really start enjoying life," he said. "I would describe my style as 'raw and in your face.' I like to get up close & personal to my subjects. Close is good, but closer is better! I like to stir the pot and push the envelope. My travel habits and photographic style clearly show that."
Twitter users have done a lot of dragging when it comes to white tourists using black people as props in photos. Earlier this month, social media influencer and music manager YesJulz came under fire for photos she shared during her drop-in visit to Uganda with Kanye West. Milton and his wife, Dorottya Lucia Milton, received similar comments when their wedding photos re-circulated.
Imagine the level of ignorance it takes to bring your white ass to DR Congo and stage a wedding shoot using black folks, civil war, and poverty as props. pic.twitter.com/VqMueqaZrJ

— Justin McC (@JD_Mccarroll) October 23, 2018
I'm seething – this is perhaps the most cringe thing I've seen. Taking wedding pictures in the Congo with all the tired, racist stereotypes you can possibly muster. Despicable. https://t.co/KQQ7s38UFB

— aditi (@a_svc) October 23, 2018
What do you think of these wedding photos? Funny or Offensive? Vote and comment now…