Jimmy Kimmel and Sean Hannity Go Blow For Blow Over Melania Trump Joke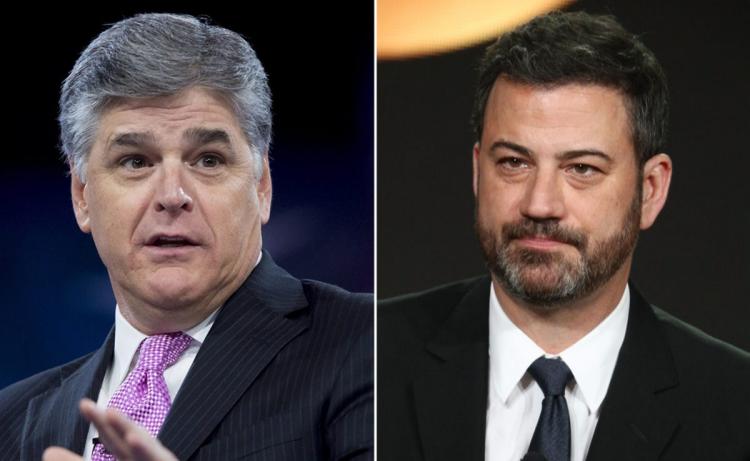 VOTE NOW! Is this Funny or Offensive?
Posted in:
Easter Egg Troll
April 6th, 2018 – The only thing that Jimmy Kimmel and Sean Hannity seem to agree on is that feuds get them a lot of attention. Other than that, the two hosts don't see eye to eye – to put it mildly. Kimmel became an even larger target for conservative figures as he waded into the healthcare and gun debates over the past year. This week, however, the Fox News talk show host is upset with the comedian over a joke about First Lady Melania Trump.
On Monday's episode of Jimmy Kimmel Live! the comic showed a clip of Mrs. Trump reading a book to children at the White House's Easter Egg Roll. After showing the clip, Kimmel chuckles, imitates her accent, and then turns to his sidekick, Mexican-American Guillermo Rodriguez, and says:
"Guillermo you know what this means? You could be first lady of the United States."
That joke greatly upset Hannity who went on a rampage against Kimmel during his Wednesday episode.
"Liberal Jimmy Kimmel making fun of the First Lady of the United States and her involvement in the White House Easter Egg Roll, even her accent. Jimmy, you're a despicable disgrace," Hannity said. "Ass clown Kimmel. Now I got to tell you something. What a disgrace. Hey, Mr. Kimmel, that's her fifth language. How many do you speak?"
"Liberal Kimmel" didn't let conservative Hannity's comments go without retaliation. On last night's episode of Live, he fired back by calling out the hypocrisy of calling someone despicable while supporting Roy Moore, and he also wondered what exactly is an ass clown.
"This is the guy who defended multiply alleged pedophile Roy Moore, and I'm the despicable disgrace? I'm the ass clown?! If I'm an ass clown, and I might very well be, you, Sean, are the whole ass circus," he said.
"You're the Ringling Brothers and Barnum & Bailey of ass-clownsmanship, but I do wanna say, I appreciate how compassionate you've suddenly become to the plight of immigrants in this country over the last 24 hours. Do you know what I think is disrespectful to the first lady? Cheating on her with a porn star after she has a baby. Why don't you rant a little about that, Sean Hannity?"
If the televised ping pong isn't enough for you, head over to Twitter where the two continue to feud. Hannity has thrown out the hashtag "pervertkimmel" while Kimmel decided to double down on #ASSCLOWN. Hannity has also labeled Kimmel as "Harvey Weinstein Jr." while sharing old clips from The Man Show, which Kimmel co-hosted from 1999 – 2004.
Today's poll. So tonight will @jimmykimmel be 1- Asking 18 year old girls to touch his crotch. 2- Make fun of the First Lady reading books to children. 3- Be a racist asshole. 4- all of the above? @Disney #pervertkimmel https://t.co/bq5WE4eyOP

— Sean Hannity (@seanhannity) April 6, 2018
I vote for whichever one best helps you trivialize the horrors of Harvey Weinstein by comparing them to televised comedy bits in which every woman was a willing participant who gladly signed a release https://t.co/6jlpRqtttY

— Jimmy Kimmel (@jimmykimmel) April 6, 2018
You are a bully attacking the First Lady of the USA. Attack me any time you want. Attack @realDonaldTrump anytime you want. Suck up to Obama all you want. Having 18 year old girls grab your crotch is creepy and perverted. How would you feel if it was your daughter Harvey Jr? https://t.co/uuddgKAZJl

— Sean Hannity (@seanhannity) April 6, 2018
Since you deleted your tweet, I'll ask again. "Would you want your daughter being "grabbed by the pussy"? Yes or no? pic.twitter.com/lLTZ2zMLpb

— Jimmy Kimmel (@jimmykimmel) April 6, 2018
Kimmel's defense of those questionable sketches simply being "comedy bits" raises a question we tackle frequently here at IsItFOO: are there a different set of rules for comedians.
According to Hannity, the answer is no. He has asked Kimmel to "be a grown up and simply apologize." He also claims to have a lot more ammo locked and loaded for his Friday show. So if you haven't gotten enough of this feud already, make sure to tune in. You could also go see A Quiet Place, which opened in theaters today and looks pretty good.
Whose side are you on in the Kimmel vs. Hannity feud? Do you think Jimmy Kimmel crossed a line with his Melania joke or are there a different set of rules for comedians?