Nairobi Governor Puts Hennessy In Coronavirus Care Packages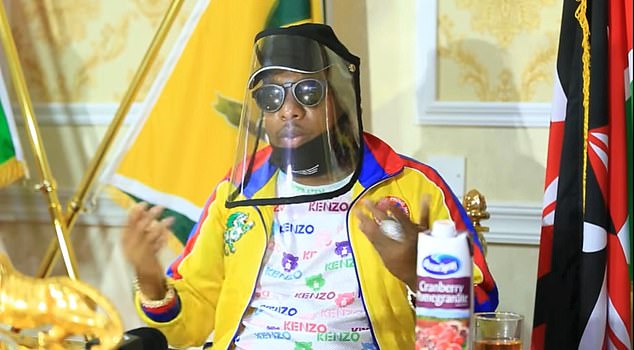 VOTE NOW! Is this Funny or Offensive?
Posted in:
Henne-see, you're cured!
April 17th, 2020 – Kenyan politician Mike Sonko is helping citizens stay fed, sanitized, and, maybe even a little tipsy during the COVID-19 pandemic. The governor of Nairobi announced that the next round of care packages going out to communities would include bottles of Hennessy.
Sonko held a press conference earlier this week where he incorrectly claimed that the World Health Organization said alcohol can be used to combat the Coronavirus. According to CNN, he described the cognac as a "throat sanitizer."
"I think from the research conducted by the World Health Organization and various organizations, it has been believed that alcohol plays a major role in killing the coronavirus," Sonko said in a video where he wore a mask, sunglasses, a baseball cap, and a face shield.
Sonko has been a controversial public figure in the region and was arrested on corruption charges last year. As a result, he was banned from several official government responsibilities and has been working independently through his Sonko Rescue Team.
As of Thursday, Kenya had over 230 confirmed cases of Covid-19 and 11 deaths.
"We will have some small bottles of Hennessy in the food packs that we will be giving to our people…" – Nairobi Governor Mike Sonko

Note: WHO warns that drinking alcohol does not protect you against COVID-19 and can be dangerous pic.twitter.com/vuSuVAb8dy

— Citizen TV Kenya (@citizentvkenya) April 14, 2020
My take on Food Distribution during Covid-19. #KomeshaCorona pic.twitter.com/YLohHMZuqU

— Mike Sonko (@MikeSonko) April 14, 2020
Despite pleas to be trusted to distribute food effectively, the WHO and Hennessy released statements contradicting Sonko. On Tuesday, the WHO released another article debunking the theory that alcohol can kill COVID-19 and reminded people that excessive alcohol consumption can actually make you more vulnerable.
"Fear and misinformation have generated a dangerous myth that consuming high-strength alcohol can kill the COVID-19 virus. It does not," the organization wrote. "Alcohol consumption is associated with a range of communicable and noncommunicable diseases and mental health disorders, which can make a person more vulnerable to COVID-19. In particular, alcohol compromises the body's immune system and increases the risk of adverse health outcomes. "
For their part, Hennessy has urged people to simply wash their hands, wear face masks, and practice social distancing. The French distiller drew a hard line at the claim its product could kill the virus.
"Hennessy would like to stress that the consumption of our brand or any other alcoholic beverage does not protect against the virus," a statement signed by country manager, Anne-Claire Delamarre, reads in part."
The 150ml bottles of Hennessy are now in the homes of Nairobi citizens. No numbers on hangovers just yet.
Do you think including the bottles of Hennessy in COVID-19 care packages was Funny or Offensive? Vote and comment now…