Matt Damon As Brett Kavanaugh Opens New 'Saturday Night Live' Season (VIDEO)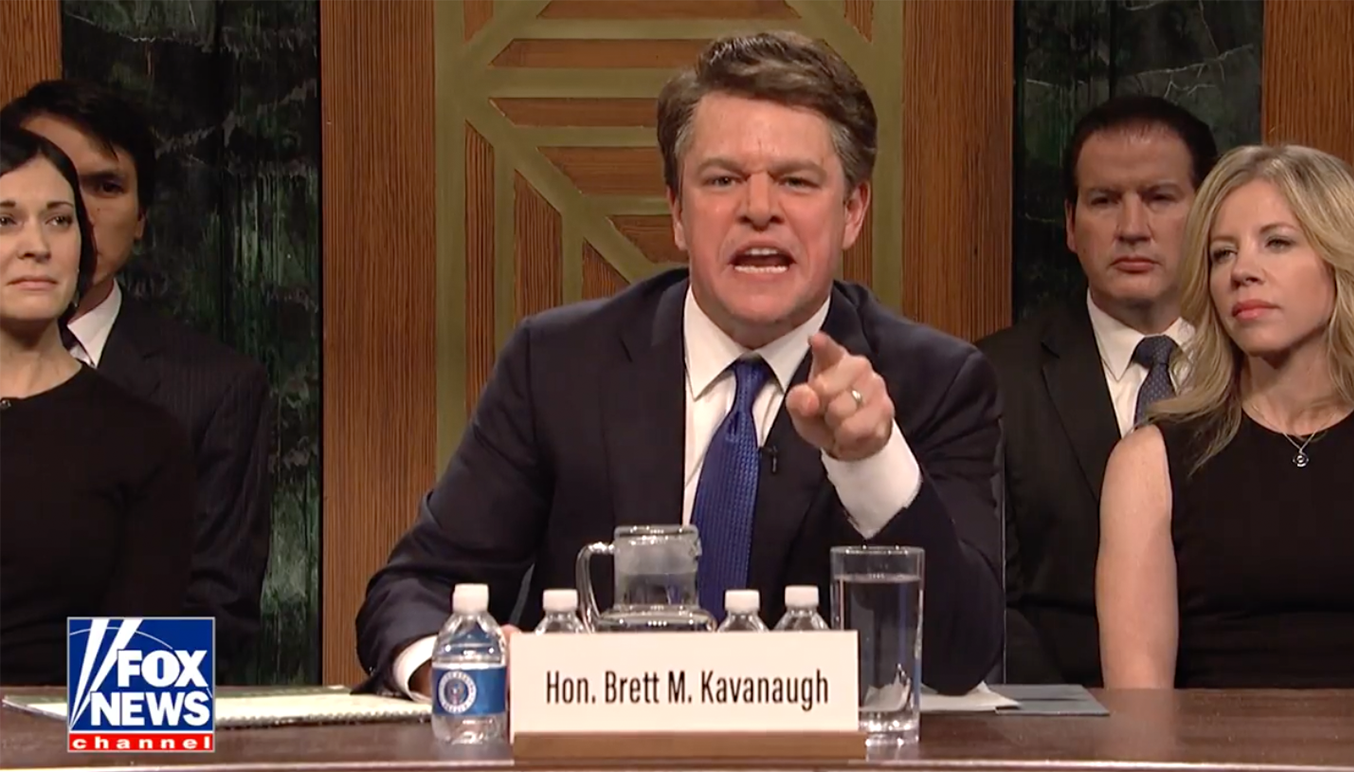 VOTE NOW! Is this Funny or Offensive?
Posted in:
"I'm a keg is half-full kind of guy"
September 30th, 2018 – Saturday Night Live returned for its 44th season last night, and it did so by relying on what has brought the sketch show plenty of success in recent years: skewering our political world and letting Kate McKinnon play male politicians.
Following Thursday's testimony from Dr. Christine Blasey Ford and the man she alleges sexually assaulted her in high school, Supreme Court nominee Brett Kavanaugh, SNL recreated the senate judiciary hearing with nearly every cast member playing a role. Tapped to scream about his love for beer, calendars and virginity was Matt Damon, who morphed into Kavanaugh quite well with a good wig and a consistent sniff.
Alex Moffat's Chuck Grassley kicked things off by asking an already worked up Kavanaugh if he's ready for the proceedings. Once the senator receives an "Oh hell yeah!" Damon unloads.
"Let me tell you this," he began. "I'm going to start at an 11. I'm going to take it to about a 15 real quick. First of all I showed this speech to almost no one — not my family, not my friends…this is my speech. There are others like it, but this is mine. I wrote it myself last night while screaming into an empty bag of Doritos."
The sketch ping-pongs between almost verbatim dialogue from the hearing to imagined lines, which highlight the aggressive, emotional temperament the real Kavanaugh displayed days before. The would-be justice blamed the Democratic party and the Clintons on Thursday, but by Saturday night "George Soros, Kathy Griffin and Mr. Ronan Sinatra" were also part of this "con job."
While Damon's impression, which included weepy longing at calendars and impressive shotgunning of water, was front and center, the comedian senators got in some noteworthy moments, too.
SNL alumna (please note this simply means she was once a cast member, and does not have any similar meaning to "Renate alumnius;" which totally doesn't mean anything sexual, by the way) Rachel Dratch returned to play Senator Amy Klobuchar. She and Damon reenacted an awkward scene where Kavanaugh turned the question of blacking out back on the Minnesota politician after she told the judge that her father was a recovering alcoholic.
"Did you ever drink too many beers," Dratch's Klobuchar asks. "You mean was I cool? Yeah," Damon's Kavanaugh quickly responds. 
Senators continued to drill him on everything from the real meaning of "Devil's Triangle" to his friends "Gangbang Greg," "Handsy Hank" and "Donkey Dong Doug" but nevertheless, he persisted.
"I'm not backin' down you sons of bitches. I don't know the meaning of the word 'Stop.'" 
SNL couldn't stop either as the cold open raged on for 13 minutes. All throughout, cast member Aidy Bryant portrayed "female prosecutor" Rachel Mitchell. The sex crimes lawyer was actually hired by the Senate Republicans in the real world, but they weren't as forthcoming about their reasoning for doing so as Beck Bennett's Orrin Hatch.
"I just want to point out the Democrats in this committee have acted like cowards! Now if you'll excuse me, I'd like to hide behind the female prosecutor who we hired as a human shield!" 
The Damon-Kavanaugh hybrid got the last word in as he exclaimed:
"Yeah, we had a couple thousand beers along the way, especially my good friend Mark Judge who can't remember huge chunks of his life but is somehow my key witness. So am I angry? You're damn right. But if you think I'm angry now, you just wait until I get on that Supreme Court cause then you're all gonna pay." 
Watch the cold open in its entirety below, and let us know your thoughts on SNL's first night back. Was the Brett Kavanaugh sketch Funny or Offensive?