'Murphy Brown' Tackles 2018 With The Same Grit She Used In 1988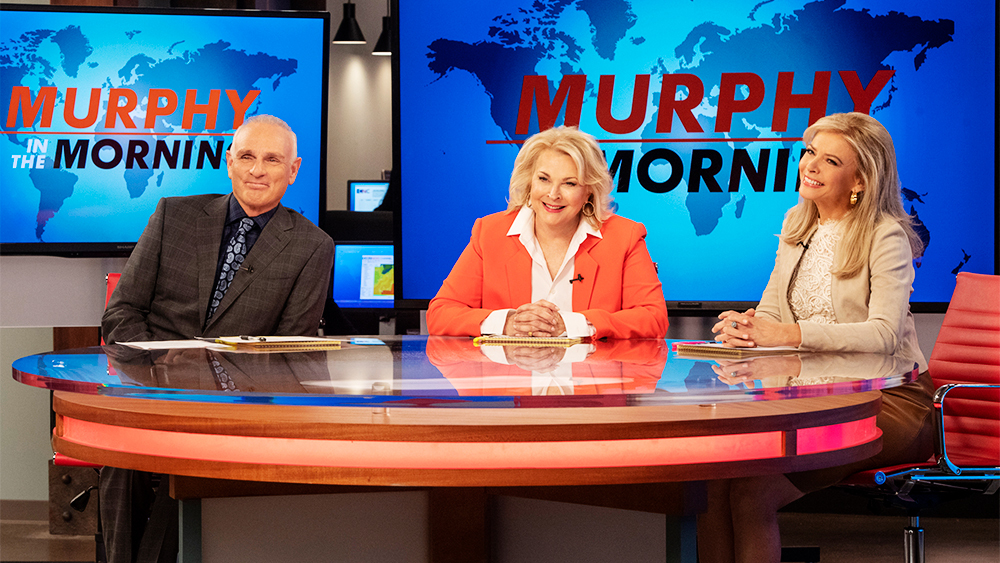 VOTE NOW! Is this Funny or Offensive?
Posted in:
"Activism in a sitcom"
September 27th, 2018 – Fans have a lot to look forward to with Murphy Brown's return to the small screen, and critics have plenty to look back on in predicting how the show will weave together comedy with the news of the day. The 90s hit returns to CBS tonight after being green-lighted back in January. Creator Diane English and Murphy herself, Candice Bergen, say the timing for the reboot is perfect.
Reviving shows from decades past is no new endeavor. Will & Grace, Roseanne, Hawaii Five-0 and many others have found ratings success in front of new and old audiences. Bergen has been vocal, though, about the fact that Murphy Brown wouldn't have bounced back simply for the sake of getting the old FYI gang together.
During an interview with CBS, Lee Cowan asked Bergen and English if what they were doing was essentially "activism in a sitcom." After a few seconds of consideration, English responds with a resounding "yes," while Bergen follows up with a more clarified answer.
"We haven't really articulated that we consider ourselves 'The Resistance,' but I think that's the subtext, certainly," she said. 
They both agree that if the popular vote determined the presidency, they probably wouldn't be recreating Murphy's Georgetown townhouse.
"We didn't feel like we should go back and revisit it unless there was a real reason to do it…when you look at what's going on on the front page of the newspaper every day, that's what put us over the top," English said. 
While they didn't have the terminology to define themselves as resisters during the show's original run, the creative team had plenty of storylines to showcase their positions. The character of Murphy alone was refreshing for the time and allowed many women to see a role they could play in the real world.
Murphy opened the '88 series premiere by returning to the news desk after treating her alcoholism at the Betty Ford clinic. She spent 10 seasons successfully making her mark in a male-dominated field without the help of her former vices. And while her hard-hitting personality won over many fans, it angered conservative figures who thought the decisions she made mocked their traditional ways.
Most notably, Vice President Dan Quayle took issue with Murphy raising a son without the help of a husband. Seven years before fellow veep Mike Pence expressed hurt over Disney's Mulan supposedly attempting to shift the debate in favor of women serving in the military, Quayle also laid out his feelings about the "lifestyle choice" Murphy was inflicting on our country.
"Bearing babies irresponsibly is simply wrong. Primetime TV has Murphy Brown mocking the importance of fathers by bearing a child alone and calling it just another lifestyle choice," he said during a campaign speech for the ultimately unsuccessful re-election of the Bush/Quayle ticket. 
Murphy also angered conservatives when she used medical marijuana to ease the side effects of chemo while battling breast cancer in the final season. Since former Republican house speaker John Boehner now serves on a board of advisers for a multi-state cannabis business, we're guessing the use of weed may not ruffle as many feathers as it once did.
Despite some societal progress, the show is bracing for backlash on a wide variety of topics that are still hot-button issues. Its bringing back most of the original cast who will now get their fictitious paychecks working for a morning show aptly titled "Murphy in the Morning." Murphy, Miles, Frank and Corky will all battle being labeled "the enemy of the people" as they present stories about sexual harassment, immigration and gun control.
"We have 13 episodes, we're here to make some noise," English said. "We're expecting a certain amount of backlash, yeah. But you know, we used to get it in old days, too."
Murphy Brown's first episode back, "Fake News," will air on CBS September 27th 9:30 p.m. E.T. "Murphy returns to the air to draw the line between good television and honest reporting," the IMDB description reads.
Do you think Murphy Brown will make an impact on the 2018 landscape?