Michael Knowles Calls Teen Climate Activist Greta Thunberg 'Mentally Ill'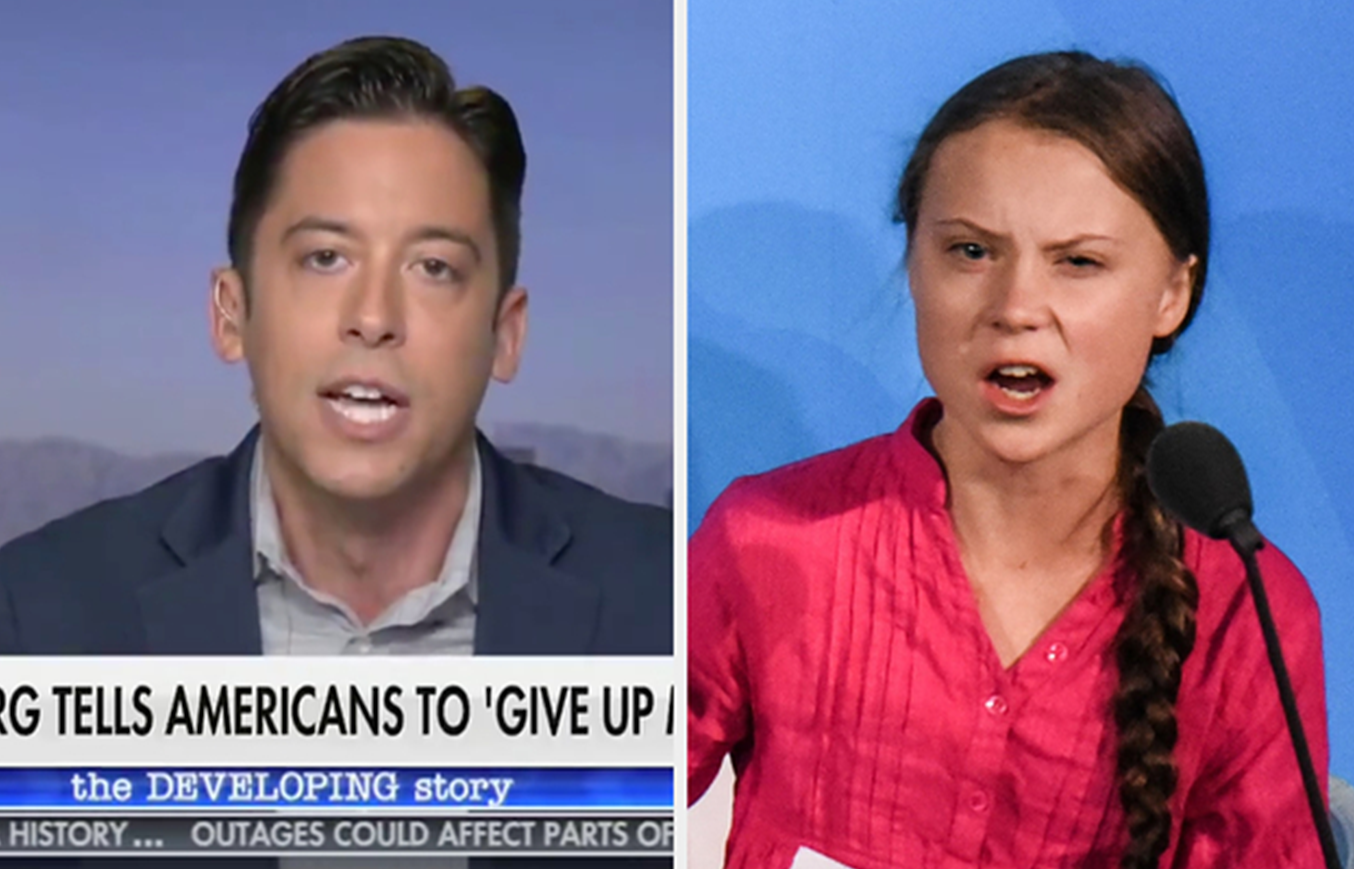 VOTE NOW! Is this Funny or Offensive?
Posted in:
Thunberg-Thunburn: What…A Surprise
September 24th, 2019 – The Daily Wire's Michael Knowles added his voice to the band of right-wing personalities mocking teen climate activist Greta Thunberg calling her "mentally ill." The conservative podcast host was booked on Fox News' The Story on Monday evening where he responded to Thunberg's impassioned speech at the United Nations Climate Action Summit earlier in the day.
The 16-year-old has become a household name after sailing to New York from Sweden to bring attention to the growing impact of climate change. In her speech, Thunberg spoke to the decades of science warning us and slammed the adults in the room for relying on youth to have the hope to take on the issue.
"You all come to us young people for hope. How dare you. You have stolen my dreams and my childhood with your empty words."

– from Greta Thunberg's speech to world leaders at the 2019 U.N. Climate Action Summit. https://t.co/ApLSNKU0Ke pic.twitter.com/yLVMvZ4rG6

— Los Angeles Times (@latimes) September 23, 2019
Knowles not only disagreed with her positions but her capabilities, as well.
"If it were about science it would be led by scientists rather than by politicians and a mentally ill Swedish child who is being exploited by her parents and by the international left," he said during the segment.
Liberal commentator Chris Hahn, who was also booked on Fox, quickly spoke out against Knowles asking him to apologize and take back his remarks.
"You're a grown man," he told Knowles. "Relax, skinny boy, I got this, OK? You're attacking a child, you're a grown man!
Knowles, who has also written for Fox News, continued to defend his comments and doubled down saying "She is mentally ill. She has autism. She has obsessive compulsive disorder, she has selective mutism. She had depression."
Thunberg has been open about living with Aspergers, which she labels as her "superpower" knowing people will use it to dismiss her.
When haters go after your looks and differences, it means they have nowhere left to go. And then you know you're winning!
I have Aspergers and that means I'm sometimes a bit different from the norm. And – given the right circumstances- being different is a superpower.#aspiepower pic.twitter.com/A71qVBhWUU

— Greta Thunberg (@GretaThunberg) August 31, 2019
No apology was found on Knowles' Twitter feed following the segment. While he continued to defend his choice of words, Fox News apologized on his behalf while also announcing that they have no plans to use him as a guest moving forward.
"The comment made by Michael Knowles who was a guest on The Story tonight was disgraceful — we apologize to Greta Thunberg and to our viewers," the network said in a statement.
Knowles is not the first conservative voice to attack Thunberg. John Nolte, who has previously written for the Ben Shapiro-led Daily Wire (as well as Breitbart), took to Twitter to slam the teen asking if she needs a spanking.
Failed 50 year-old Breitbart hack publicly fanaticizes desire to spank teen climate activist, Greta Thurnberg pic.twitter.com/MWaBJidzkX

— Nathan Bernard (@nathanTbernard) September 23, 2019
Laura Ingraham played a portion of Thunberg's speech on her Fox show later in the evening and then compared her to the horror film Children of the Corn. She ended the segment with the quip "I can't wait for Stephen King's sequel, Children of the Climate."
Laura Ingraham compares Greta Thunberg to Children of the Corn pic.twitter.com/eiCvYIbthr

— Andrew Lawrence (@ndrew_lawrence) September 24, 2019
Do you think Michael Knowles' "mentally ill" comments about Greta Thunberg were Funny or Offensive? Vote and comment now…