Fashion Brand Aims For Controversy With School Shooting Hoodies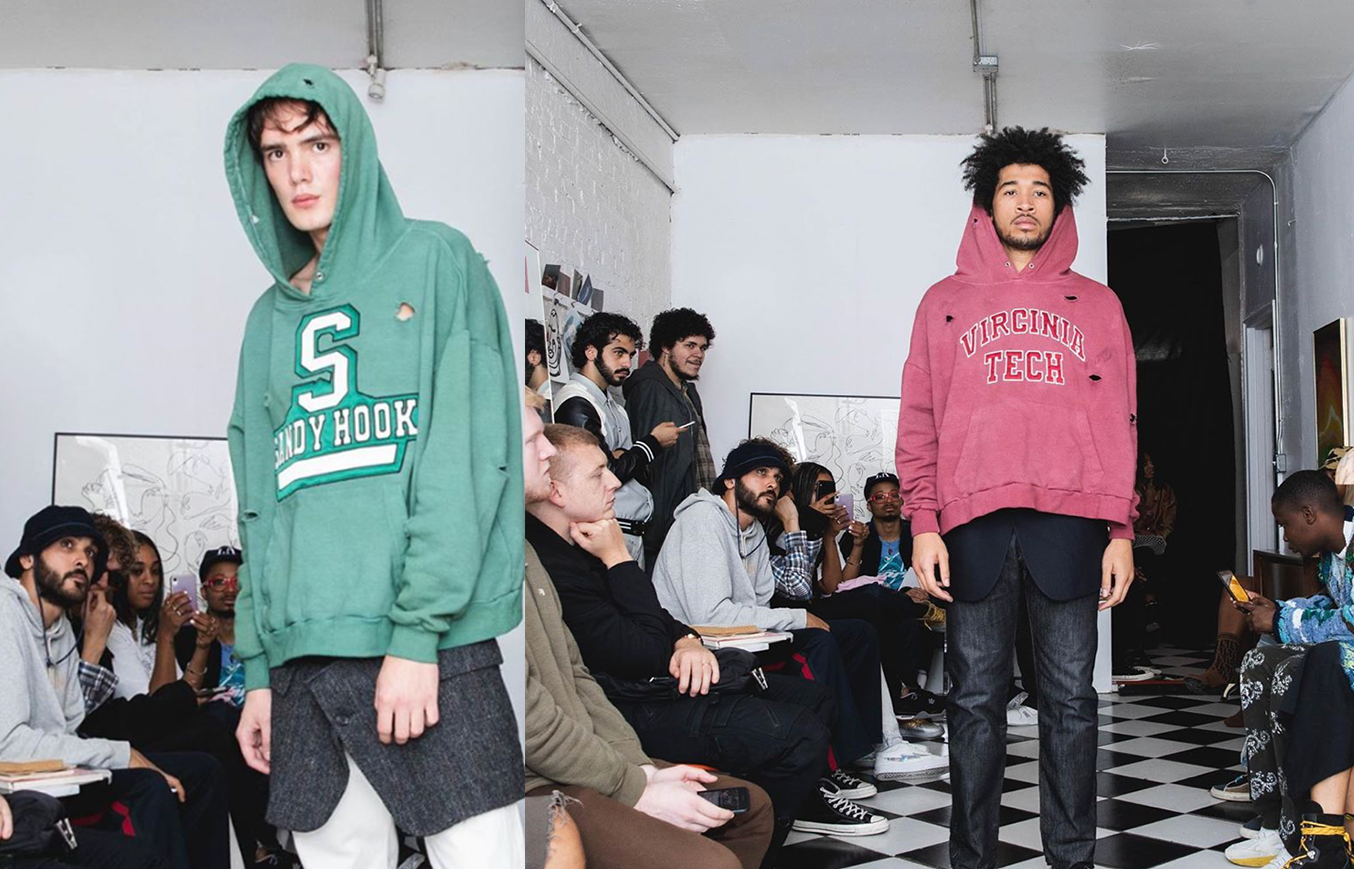 VOTE NOW! Is this Funny or Offensive?
Posted in:
Fashion…But Make It Bullet Holes
September 19th, 2019 – A New York fashion company is facing impassioned backlash after showcasing a new line of school shooting-themed hoodies. At first glance, the sweatshirts look like ones you may pick up at your campus bookstore. But these go a step further than collegiate block lettering; they've also got bullet holes.
Bstroy debuted the collection during New York Fashion Week and quickly shared coverage of the event to their social media pages. Reactions came in swiftly with people questioning the motivations behind the self-described "neo-native post-apocalypse streetwear brand."
"As a victim of Columbine, I am appalled," a commenter wrote. "This is disgusting. You can draw awareness another way but don't you dare make money off of our tragedy."
Models are shown wearing hoodies with the names of four schools where almost 100 people were killed, including Sandy Hook, Columbine, Marjory Stoneman Douglas and Virginia Tech.
The 2020 men's collection was designed by Brick Owens and Duey Catorze. The duo named the line "Samsara," a Sanskrit word referring to the cycle of death and rebirth, and they handed out flyers at the show attempting to explain the connection between fashion and gun violence.
"Sometimes life can be painfully ironic. Like the irony of dying violently in a place you considered to be a safe, controlled environment, like school. We are reminded all the time of life's fragility, shortness, and unpredictability yet we are also reminded of its infinite potential," the handout read in part.
The explanation didn't fly for survivors of mass shootings as well as those who lost friends and family members. They not only echoed problems with profiting off of tragedy but couldn't find the link between fashion and political statements.
Fred Guttenberg, whose daughter Jaime was killed in Parkland, spoke out on Twitter.
Under what scenario could somebody think this was a good idea? This has me so upset. If any of my followers no anybody involved with this clothing line, please ask them to stop it immediately.https://t.co/VzAlog0TCt

— Fred Guttenberg (@fred_guttenberg) September 17, 2019
"As a Sandy Hook family, what you are doing here is absolutely disgusting, hurtful, wrong and disrespectful," the memorial page for Vicki Soto, a teacher who was killed in the Sandy Hook shooting, wrote on Instagram. "You'll never know what our family went through after Vicki died protecting her students. Our pain is not to be used for your fashion."
Delaney Tarr, who also lost people in Parkland, called the sweatshirts disgusting.
So this is fucking disgusting. Unacceptable. Bullet holes?? People died. People DIED. Jesus. https://t.co/DtQWqwpxkU

— Delaney Tarr (@delaneytarr) September 16, 2019
Bstroy isn't currently selling the hoodies, but it's been reported that the idea is now being considered due to recent attention. Those who are hesitant about the controversial fashion statement have pushed for the brand to, at the very least, donate the profits to a charity fighting for gun control measures.
The founders haven't made any public statements about the outrage or any plans to actually further the conversation surrounding the prevalence of school shootings, but they have been outspoken about their marketing methods. In a profile with The New York Times, Dieter "Du" Grams acknowledged that they were making "violent statements" in order to breakthrough in a crowded field.
Supporters of their approach and message have also taken to social media to defend the bullet-ridden hoodies. They've shifted the focus back to the good that can come from negative reactions.
"This SHOULD enrage people. This SHOULD spark conversation," @jillvaccaro said on Instagram. "This is what art and fashion are all about. The problem here isn't the hoodies, it's the fact that we have enough school shootings to make an entire fashion collection of them. Seeing these hoodies & reactions shows how much pain there still is and how, as a country, we still have done NOTHING to stop these senseless (and all too frequent) shooting."
How do you feel about the school shooting hoodies? Are they Funny or Offensive? Vote and comment now…