Michelle Wolf's Most Controversial Jokes From The White House Correspondents' Dinner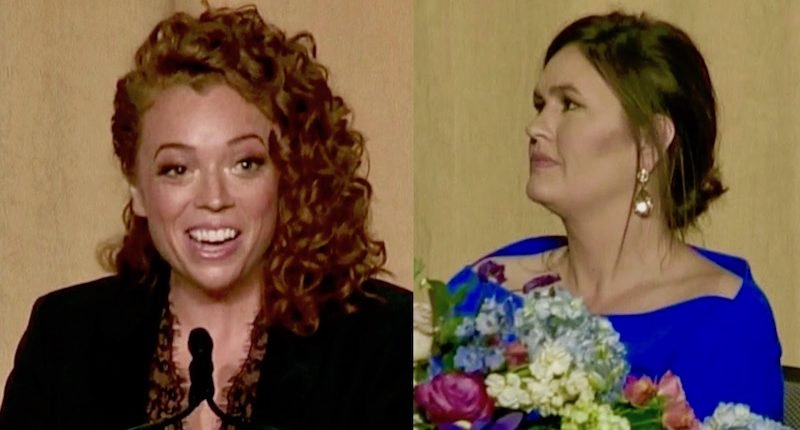 VOTE NOW! Is this Funny or Offensive?
Posted in:
"[Ivanka's] done nothing to satisfy women. So, I guess, like father, like daughter"
April 29th, 2018 – Michelle Wolf delivered the jokes at last night's White House Correspondents' Dinner in Washington, D.C., but not everybody was laughing at her no-holds-barred routine.
The event, hosted annually by the White House Correspondents' Association, always draws attention with journalists, comedians, politicians, and, usually, the President of the United States rubbing shoulders while celebrating our First Amendment right. This year, however, it has received even more hyper focused attention after Wolf went in hard on President Trump and his administration.
Trump, the notoriously super thick-skinned President, decided to skip the event for the second year in a row, instead holding a campaign rally in Michigan. His press secretary, Sarah Huckabee Sanders, and his Counselor, Kellyanne Conway, did attend and took a large brunt of the jokes. Focusing on the lies she tells daily from the podium in the press room, it was the roasting of Sanders that has gotten a lot of people riled up.
"And, of course, we have Sarah Huckabee Sanders. We're graced with Sarah's presence tonight. I have to say I'm a little star-struck. I love you as Aunt Lydia in The Handmaid's Tale," Wolf began. I actually really like Sarah. I think she's very resourceful. Like, she burns facts, and then she uses the ash to create a perfect smoky eye. Like, maybe she's born with it; maybe it's lies."
"And I'm never really sure what to call Sarah Huckabee Sanders. You know, is it Sarah Sanders? Is Sarah Huckabee Sanders? Is it Cousin Huckabee? Is it Auntie Huckabee Sanders? Like, what's Uncle Tom but for white women who disappoint other white women? Oh, I know: Aunt Coulter."
Mike Huckabee, Sanders' father, came to her defense on Twitter alongside other people who felt she was being bullied about her appearance. New York Times reporter Maggie Haberman was impressed by the Press Secretary's ability to absorb criticism about her appearance, but Wolf and others reminded her that she hadn't actually criticized Sanders' physical appearance.
That @PressSec sat and absorbed intense criticism of her physical appearance, her job performance, and so forth, instead of walking out, on national television, was impressive.

— Maggie Haberman (@maggieNYT) April 29, 2018
They call you liars. They call Mexicans rapists. They call Muslims murderers. They support white supremacists. But someone calls them out on what they do, & suddenly they're heroes for not walking out. https://t.co/B9aT7moy2C

— Kumail Nanjiani (@kumailn) April 29, 2018
Hey mags! All these jokes were about her despicable behavior. Sounds like you have some thoughts about her looks though? 😘 https://t.co/JRzzvhBuey

— Michelle Wolf (@michelleisawolf) April 29, 2018
Why are you guys making this about Sarah's looks? I said she burns facts and uses the ash to create a *perfect* smoky eye. I complimented her eye makeup and her ingenuity of materials. https://t.co/slII9TYdYx

— Michelle Wolf (@michelleisawolf) April 29, 2018
Despite Twitter's best efforts to make it seem like Wolf roasted Sanders for the entire 20-minute routine, she did in fact make a lot of other controversial jokes – setting the tone with her opening remarks:
"Like a porn star says when she's about to have sex with a Trump, let's get this over with…And just a reminder to everyone, I'm here to make jokes. I have no agenda. I'm not trying to get anything accomplished. So everyone that's here from Congress, you should feel right at home."
Take a look at some of the most talked about jokes of the night that targeted all types of things including  – but definitely not limited to – Democrats, CNN, Roy Moore, Mike Pence, Hillary Clinton, and, of course Nazis and porn stars.
"And I know as much as some of you might want me to, it's 2018 and I am a woman, so you cannot shut me up — unless you have Michael Cohen wire me $130,000. Michael, you can find me on Venmo under my porn star name, Reince Priebus."
"Of course, Trump isn't here, if you haven't noticed. He's not here. And I know, I know, I would drag him here myself. But it turns out the president of the United States is the one pussy you're not allowed to grab."
"Republicans are easy to make fun of. It's like shooting fish in a Chris Christie. But I also want to make fun of Democrats. Democrats are harder to make fun of because you guys don't do anything. People think you might flip the House and Senate this November, but you guys always find a way to mess it up. You're somehow going to lose by 12 points to a guy named Jeff Pedophile Nazi Doctor. Oh, he's a doctor?"
"We've got our friends at CNN here. Welcome, guys, it's great to have you. You guys love breaking news, and you did it. You broke it. Good work. Fox News is here. So, you know what that means, ladies: Cover your drinks. Seriously. People want me to make fun of Sean Hannity tonight, but I cannot do that; this dinner is for journalists."
"Mike Pence is what happens when Anderson Cooper isn't gay. Mike Pence is the kind of guy that brushes his teeth and then drinks orange juice and thinks, "Mmm." Mike Pence is also very anti-choice. He thinks abortion is murder, which, first of all, don't knock it till you try it. And when you do try it, really knock it. You know, you got to get that baby out of there."
"It is kind of crazy that the Trump campaign was in contact with Russia when the Hillary campaign wasn't even in contact with Michigan."
"I'm 32 years old, which is an odd age: 10 years too young to host this event and 20 years too old for Roy Moore."
"We should definitely talk about the women in the Trump administration. There's Kellyanne Conway. Man, she has the perfect last name for what she does: Conway. It's like if my name was Michelle Jokes Frizzy Hair Small Tits."
"I watch "Morning Joe" every morning. We now know that Mika and Joe are engaged. Congratulations, you guys. It's like when a Me Too works out."
Wolf ended the night by reminding people that Flint still doesn't have clean drinking water, because what's a comedy routine without a Debbie Downer moment? The jokes ended late last night, but the debate about whether or not we should hold a comedian to a higher standard than our President rages on today.
Doesn't Michelle Wolf know that it's only okay for President to be mean, mock a disabled person, grab women by p, attack Gold Star family, offer to pay supporters to beat up protesters…

Trump supporters hold comedians to a higher standard than their own president. #WHCD — Sarah Reese Jones (@PoliticusSarah) April 29, 2018
Comedian ends comedy dinner by saying that Flint still doesn't have clean water, an attempt to point out Washington's continued neglect of people who need help.

Washington responds with a rigorous debate about the tone and civility of the comedian's jokes. Perfect. — Jon Favreau (@jonfavs) April 29, 2018
Watch Michelle Wolf's full comedy routine above and let us know what you thought about its place in the White House Correspondents' Dinner. Do you think her jokes were Funny or Offensive? Vote and comment now…