WH Official Mocks John McCain's Brain Cancer 'He's Dying Anyway'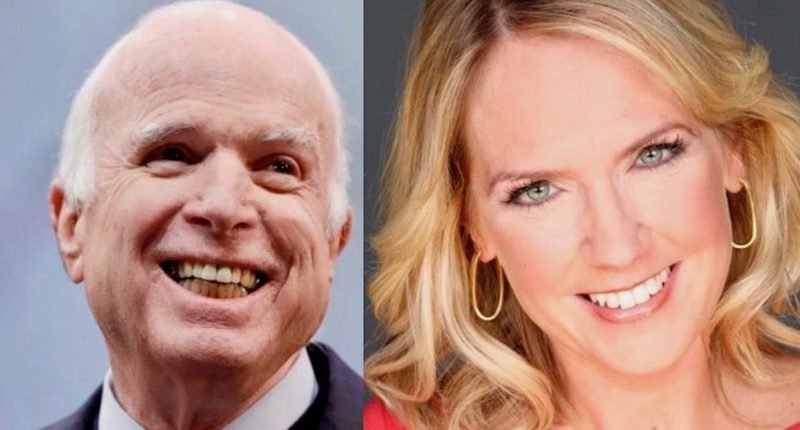 VOTE NOW! Is this Funny or Offensive?
Posted in:
At Least It Wasn't A 'Smokey Eye' Joke…
May 10th. 2018 – A White House official mocked John McCain's battle with brain cancer during a closed-door communications meeting Thursday morning. The Republican senator came out against Trump's CIA Director nominee, Gina Haspel, yesterday saying her refusal to acknowledge the immorality of torture disqualifies her from the position.
I believe Gina Haspel is a patriot who loves our country & has devoted her professional life to its service & defense. However, her role in overseeing the use of torture is disturbing & her refusal to acknowledge torture's immorality is disqualifying. https://t.co/ocDtdqU2Sx

— John McCain (@SenJohnMcCain) May 10, 2018
Kelly Sadler, who serves as Special Assistant to President Trump, interjected her thoughts as two dozen communication staffers discussed the impact that McCain's "no" vote may have on the Senate confirmation.
"It doesn't matter, he's dying anyway," Sadler jabbed, according to an unnamed source. 
According to The Hill, two sources who were present at the meeting believe the comment was intended as a joke. They described the reaction in the room as "discomfort" but said that nobody confronted Sadler about the jab. The meeting, led by deputy press secretary Raj Shah, moved ahead.
NEW: 2 WH sources who heard the comment, confirm to me, that WH communications official Kelly Sadler joked about @SenJohnMcCain 's Brian cancer during WH meeting. In response to McCain's opposition to Haspel CIA nomination, she said:" It doesn't matter, he's dying anyway." https://t.co/ygSUYJ5CyG

— Fin Gomez (@finnygo) May 10, 2018
Just a week after the Trump administration slammed Michelle Wolf for making jokes during a roast, they've kept fairly mum about Sadler's joke but did put out a statement sending prayers to McCain's family.
"We respect Senator McCain's service to our nation and he and his family are in our prayers during this difficult time."
Twitter had plenty of opinions this afternoon about McCain, who survived torture as a prisoner of war during Vietnam, and Sadler, who was previously the opinion editor for The Washington Times.
John McCain is a war hero, and whether you respect him as a politician or not, he's always been loyal to America. As opposed to Donald Trump, who committed treason. How dare Kelly Sadler or anyone else in the traitorous Trump administration make fun of McCain because he's dying?

— Palmer Report (@PalmerReport) May 10, 2018
WH official confirms Kelly Sadler mocked John McCain's cancer diagnosis saying "he's dying anyway" in response to his opposition to Haspel nomination.

It's not strange because Trump did mock Sen. McCain before.

But I would say, the entire admin is a complete trash. No respect!

— Ambassador Rob (@RobertoWinsSher) May 10, 2018
Kelly Sadler is the White House aide who mocked John McCain's terminal condition. May her career be in terminal condition.

— John Podhoretz (@jpodhoretz) May 10, 2018
Can confirm The Hill's reporting. (Not that it needed my confirmation.) Though I'm told there was some snickering at the comment, not stony silence. https://t.co/LhFOO3leF7

— Jonathan Swan (@jonathanvswan) May 10, 2018
The White House communications official who mocked "dying" McCain during a meeting, is @kellysadler45. Our taxes pay her damn salary.
Oh, one more thing. Kindly, don't ever talk to me again about the cruelty of a "smoky-eye" joke. https://t.co/sGtDlcsJD4

— Ana Navarro (@ananavarro) May 10, 2018
Dear @kellysadler45 -have u heard abt a new initiative, headed by @FLOTUS ?
It's called #BeBest and you might want to check on any classes they SHOULD BE SCHEDULING at the White House to deal with the insensitive nature of your remarks about @SenJohnMcCain #NotFunnyAtAll https://t.co/RdxjWyOBvx

— Pat Bennett (@patbennettaz) May 10, 2018
Our Country deserves better. So much unkindness and hatred has been unleashed with this administration. That was NOT A JOKE those are words directly from aides that have no empathy or historical understanding of who Senator McCain is.

— Maggie (@flyachihuahua) May 10, 2018
Sadler's joke follows in the footsteps of Trump, who took his own dig at McCain after announcing his presidential bid in 2015. "He's not a war hero," candidate Trump said. "He was a war hero because he was captured. I like people who weren't captured."
Should a White House official be held to a higher standard? Was Kelly Sadler's joke about John McCain dying Funny or Offensive? Vote and comment now…