Seth Meyers Joked His Way Into 'Time's Up' Movement At The Golden Globes (VIDEO)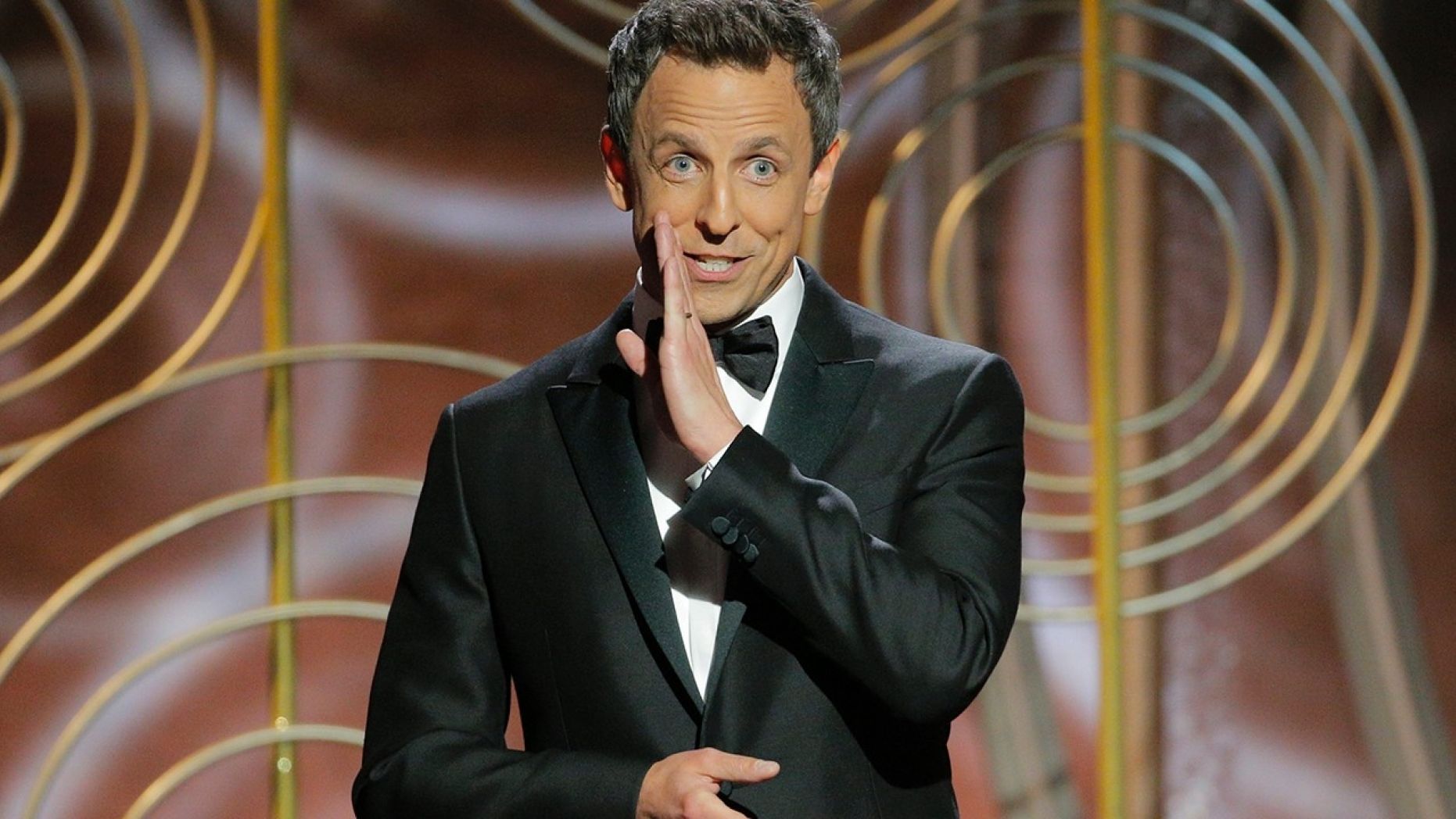 VOTE NOW! Is this Funny or Offensive?
Posted in:
"Good Evening, Ladies and Remaining Gentlemen"
January 7th, 2018 – The 75th Golden Globe Awards wrapped up this evening with winners, losers, black dresses, big disses, and plenty of jokes for Twitter to dissect. Host Seth Meyers took to the stage knowing he was manning the mic at a time when a reckoning of sexual assault and abuse in the industry he was honoring was taking place. During the red carpet, he noted the uniqueness of this year's ceremony but assured viewers that he's "got the jokes."
While many may criticize his performance or wax nostalgic for the days when awards shows stayed away from political movements, Meyers has a pretty simple response. The late-night host has long aimed his comedy at the intersection of entertainment and politics and doesn't worry about people telling him to "stay in his own lane." As a guest on the podcast Pod Save America, he compared critics reminding him that Johnny Carson would simply do this or that to people saying "you know…the Super Bowl used to be in standard definition. "You're like 'yeah, yeah…stuff's different, everything changes," he said.
Stuff was different indeed. Meyers didn't shy away from the "Time's Up" movement of the night with the majority of the jokes in his opening monologue centering around sexual harassment along with a good dose of Trump digs. Take a look at some of the most memorable lines that Meyers threw out to the room:
"Happy new year, Hollywood. It's 2018. Marijuana is finally allowed and sexual harassment finally isn't. It's gonna be a good year."

"For the male nominees in the room tonight, this is the first time in three months it won't be terrifying to hear your name read out loud. 'Did you hear about Willem Defoe?' 'Oh God no.' 'He was nominated.' 'Don't do that! Don't do that!'"

"Considering what has been going on this year with powerful men and their terrible behavior in Hollywood, a lot of people thought it would be more appropriate for a women to host these awards. And they may be right, but if it's any consolation, I am a man with absolutely no power in Hollywood. I'm not even the most powerful Seth in the room tonight – gesturing to Seth Rogen – Hey, remember when he was the guy making trouble with North Korea? Remember that? Simpler times."

"They tried to get a woman to host this show, they really did. They said, 'Hey, how would you like to come and be judged by some of the most powerful people in Hollywood?' And women were like, 'Hmm…well, where is it?' They said, 'It's at a hotel.' And long story short, I'm your host tonight.

"And we're all here tonight courtesy of the Hollywood Foreign Press…a string of three words that could not have been better designed to infuriate our president. Hollywood. Foreign. Press. The only name that would make him angrier would be the Hillary Mexico Salad Association."

"Oprah Winfrey is receiving the Cecil B. DeMille Award tonight. What a tremendous honor for Cecil B. DeMille. And Oprah, while I have you, in 2011, I told some jokes about our current President at the White House Correspondents Dinner. Jokes about how he was unqualified to be president and some have said that night convinced him to run. So, if that's true, I just want to say: Oprah, you will never be President! You do not have what it takes! And Hanks! Where's Hanks? You will never be Vice President! You are too mean and unrelatable! Now, we just wait and see."

"Well, I think it's time to address the elephant not in the room. Harvey Weinstein isn't here tonight because well, I've heard rumors that he's crazy and difficult to work with. But don't worry, he'll be back in 20 years when he becomes the first person ever booed during the In Memoriam."
If you were following along on Twitter or, you know, just watching the show, you probably noticed that Meyers wasn't an instrumental role in the show after the monologue. Perhaps an intentional move, the ceremony let most of the focus go to the nominees, the women and, of course, Oprah. Meyers often goes to his "Jokes Seth Can't Tell" segment on his own late-night show when he knows his straight, white, male identity can't quite get away with a joke, and he used that formula again tonight.
"So, I'm going to say the set up and Jessica (Chastain) is going to say the punchline. Okay, here we go," the host explained. 

Meyers: The Golden Globes turned 75 this year.

Chastain: But the actress that plays its wife is still only 32.

Meyers: There ya go! So much more fun! Where is Billy Eichner?

Meyers: Here you go, here's your set up Billy. Call Me By Your Name is nominated for Best Motion Picture. It is a gay coming of age film.

Eichner: Said Kevin Spacey, "You lost me at 'of age.'"

Meyers. And you thought it was mean when I said he didn't have a Southern accent. Issa Rae is nominated for her HBO show Insecure. There's Issa. Alright, here's your set up. Insecure creator Issa Rae currently has three projects in development with HBO.

Rae: Yeah, that's right. And three projects is also where they think I'm from.
The night wound down with Frances McDormand winning Best Actress for Three Billboards Outside Ebbing, Missouri and then giving a final zinger for the evening. While acknowledging the Hollywood Foreign Press Association, she said "I'm still not quite sure who they are when I run into them, for the last 35 years, but I love seeing their faces and, let's face it, they managed to elect a female president."
What did you think of the 2018 Golden Globes? Which jokes would you have awarded top prize and which ones should consider it an honor to simply be nominated?