Throwback: 'SNL' Cast Member Nora Dunn Boycotts Andrew Dice Clay Episode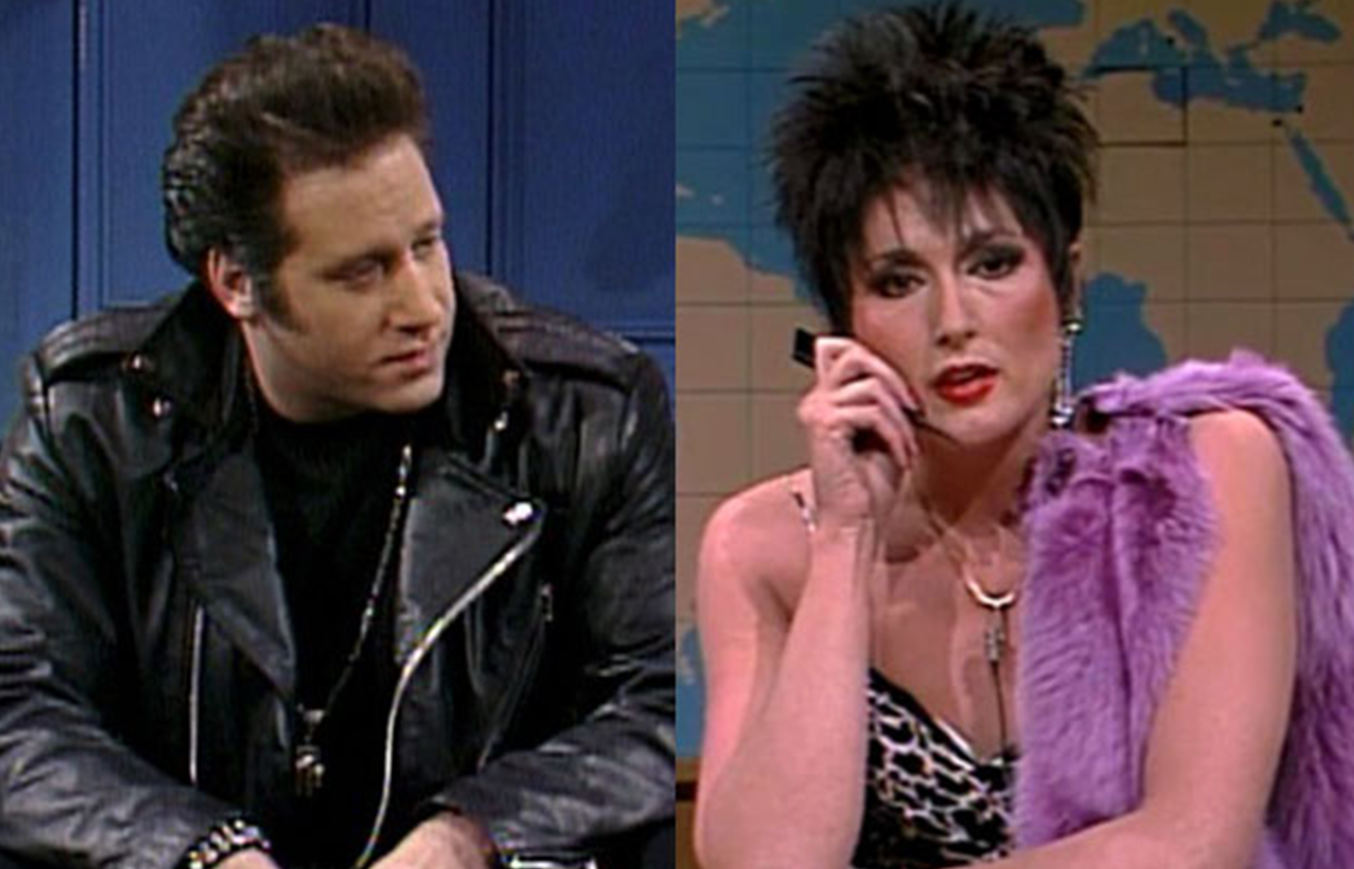 VOTE NOW! Is this Funny or Offensive?
Posted in:
Nora Dunn With Misogyny
April 25th, 2019 – On Saturday, May 12, 1990, Andrew Dice Clay hosted Saturday Night Live. The Diceman delivered his macho-man monologue, the cast performed running gags calling out the predicted unfavorable press coverage, millions of people watched, and Lorne Michaels probably pat himself on the back for a ratings spike that always comes with controversy.
One cast member, however, wasn't at Studio 8H when the clock struck 11:30. Nora Dunn refused to do the episode citing Clay's misogynistic and homophobic nature. As a character-based standup comedian, Clay absolutely was misogynistic and homophobic. He intentionally created a loud, condescending, offensive persona for the stage, but Dunn argued that "The Diceman" and Clay were one in the same.
During an interview with Salon, she talked about the many writers and performers who can use offensive personas to pull off quality satire. Noting All in the Family creator Norman Lear, Dunn acknowledged that smart, talented people can be offensive with a purpose.
"He just wasn't smart enough to handle that material," she said of Clay in 2015. "And our writing staff was not the writing staff to handle that material either [for him to host the show]. I was well aware of that guy's so-called 'work.' He had been a comedian for many years, and he gradually became Andrew Dice Clay, and he got more and more into it and he lost his way because he wasn't smart enough."
Dunn wasn't alone in her expectations of Clay's SNL stage time. In the lead-up to his hosting gig, plenty of groups prepared accordingly. NBC decided to put the broadcast on a five-to-seven-second delay and gay rights activists planned protests — one group was in the audience and began chanting "Racist, sexist, anti-gay, Clay go away!" during the monologue.
As Dunn spoke about Clay years later, she didn't deny his impact on comedy and culture in the 80s and 90s, but she disagreed with the way in which that was explored.
"Lorne said, 'Andrew Dice Clay was a phenomenon worth examining.' And yeah, he was a phenomenon, but if you're going to examine him, he shouldn't be the host, you should write an article. We didn't examine the hosts of SNL. We supported them, we wrote for them, and we made them look good. Otherwise you'd never get a host. You're there to make them look good."
Musical guest Sinead O'Connor was also opposed to making Clay look good. Quickly after Dunn decided she would not participate in the episode, O'Connor also backed out. She would later go on to make herself a featured paragraph in "Controversies" on Saturday Night Live's Wikipedia page after tearing up a picture of the pope during a 1992 musical performance on the show.
Dunn helped wrap up the 15th season of the long-running sketch show on May 19th, 1990. Candice Bergen (who, ironically, was playing feminist icon Murphy Brown at the time) hosted what turned out to be Dunn's last episode of Saturday Night Live.
Dunn has gone on to have a long and full career since her controversial late-night exit and seems to have moved on from the Clay-focused moment. When asked, however, about the people who didn't accept her decision at the time (including fellow castmate Jon Lovitz) she wants people to know it wasn't simply Clay's foul language that pushed her.
"It was offensive to me to read [in the press] that I didn't like him because he was foul-mouthed. My friends know me. I'm from Chicago. I'm a Bears fan," she said. "Believe me when I watch a game, the language I use is not for the Disney family hour. I don't have a problem with swearing. I enjoy it. My objection to Andrew Dice Clay was that his character was only about one thing: abusing women and laughing about abusing women. There was nothing else behind it. There was nothing else about it except to make him look harmless."
Give us your thoughts on the Andrew Dice Clay-Nora Dunn SNL controversy!