Airlines May Start Weighing Passengers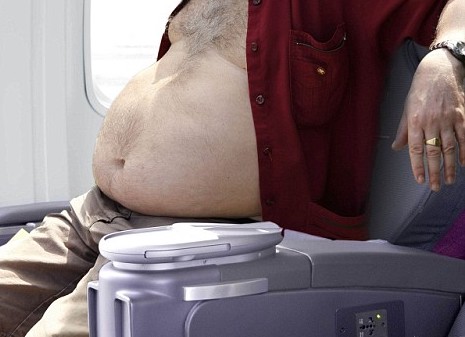 VOTE NOW! Is this Funny or Offensive?
Posted in:
Can't Weight To Go Through Security

April 28th, 2019 – A British software company wants to help airlines calculate exactly how much fuel they will need for long-distance flights. That technical measurement will depend on a personal measurement: your weight. Fuel Matrix has been working with several airports as they weigh their options on implementation.
The Berkshire-based company has pitched the idea as both a cost-saving and Earth-saving opportunity. Currently, aviation is a large contributor to environmental pollutants as it accounts for roughly 3% of the world's C02 output. Not only is carrying more fuel expensive, but airlines can be fined for exceeding carbon emission limits.
Travelers may soon be providing something besides their credit card number when they purchase a ticket. Fuel Matrix has suggested that airlines could simply ask customers to provide their magic number before arriving at the airport. They have also pitched the idea of weighing people discreetly using either pressure pads or scanning machines.
We've all stood with our hands above our heads worried that we left something in our pockets. Now we may be worried about that extra side of fries we ordered during our layover in Chicago last week. Fuel Matrix CEO Roy Fuscone has tried to ease that worry by telling CNN Travel that the company has made confidentiality and discreetness a top priority.
"You stand in a scanner that goes round you — now, clearly while you're standing there being scanned, you could also be being weighed — very discreetly — if you haven't wanted to supply your information ahead of time," he said. "It would be very discreet, very private and very confidential."
Fuel Matrix has tried to pacify further concerns by working with GDPR — the EU's data protection law — employees to make sure your data would remain classified. But with fairly consistent emails from Credit Karma letting you know they've found your information in yet another company's data breach, the idea of classified may be hard to believe.
No traveller wants to, figuratively, imagine a gate agent paging passenger Jane Doe, flight 1523, seat 15A, 167 pounds to the desk. People working in the health and wellness field have expressed some additional concerns. Tom Quinn, director of external affairs at BEAT, a UK charity that works with people diagnosed with eating disorders, worries that this process could negatively affect recovery.
"People with or in recovery from these serious mental illnesses may be trying to break the cycle of compulsively weighing themselves or of avoiding knowing their weight," he said. "Having to stand on the scales when they may already be anxious about the challenges that come with traveling could trigger their eating disorder behaviors. It would be essential that the results are entirely anonymous and that even the person being weighed cannot see the results if they are vulnerable."
Just as people sometimes make their best guess on how much they weigh, airlines currently have the same approach. Based on standard measurements for men, women, and children, they will use an estimated calculation in order to appropriate fuel. New technology would allow them to have an accurate number and could potentially save passengers money.
Would you trade the release of your weight for monetary and environmental savings? Do you find Fuel Matrix's idea Funny or Offensive? Vote and comment now…