Steve Harvey Tells Flint Caller To "Enjoy Your Nice Brown Glass Of Water"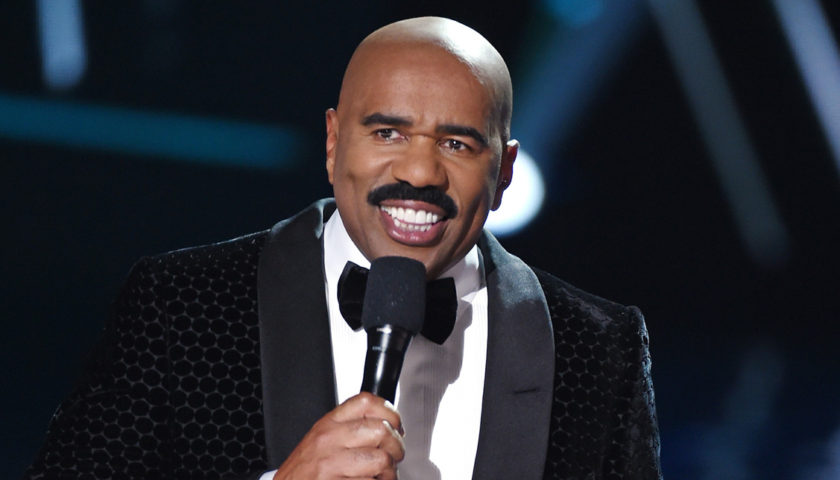 VOTE NOW! Is this Funny or Offensive?
Show Me…Controversy!
June 15th, 2017 – The busiest host in entertainment (and the one with the lengthiest memo on how to interact with him) has caused a string of reactions this afternoon after a joke he made this morning made its way past radio waves. Steve Harvey, along with co-hosts, was talking with a caller on his radio show about the Cleveland Cavaliers' lost to the Golden State Warriors. Harvey is a longtime fan of the Cavs and the caller, who said he lived in Flint, was ribbing him about the championship loss.
The back and forth went on for a while and, according to recording released by a listener, the conversation came to an awkward point when the caller said the Cavs "didn't deserve jack." Harvey's response to that: a question followed by a controversial analysis.
"You from Flint? That's why y'all ain't even got clean water. When was the last time you touched water and it didn't have lead in it?"
The co-hosts recognized the immediate problem and seemed to predict the future controversy.
"You're out there now. You're over the edge. Reel it in, man," one hosts tells him. "Go ahead and apologize," she continued sounding light hearted but aware. 
Amid more nervous laughter and "wows," Harvey tries to clarify saying:
"I wasn't talking about the city of Flint. I was talking about him. He going to call in, say Cleveland don't deserve jack, and he over there bathing in all that silver water."
The show was about to move on, but Harvey wanted to say one more thing and it turned out that the caller was still on the line.
"One more thing…enjoy your nice brown glass of water," the host cracked. 
Flint, MI has battled for clean water for many years now with the first advisory going out in August 2014. The timing of the joke is also coming into question. Nick Lyon, health and human services department director, was charged with involuntary manslaughter earlier this week. Harvey referenced his effort in bringing awareness to the crisis in an explanation of the incident to NBC 25 News. 
"This morning callers and I were cracking jokes about the Cleveland Cavaliers loss to the Golden State Warriors. I'm a huge Cavs fan.

The caller and I were talking trash about our teams and cities. 'SIMPLY TRASH TALKING ABOUT SPORTS'.

I made a joke directed at him, as he is from Flint, a city for which I have great affection and respect.

So much so that I devoted a full hour on my daytime talk show to raising awareness for the Flint water crisis.

I also pressed then candidate, Hilary Clinton, to offer solutions to what I called one of the great catastrophes of modern times.

The and the caller laughed as my joke was taken in the context it was offered.

Any attempts to craft this into anything more serves no one."
Karen Weaver, the mayor of Flint, has called for a public apology saying "To make a joke about a tragedy such as this was in very poor taste, especially coming from someone of your stature."
Flint Mayor Weaver calls for a public apology from Steve Harvey. See her letter here. pic.twitter.com/rADXaWHB3p

— William A Harris (@BillHarrisTV) June 15, 2017
Plenty of other people, include Little Miss Flint, added their response to the joke.
Flint is not a joke @IAmSteveHarvey @SteveHarveyFM please apologize #FlintWaterCrisis #Flint #FlintLivesMatter #PeopleDied pic.twitter.com/uOSPQsOkFR

— Little Miss Flint (@LittleMissFlint) June 14, 2017
Hey @IAmSteveHarvey remember me? Yea, the little Flint girl…please dont make water crisis jokes #FlintWaterCrisishttps://t.co/Jh9JcehaCg

— Little Miss Flint (@LittleMissFlint) June 13, 2017
Question: Do we not like provocative comedy anymore? I realize that this issue isn't funny at all. But we police comedy so much now. https://t.co/0A3i8FMNig

— Chicago forever (@Veronicolumn) June 15, 2017
His "joke" was disgraceful & not in the least bit funny. Proud of my hometown and proud of this little lady for sticking up for it! https://t.co/tnSiQS1s34

— Janice Ward (@JaniceWard09) June 15, 2017
Steve Harvey, This time u went way too far. Instead of using some of your many $$ to help Flint u get nasty. And all because of b'ball game

— Micki Vruno (@00micki) June 15, 2017
Steve Harvey in that sunken place.

— Malcolm Xnxx (@MrPryority) June 15, 2017
Do you think Steve Harvey's joke about the water in Flint went too far? Should he apologize? Watch the video of the joke, and then vote FUNNY or OFFENSIVE.