Texas Anti-Masturbation Bill Mocking Women's Healthcare Laws Moves Forward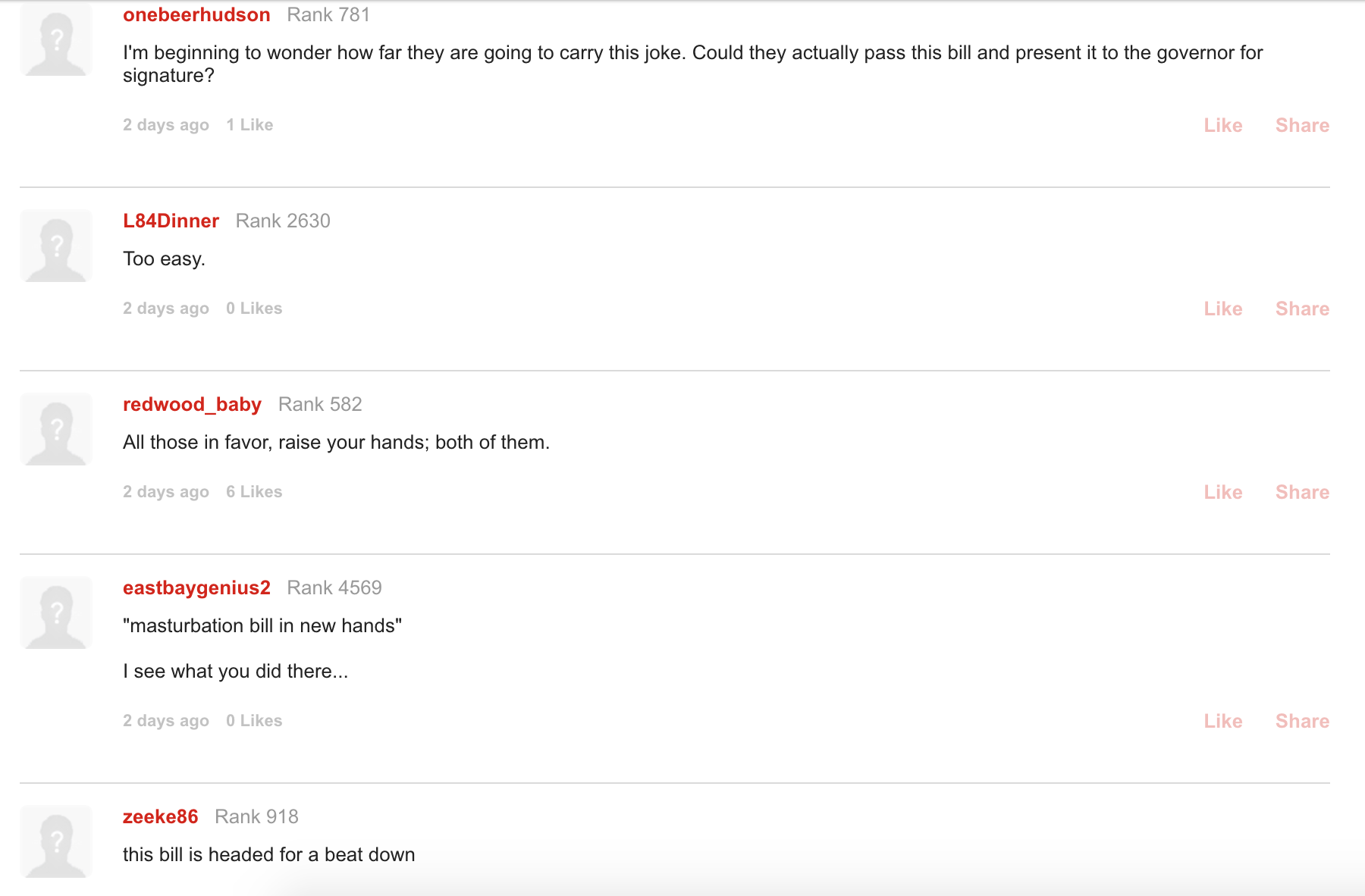 VOTE NOW! Is this Funny or Offensive?
Posted in:
Making Rules Hand Over Fist
April 11th, 2017 – A satirical Texas bill that seeks to fine men for masturbating, among many other regulations, is inching closer to completion as it now finds itself at the Texas State Affairs Committee. The committee is the standard panel that hears abortion-related legislation and now its members will review House Bill 4620. Texas State Rep. Jessica Farrar, a democrat from Houston, introduced the bill in March, and it's now mockingly known as "Men's Right to Know Act."
Farrar has suggested it become law on September 1 but knows that the real end game is highlighting the invasive, over-reaching legislation proposed by men that dictate women's healthcare.
"A lot of people find the bill funny," Farrar said in a phone interview with Chron. "What's not funny are the obstacles that Texas women face every day, that were placed there by legislatures making it very difficult for them to access healthcare."
Farrar says her bill "mirrors real Texas laws and health care restrictions faced by Texas women every legislative session."
Current Texas laws allow doctors to give women considering an abortion a "Women's Right to Know" pamphlet. Farrar has labeled this practice as a "guilt mechanism" to control the decision and have the woman change her mind about what she wants to do with her body.
Farrar also called out the law requiring a woman to have a trans-vaginal ultrasound before she can have an abortion. Again, she frames this act as an "invasive, medically unnecessary procedure where one of the state's objectives is to guilt her into changing her mind."
In retaliation, "Men's Right to Know Act" outlines the following mandates:
-The state must create a booklet called "A Man's Right to Know" that contains information on the benefits of and risks of vasectomies, Viagra prescriptions and colonoscopies. A man must review the booklet before getting the procedure.

-A doctor must get consent from the man before providing any of the treatments. The man may only get the treatment after waiting 24 hours and reviewing "A Man's Right to Know."

-A man will be fined $100 for "unregulated masturbatory emissions." The fines will benefit children in the care of the Department of Family and Protective Services.

-A man must receive a rectal exam and an MRI of his rectum before receiving treatments.

-A man can't sue a doctor for refusing to provide these treatments if the procedure violates the doctor's "personal, moralistic, or religious beliefs."

-The state must establish a registry of nonprofit organizations and hospitals that provide abstinence counseling, a supervising physician for "masturbatory emissions," and semen storage

-"Masturbatory emissions" must be stored for the wife to use for conception at a later time.
Online reaction has run the gamut of support vs opposition to humor vs tax dollars. With some sticky humor thrown in the mix.
Texas men could be fined when they masturbate https://t.co/hjGNKnHuMc funny, but tax payers are paying for her to write a satircal bill?

— Graeme Hadden (@ghads31) April 7, 2017
Texas bill would fine men $100 each time they masturbate + 24 hour wait on viagra 😉 I wish. @CNN https://t.co/yuUEEbdNoR

— ms2991 (@macsteph2991) March 21, 2017
Hillary Clinton even weighed in saying at the Annie's List luncheon in Houston "I don't know. The bill may be satirical but the message sure resonated."
Is this proposed legislation good use of satirical humor to highlight real problems or does it make a mockery of government? Funny or Offensive? Vote and comment below.