United Airlines Causes More Uproar After Dragging Passenger Off Flight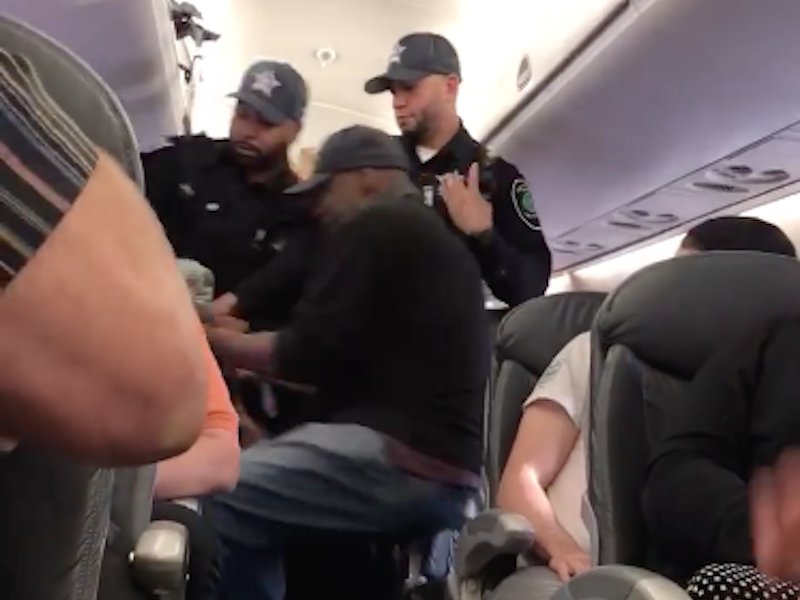 VOTE NOW! Is this Funny or Offensive?
Posted in:
CORPORATIONS UNITED
April 10th, 2017 – It's looking like a lot of rough air ahead for United Airlines after their latest public relations fiasco. The air carrier is in the news for a passenger's forced removal from a recent flight from Chicago to Louisville, Kentucky. After overbooking the flight, the airline offered vouchers for any customers willing to adjust their travel plans and offer up their seats, but when there were still not enough available seats, people were randomly selected to be "re-accommodated" on a later flight.
When one flyer refused to disembark, in order to make room for several United employees, Chicago Aviation Police forcibly removed the man from his seat as a planeload of horrified travelers looked on in disbelief. In the now viral video of the incident, the dazed and unresponsive man, a medical doctor en route to see a patient, by some accounts, is seen being dragged down the aisle after apparently suffering a blow to the head. Public reaction was swift and United's CEO quickly issued a statement via Twitter vowing to investigate the matter saying, in part:
"Our team is moving with a sense of urgency to work with the authorities and conduct our own detailed review of what happened. We are also reaching out to this passenger to talk directly to him and further address and resolve the situation."
@United overbook #flight3411 and decided to force random passengers off the plane. Here's how they did it: pic.twitter.com/QfefM8X2cW

— Jayse D. Anspach (@JayseDavid) April 10, 2017

The officer responsible for removing the distressed passenger has been placed on administrative leave pending an official review. In the meantime, social media users flooded Twitter with concern for the man's well-being as well as jokes mocking the callous manner United's staff and the airport police handled the situation. One meme even joked that the company had just hired "Negan," the violent sociopath from the popular TV series The Walking Dead. 
@PhillyD United Airlines new Chief of Security pic.twitter.com/HJ1pjCoGRP

— PatrickLives (@patrickLivesfor) April 10, 2017
The blunt social media outcry didn't stop there.
When you know you have a PR nightmare @united… pic.twitter.com/PPqtwuHn5b

— McNeil (@Reflog_18) April 10, 2017
New photo of United Airlines asking for volunteers to deplane pic.twitter.com/C0lFRgjf4o

— Give Me Internet (@GiveMeInternet) April 10, 2017
UNITED WE STAND AGAINST United AIRLINES #UNITEDAIRLINES #BOYCOTTUNITED#NEVERAGAIN
Please tag and share world wide! pic.twitter.com/CuaDndxprZ

— Kt Bunge (@KtBunge) April 10, 2017
Corporations are people, my friend… amirite? #DraggedOffUnited #unitedAIRLINES https://t.co/3NTK5bU6wK

— Joy Reid (@JoyAnnReid) April 10, 2017
When you don't 'volunteer as tribute' on @united #UnitedAirlines #boycottUnited pic.twitter.com/IqSRB6XyAw

— Rin (@erinnire5) April 10, 2017
A United spokesperson attempted to clarify the "involuntary de-boarding situation" citing the inconvenience to travelers in other cities if the crew members they were attempting to transport were delayed in reaching their destination. Matt Rizzetta, CEO of New York-based public relations firm North 6 Agency, failed to see any circumstances that would justify the airline's behavior. He told the Chicago Tribune, with respect to the potential negative financial impart of the viral video:
"It certainly doesn't bode well for their immediate future in terms of customer loyalty and customer retention. There's a significant portion (of customers) they've already lost."
Just two weeks after United made headlines after forcing young girls to change out of leggings before using their pass tickets, it was again fellow passengers who shared the questionable airline procedures. "It felt like something the world needed to see," Tyler Bridges said after sharing a video to Twitter.
Do you think United went too far by forcibly removing the passenger? Was the strong social media outcry warranted? Share your thoughts below!