The 23 Best United Airlines Memes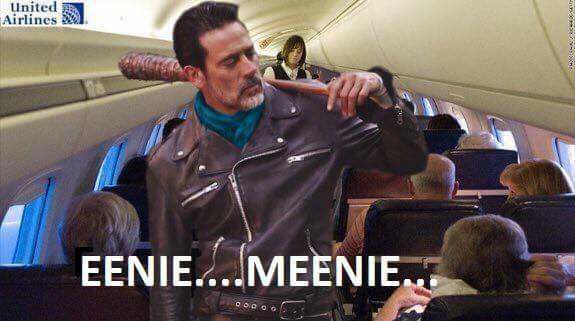 VOTE NOW! Is this Funny or Offensive?
Posted in:
United We Joke
April 12th, 2017 – Unless you've been unconscious from a head injury the past week, you've heard about the nightmare situation at United Airlines. You've read the articles. You've heard the hot-takes. You've seen the unsettling video. What's seemed to almost overtake it all, though, are the jokes, memes and photoshop exhibits.
While those on the inside of the debacle are having to approach the incident and the consequences with a serious lens, those on the outside are able to dive in with no filter.
People have drawn inspiration from, well, everything: the movie Airplane, the TV show The Walking Dead, airline slogans, the 2016 presidential race and even the "cash me outside" girl. Scroll through the top 20 memes responding to United's aggressive removal of a passenger.
Easy job interview:
BOSS: what are your qualificati-

ME: *punches him in the face*

BOSS: welcome to United pic.twitter.com/2hvr6YDiPg

— United Memes? (@UNlTEDAIRLlNES) April 12, 2017
Seriously. How about that?
Who did this?! #unitedAIRLINES pic.twitter.com/6tfFx8TDOO

— Tyler Harney (@TylerHarney1) April 11, 2017
Negan from The Walking Dead is a 4-for-1 set:
I think he'll be quite effective. #unitedAIRLINES #AMC pic.twitter.com/Z2HlLX5eQp

— Amy Manning-McNabb (@aamanning1970) April 11, 2017
300 jokes:
THIS IS @United! ??️#UnitedAirlines #UnitedAirlinesMottos #NewUnitedAirlinesMottos #UnitedAirlinesAssault pic.twitter.com/bwlyaOqAyM

— Happening Babua (@HappeningBabua) April 12, 2017
Surely this is a joke:
How united airlines train their staff pic.twitter.com/w99PmIvSFp

— Be Like Bro (@BLB247) April 12, 2017
Make United Great Again:
Ouch:
We'll take all of them:
Prayers goin' up:
Take me to the hospital:
Yikes:
Steal this life hack:
Christmas wish list:
We're pre-approved:
You're in the sunken place:
New graphic designer:
If only this were real:
Pepsi back in the headlines:
Dont ask United airlines for a Pepsi pic.twitter.com/DMRs1aZlnX

— LUSHSUX (@lushsux) April 12, 2017
Dictionary.com can help:
United Airlines… you keep using the word, "voluntary"… I don't think it means what you think it means… pic.twitter.com/pCNhLQ5YLT

— Swedish Canary (@SwedishCanary) April 12, 2017
Ouch:
Since we're digging up "troubled pasts" now, here's just a sliver of United's. pic.twitter.com/aV23qO9S8v

— Christopher Ingraham (@_cingraham) April 11, 2017
What do you think of all the United response memes? What are your favorites? Which ones go too far? Sound off in the comments section below!