The Early Political Cartoons of Dr. Seuss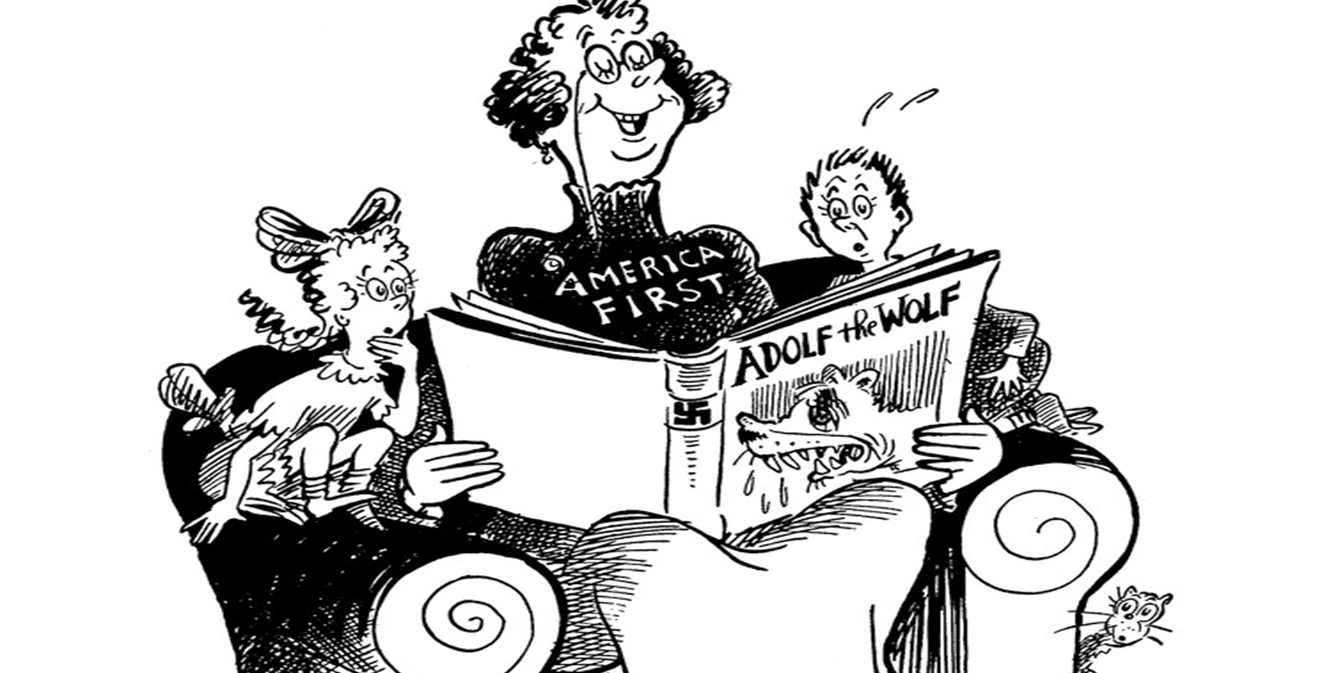 VOTE NOW! Is this Funny or Offensive?
Posted in:
Welcome to the Resistance, Dr. Seuss
June 28th, 2018 – Dr. Seuss is known for his green eggs, his ham, and his cats in hats. Those characters have long lived in books and made for great childhood lessons and fantastic graduation gifts. But before he was explaining environmentalism to kids as they rhymed their way through The Lorax, Dr. Seuss was more explicitly sharing his beliefs through political cartoons.
Dr. Seuss, whose real name is Theodor Seuss Geisel, worked for the liberal-leaning New York magazine PM in 1941 where he drew over 400 political cartoons. Geisel used his pencil to target fascist and chose Virginio Gayda (an Italian journalist seen as a surrogate for Mussolini) as his first subject.
That initial drawing began a career of expressing his disdain for isolationism and cruelty, and that sentiment has been unearthed as President Trump rebooted the phrase "America First." The rally cry has been parroted just as strongly in the past few years as it was in the 1940s and reminded people of a particular Geisel cartoon.
In it, readers saw a familiar, comforting scene where a mother is reading to her two young children. As she sits proudly wearing an "America First" sweater, her kids listen with a panicked look on their faces. Their chosen bedtime story is called "Adolf the Wolf," and their mother shares an unsettling passage:
"and the Wolf chewed up the children and spit out their bones…But those were Foreign Children and it really didn't matter," she recites to her frightened children. 
The "Adolf the Wolf" cartoon has gotten a lot more attention over the past month as the Trump administration's policy to separate migrant children from their families at the border made national headlines. The comic was widely circulated around Twitter after Fox and Friends host Brian Kilmeade defended the tactics used against children by basically repeating the line in the work.
"And these are not, like it or not, these aren't our kids — show them compassion. But it's not like he's doing this to the people of Idaho or uh, or uh, or uh Texas," he said on-air. "These are people from another country."
In addition to the scary bedtime story, Geisel satirized America's ability to turn our eyes away from evil or to even take part in it with a variety of cartoons. For United States citizens who wanted a remedy for that pesky Hitler headache, he offered them ostrich hats.
Historian Richard H. Minear details Geisel's often forgotten career as a political cartoonist in the book Dr. Seuss Goes To War. The 1999 book shows off the cartoons, providing context for the time in which they were published and the triumphs and regrets the artist had throughout the years. After a 1942 drawing where Geisel depicted Japanese-Americans waiting in line to pick up their own block of TNT, Dr. Seuss used Horton Hears A Who to make up for the prejudice in his younger years.
Political cartoons are just as relevant, and consequential, today as they were back in the 40s. Rob Rogers, who had been a cartoonist for the Pittsburgh Post-Gazette since 1993, was recently fired after too many critical Trump drawings. Our very own Dr. Seuss' work may face fresh criticism today, but his drawings also provide renewed perspective.
What's your take on Dr. Seuss' early satirical cartoons? Do you think his drawings helps foster helpful discussions in today's political climate?