Cartoonist Rob Rogers Fired After Critical Trump Drawings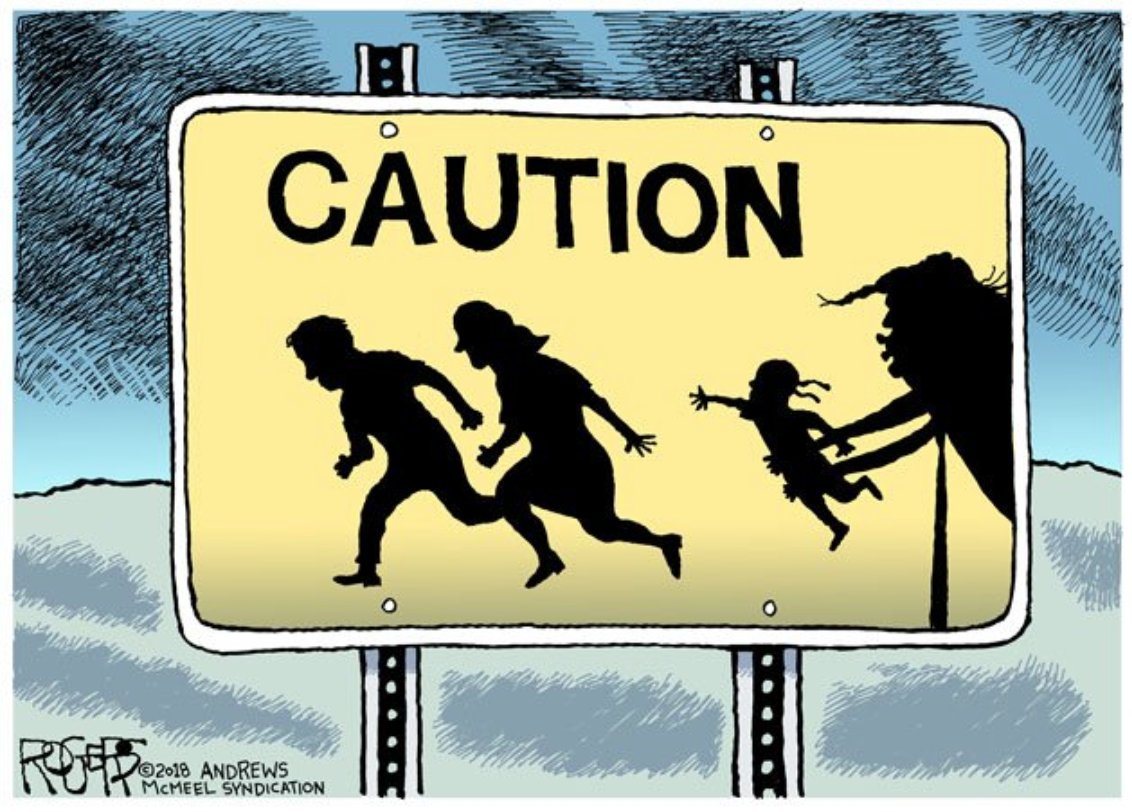 VOTE NOW! Is this Funny or Offensive?
Posted in:
Cartoon Fight
June 16th, 2018 – Rob Rogers, an award-winning syndicated editorial cartoonist, has satirized political figures for the Pittsburgh Post-Gazette since 1993. He was also named a Pulitzer finalist in 1999. Roger's distinguished career with the paper came to an end this week when he was terminated, this after a string of his submissions for the editorial page were rejected.
The dismissal was part and parcel with a shift in tone in the Post-Gazette's editorial page since the ascent of reality show performer turned populist bomb thrower, Donald Trump, to the White House. Post-Gazette editorial page editor, Keith Burris, along with the paper's Trump-supporting owner, John Robinson Block, declined to publish a total of 19 political themed cartoons since January of this year.
Rogers' cartoons often took aim at the Trump administration's controversial policies and the many public rows and scandals Trump himself has either instigated or is otherwise implicated in. Rogers was given no official reason for his firing and Burris referred to his departure as a "personnel matter which we are working hard to fix."
Sad to report this update: Today, after 25 years as the editorial cartoonist for the Pittsburgh Post-Gazette, I was fired.

— Rob Rogers (@Rob_Rogers) June 14, 2018
"The paper may have taken an eraser to my cartoons. But I plan to be at my drawing table every day of this presidency." – @Rob_Rogers, writing (and drawing) in the @nytimes https://t.co/oVgvkrUeKv pic.twitter.com/HA48LIC6D4

— David Beard (@dabeard) June 16, 2018
4 images from fired @PittsburghPG cartoonist @Rob_Rogers that the new pro-Trump editorial page editor wouldn't print. https://t.co/Zb0SBSgOgS pic.twitter.com/M2u1lTCTwh

— David Beard (@dabeard) June 14, 2018
For his part, the paper's current owner, Block, was quoted in a written statement issued before Rogers was let go as saying the decision:
"has little to do with politics, ideology or Donald Trump. It has mostly to do with working together and the editing process."
While neither the Post-Gazette nor its affiliated paper publicly endorsed Trump's presidential candidacy, Burris was reported to have met with Trump privately aboard the latter's campaign plane. In response to what some perceived as Burris' apology for racism in an editorial defending Trump calling certain countries "shitholes," many staffers at the paper and even some members of the owner's own family co-signed an open letter condemning Trump's words saying, in part:
"We do not condone the whitewashing of racism, nor the normalization of it. We cannot remain silent and by implication approve of the use of the Post-Gazette to provide cover for racism."
While Block declined to publish Burris' editorial in the Post-Gazette, he also refused to publish letters from Post-Gazette employees denouncing Burris' pro-Trump comments. In the months leading up to Rogers' termination Burris would go on to publish several additional pro-Trump editorials, something Rogers saw as the writing on the wall:
"I think they were definitely trying to send me a message," he told a New York Times reporter in a recent interview. "It felt like they were pushing me out."
Do you support the Pittsburgh Post-Gazette's decision to fire Rob Rogers or is their censoring of the editorial page going too far?