The Latest Attempted Festival Trend: Full Glitter Butt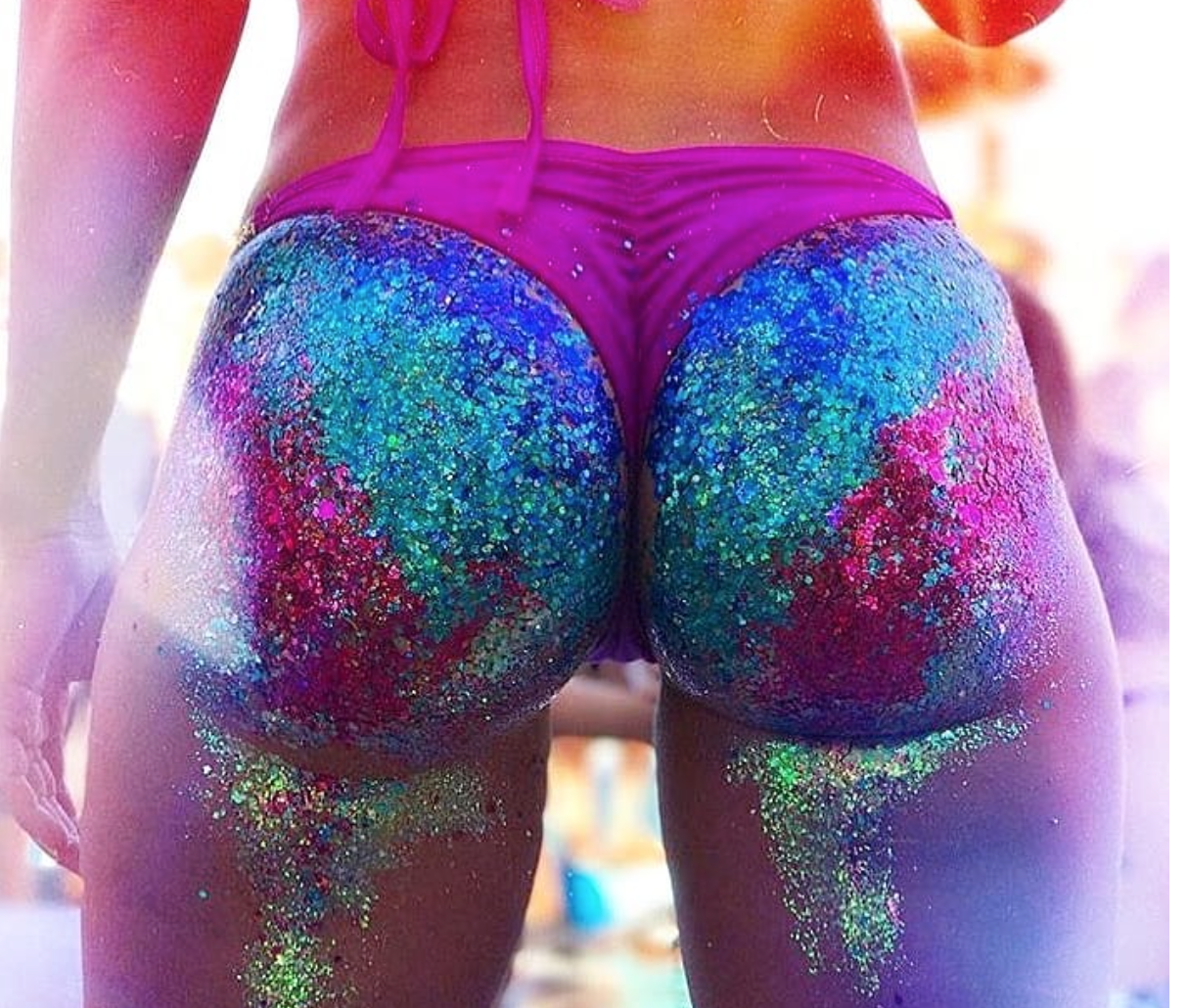 VOTE NOW! Is this Funny or Offensive?
Posted in:
Glitter Sitter
June 13, 2018 – A British glitter company attempted to start a new festival fashion trend of a "no bottom, fully glittered derriere" with a controversial post on their Instagram account, leading to acclaim and outcry from around the Internet. UK glitter company Go Get Glitter posted a photo of one of their models' behinds covered in peach glitter with the caption "Feeling #peachy in the Palm Springs sunshine!🍑☀ #COACHELLA."
While the approach gathered clicks and likes from around the social media world, no one appeared to have followed the trend at the Indio, CA festival itself. Perhaps the approach is too risqué, but with Burning Man and other more permissive festivals approaching, a glitter butt awakening may manifest itself. The latest nawt couture follows a general downward trend of glitter on body parts. In the past year, a few fashion magazines and glitter purveyors have pushed the idea of glitter boobs – which just like it sounds, is covering your boobs in glitter and walking around without any clothing over your sparkling lady bumps. https://www.instagram.com/p/BikRn0cAvpg/?taken-by=gogetglitter This trend had the bonus affect of requiring at least one less clothing item for the wearer, while attracting the eye to the breast area. A win-win for many festival attendees. But last year, glitter shop TheGypsyShrine, began advocating for glitter bums – wearing a bikini bottom and covering the rest of the butt and some of the upper thigh with glitter.
The trend was "inspired by the feeling of sitting on the beach, standing up, and finding your bottom covered in sand." That partial glitter butt trend caught on with many partyers.
Noted butt enthusiast Ellen DeGeneres even went on her show at the time to decry the trend.
"I like big butts and I cannot lie…" she said. "Why would you want to look like you sat in a pile of drag queens." (side note: is the group noun a Yassssss of drag queens?)
The partial glitter butt does appear to be catching on, and we're guessing it's a trend that all of us will be following in one way or another for years to come.
What do think of the latest rear end trend? Funny or Offensive? Vote and comment now…