Hank Azaria Says He'd Step Aside From Playing Apu on The Simpsons (VIDEO)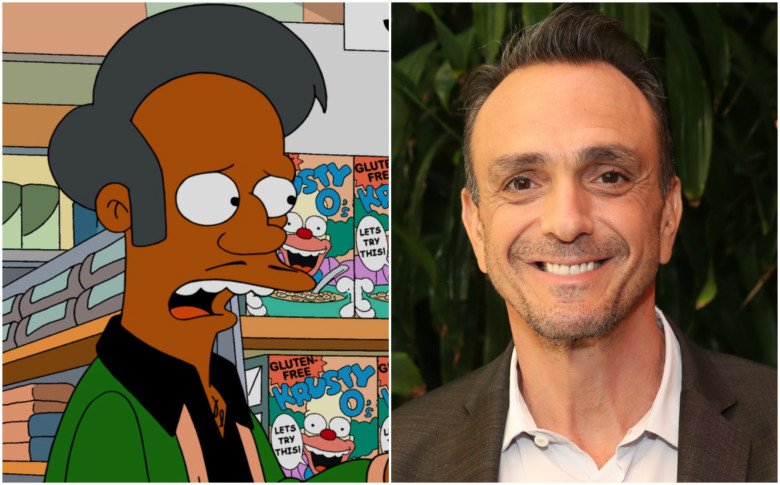 VOTE NOW! Is this Funny or Offensive?
Posted in:
Have A Cow, Man!
April 25th, 2018 – Hank Azaria gave a much different answer than his bosses when asked about the controversy with his portrayal of Apu Nahasapeemapetilon on The Simpsons. The caucasian actor, who has voiced the Indian immigrant character since season one of the show, appeared as a guest on last night's The Late Show With Stephen Colbert and said he'd be willing to step aside after his eyes had been opened to the negative impacts of the characterization.
"I'm perfectly willing and happy to step aside or help transition it into something new," he told Colbert. "I really hope that's what 'The Simpsons' does and it not only makes sense, but it just feels like the right thing to do to me."
The creators and writers of the show found themselves in even hotter water earlier this month when they attempted to address the growing problem during an episode. Colbert references the scene where Lisa shares the line "Something that started decades ago and was applauded and inoffensive is now politically incorrect. What can you do?" while glancing at a photo of Apu.
Azaria said he had nothing to do with framing that response and only learned about it when the episode aired. He went on to say that he doesn't share in the opinion that people's feelings should just be shrugged off because the jokes happened at a time when offensive material was more widely accepted.
"The idea that anybody, young or old, past or present was bullied or teased based on the character of Apu, it just really makes me sad," he said. "It was certainly not my intention. I wanted to spread laughter and joy with this character and the idea that it's brought pain and suffering in any way, that it was used to marginalize people, it's upsetting – genuinely."
Standup comedian and filmmaker Hari Kondabolu, whose documentary The Problem With Apu has been credited for continuing to highlight issues with Western culture's depiction of minorities in film and television, thanked Azaria for his words.
Thank you, @HankAzaria. I appreciate what you said & how you said it. https://t.co/Otmxygf3DP

— Hari Kondabolu (@harikondabolu) April 25, 2018
Kondabolu spoke out about The Simpsons response earlier in the month, too.
Wow. "Politically Incorrect?" That's the takeaway from my movie & the discussion it sparked? Man, I really loved this show. This is sad. https://t.co/lYFH5LguEJ

— Hari Kondabolu (@harikondabolu) April 9, 2018
Kondabolu wasn't alone in thanking Azaria and comparing his response to that of The Simpsons' writers and creators.
Thank you both. Creating a conversation, as Hari did, is so hard. Being willing to give up your privilege, as Hank as said he would be willing to do, is challenging. (Not that they're the same thing in any way.)

It means a lot to me as an Indian American woman. 🙂

— Aditi Juneja (@AditiJuneja3) April 25, 2018
And this is how you handle a sensitive situation with respect, honesty and understanding. Kudos to @HankAzaria for a wonderful response to the #Apu and #TheSimpsons controversy. It isn't hard to be decent to people and to hear their concerns, my friends. https://t.co/YFXjd8i8HN

— John Steven Rocha (@TheRochaSays) April 25, 2018
Interesting reply from Azaria and a much better one than the show gave, quite honestly. Wonder what'll happen next… https://t.co/KHR8o7rubE

— Henry Gilbert (@hEnereyG) April 25, 2018
What an intelligent, empathetic response from Hank Azaria. Too bad Al Jean has jumped out the fucking window. https://t.co/T981h6TEWx

— Ira Madison III (@ira) April 25, 2018
There were some who felt Azaria was caving to political correctness and not remembering that the show constantly pokes fun at stereotypes.
Hey @HankAzaria

As an Australian, I'm downright offended by how Australians are portrayed as alcoholic idiots in the Simpsons with shitty impersonated accents

You hurt my feelings & I demand an apology.

Oh wait, no I don't. Coz it's a comedy cartoon & I'm not a fucking moron. pic.twitter.com/tTXTCeVV3V

— Bullshit Man (@bullshit_hero) April 25, 2018
hank azaria, the voice of apu in the simpsons, is contemplating stepping aside from doing the voice due to the amount of complaints the shows getting for 'stereotyping'. THE SHOW MAKES FUN OF STEREOTYPING

— Reece (@Reece_Coupland) April 25, 2018
It's really a damn shame that Hank Azaria feels like he should maybe leave the role of Apu, because "it's a stereotype". As if the Simpsons family themselves aren't stereotypes. The entire show has always been, in part, making fun of stereotypes. It's called comedy. #Simpsons

— Retro Revelations 🐉 (@RetroRevelation) April 25, 2018
Ultimately, though, Azaria believes that steps have to be taken to correct the portrayal of Apu.
"I think the most important thing is we have to listen to South Asian people, Indian people in this country, when they talk about what they feel and how they think about this character, and what their American experience of it has been. And as you know, in television terms, listening to voices means inclusion in the writers' room. I really want to see Indian, South Asian writers in the room, not in a token way but, genuinely informing whatever new direction this character may take, including how it is voiced or not voiced."
Were you happy with Hank Azaria's response to the Apu controversy? What are the next steps for the creators of The Simpsons?