Stephen Colbert "Homophobic" Trump BJ Joke Triggers Outrage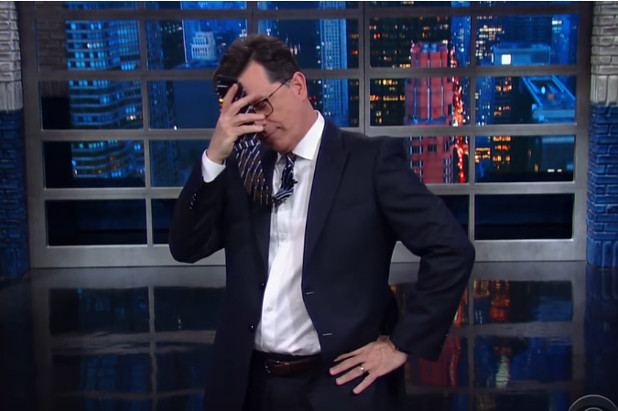 VOTE NOW! Is this Funny or Offensive?
Posted in:
Dear Mr. President
May 3rd, 2017 – Late Show host Stephen Colbert is under fire for telling a joke that many believe crossed a line. Colbert has made his ratings skyrocket in the past few months by ramping up his targeted Trump jokes. Monday night, he was true to form and fired off blow-by-blows, but it was the line about Trump's mouth being a, um, holder of sorts that made #FireColbert trend.
The monologue for the evening was called "This Monologue Goes Out To You, Mr. President" and towards the end, Colbert found himself coming to the defense of fellow CBS employee John Dickerson. The reporter had recently been engaged in a viral interview which Trump abruptly ended after Dickerson kept pressing him on the still unfounded claim that Obama wiretapped Trump Tower.
"Let me introduce you to something we call 'The Tiffany Way,'" Colbert began. "When you insult one member of the CBS family, you insult us all. Ba-zinga! Here we go."
And off he went with the roast:
"Mr. Trump, your presidency, I love your presidency. I call it 'Disgrace The Nation.'"

"You're a regular Gorge Washington."

"You're turning into a real prick-tator."

"Sir, you attract more skinheads than free Rogaine "

"You have more people marching against you than cancer."

"You talk like a sign language gorilla that got hit in the head."

"In fact, the only thing your mouth is good for is being Vladimir Putin's c–k holster."
Colbert rattled off a couple more jokes, but out of the entire roast battle it was the Vladimir Putin c–k holster joke that sent people into a tizzy. There were those who thought the joke was a homophobic slur. There were those who said a joke like that would have never been allowed if it was said against President Obama. People also called out many who threw Jesse Watters under the bus for a sly comment about the way Ivanka was holding a microphone but were giving Colbert a pass. And to round out the hysteria, people also held up a mirror to champions of free speech who just last week were up in arms about Ann Coulter not being allowed to say what many categorize as hate speech.
And for good measure, some people also brought up what was said on that Access Hollywood bus by our current president.
Remember when you elected a president who admitted to touching unwilling women but want the comedian fired for a lewd joke?#firecolbert

— CJM (@TheSnobCompany) May 2, 2017
I love how #FireColbert is trending. All the right wing redneck misogynist snowflakes were offended by what Colbert said! Cry me a river.

— Disgustd Atheist (@disgust_d) May 2, 2017
Literally every conservative that is tweeting #FireColbert tweeted about how freedom of speech is under attack like 5 days ago

— emily orlich (@emilyorl) May 2, 2017
Can't figure out why the "pro-free speech," "Anti PC," crowd is so triggered by a BJ joke. #firecolbert

— Keaton (@keatonc33) May 2, 2017
REPUBLICANS: Ann Coulter should be able to say whatever she wants in Berkeley.

Also REPUBLICANS: The man on TV said a mean joke.

— Mikel Jollett (@Mikel_Jollett) May 3, 2017
Now the little right wing mushrooms want to #FireColbert because he made fun of the Troll King. Waaaa! It'll go as well as #BoycottHamilton.

— George Takei (@GeorgeTakei) May 3, 2017
@StephenAtHome Totally unacceptable and shameful to speak of our Commander In Chief that way #FIRECOLBERT

— Dantrell Dawson III (@blkamerican1) May 2, 2017
You know, it's time to #FireColbert cos if this was Rush saying this about Obama his head would roll. It's time to level the playing field https://t.co/SwXHHFFb3c

— Jake Taylor (@Number7Catches) May 2, 2017
#FireColbert Anti-American. Homophobic. Bigot.

— TheyLIVE (@zsazsagogrl) May 2, 2017
On one hand, @JimmyKimmelLive tugging at the heartstrings with genuine feels. On the other, homophobic @colbertlateshow. #FireColbert

— REEEEEEEEEEEEEEEE (@muhfeefees) May 2, 2017
The fact that Colbert can make homophobic statements shows his privilege & systematic oppression of minority groups.#FireColbert

— Scott Presler (@ScottPresler) May 3, 2017
#FireColbert is still a growing hashtag, @firecolbert has been created on Twitter, and firecolbert.com now exists. CBS and Colbert haven't released any statements but the bleeped joke still seems to be causing a lot of bleeping problems for them.
Do you think Colbert's Trump/Putin BJ joke crossed a line? Funny or Offensive? Vote below and be sure to give us your thoughts on how the free speech debate fits in with late night jokes.