New York Times Apologizes After Condemnation of Anti-Semitic Cartoon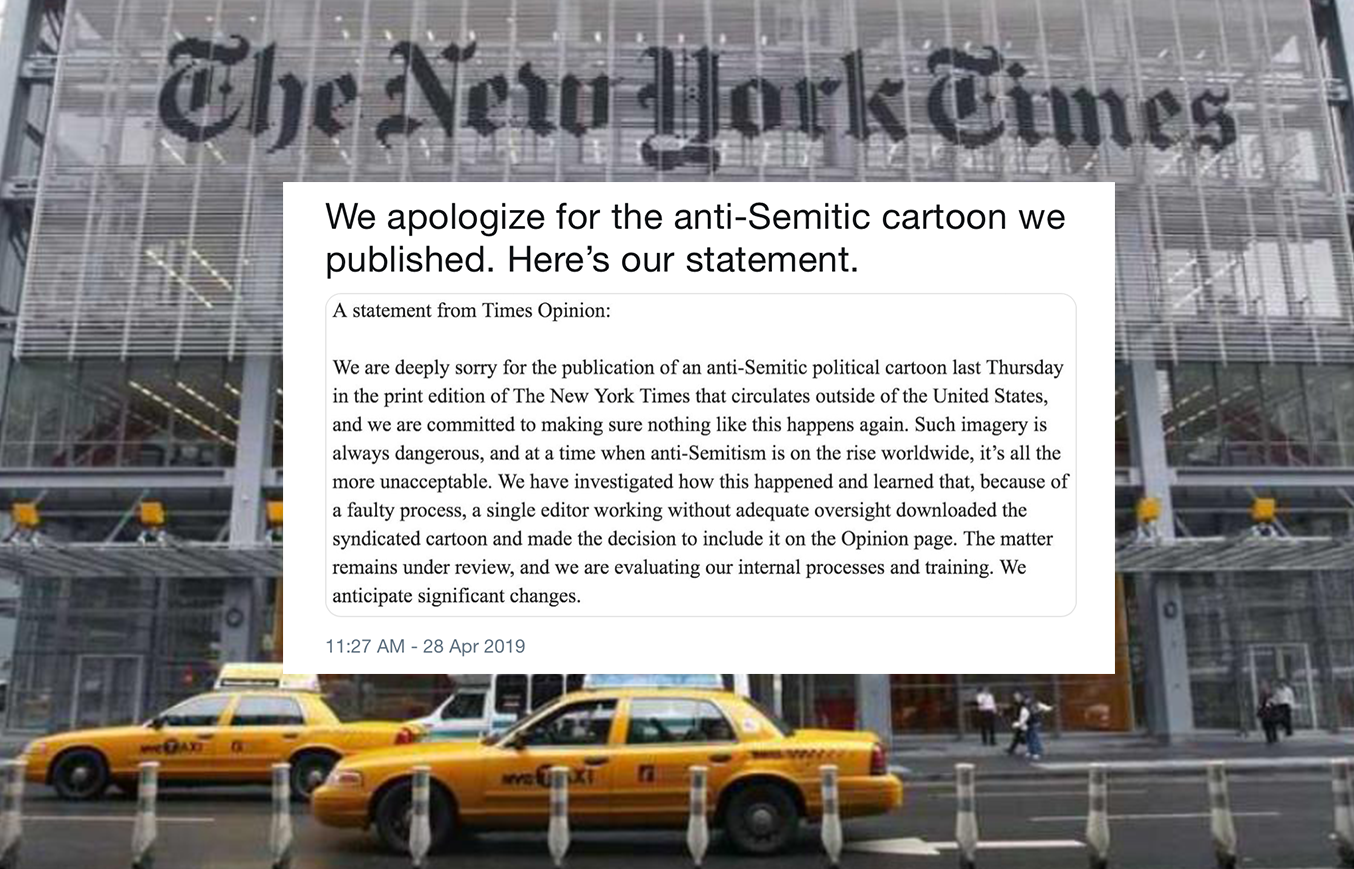 VOTE NOW! Is this Funny or Offensive?
Posted in:
"Apology Not Accepted"
April 30th, 2019 – The New York Times has apologized for an anti-Semitic cartoon it ran last week after a flood of criticism hit them over the weekend. The political cartoon was issued in the opinion section of the international print edition of the paper and featured Israeli Prime Minister Benjamin Netanyahu as a guide dog on a leash leading a blind U.S. President Donald Trump.
Netanyahu is shown with a Star of David collar while Trump is wearing large, black sunglasses and a yarmulke. Portuguese cartoonist António Moreira Antunes drew the image, which was originally published by Expresso, a newspaper in Lisbon. An international Times editor then picked it up from CartoonArts International, a syndicate for cartoons from around the world.
Initially, the Times released a watered-down response that only further angered people. The "paper of record" noted that the cartoon was "offensive," and an "error of judgment" but declined to actually apologize for publishing it.
An Editors' Note to appear in Monday's international edition. pic.twitter.com/1rl2vXoTB3

— New York Times Opinion (@nytopinion) April 27, 2019
The American Jewish Committee quickly responded by calling out the paper's lackluster processes.
"Apology not accepted. How many New York Times editors looked at a cartoon that would not have looked out of place on a white supremacist website and thought it met the paper's editorial standards? What does this say about your processes or your decision makers? How are you fixing it?"
In its cleanup tweet, the Times explicitly apologized saying it was "deeply sorry" and that it anticipated "significant changes" to internal processes and training.
We apologize for the anti-Semitic cartoon we published. Here's our statement. pic.twitter.com/nifZahutpO

— New York Times Opinion (@nytopinion) April 28, 2019
"Such imagery is always dangerous, and at a time when anti-Semitism is on the rise worldwide, it's all the more unacceptable," the statement read in part.
This weekend also saw another deadly attack on the Jewish community. A 19-year-old man killed one woman and injured three inside the Chabad of Poway synagogue in San Diego. The horrific incident happened exactly six months after 11 worshippers were killed at a Pittsburgh synagogue. John Earnest will be charged with five counts of hate crimes in court today.
While several elected officials released statements placing blame on either the "left" or the "right," others shifted the focus back to journalistic responsibilities.
"We're talking about normalizing hate speech. The New York Times only aids in that when it publishes cartoons and gives this meek, silly little statement of 'regret' about it," Elaina Plott, White House correspondent for The Atlantic, said.
While Antunes hasn't released a statement about the fallout from his Netanyahu-Trump cartoon, he has shared some general thoughts about the risks you take as a political cartoonist. During an interview following the deadly attack at the satirical newspaper Charlie Hebdo in 2015, he said the right to express yourself propels him forward.
"The profession of cartoonist is a profession of risk," Antunes told the Portuguese Observer. "There is always fear, but there is no other option but to defend freedom of expression."
What did you think of the cartoon? Did The New York Times offer a sufficient apology and what would you like them to do editorially moving forward?