Fox News Uses Patti LaBelle Photo In Aretha Franklin Memorial Segment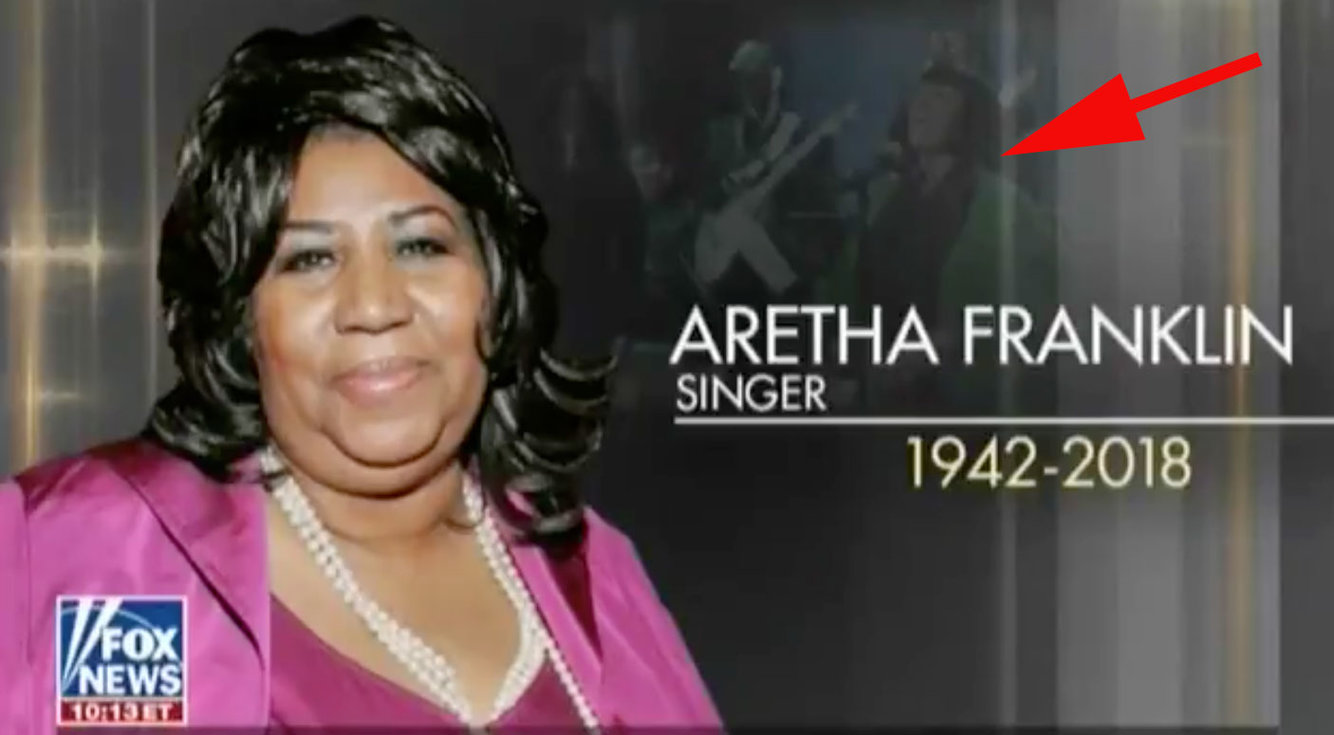 VOTE NOW! Is this Funny or Offensive?
Posted in:
RIP Aretha Franklin
August 17th, 2018 – Fox News joined hundreds of news organizations yesterday in paying tribute to the late Queen of Soul Aretha Franklin. Viewers were quick to point out, however, that the network had mistakenly used a photo of Patti LaBelle at the end of a memorial segment.
Video shows a title card using an image of Franklin in the foreground over a black and white photo. The background photo has Patti LaBelle in the top, left corner singing at an event. Two anchors are memorializing the iconic singer as the mixed-up image remains on-screen.
Yep here's video pic.twitter.com/IIkMDuKB7e

— Zachary Pleat (@zpleat) August 16, 2018
Franklin died Thursday morning at the age of 76 and millions of people began paying tribute to the legendary star. Conversations of accomplishments and mourning turned to confusion and accusations when Fox News made its mistake.
@FoxNews why did you have Patti LaBelle in the background of that last shot of #ArethaFranklin

— Gordon (@DerrickGordon09) August 16, 2018
To state the obvious: Fox and it's staff can not tell black iconic women apart. Well done Fox. #FoxNewsIsFakeNews

— 🔆 NettieMac 🌊 (@kjemcgregor) August 16, 2018
Fox News honored Aretha Franklin by using a graphic that contained a photo of Patti LaBelle. It's probably hard for anyone who works at Fox News to tell black people apart because they've never worked with any.

— Chelsea Handler (@chelseahandler) August 17, 2018
In the span of seven hours, @FoxNews has lambasted "communist Japan" and confused Patti Labelle for Aretha Franklin, and we're all kinda just like, "Yeah, that's Fox."

— Charlotte Clymer🏳️‍🌈 (@cmclymer) August 16, 2018
For their part, Fox News apologized but maintained that the mistake was actually not one of mistaken identity.
"We sincerely apologize to Aretha Franklin's family and friends," Jessica Santostefano, Vice President Media Desk of Fox News, said in a statement. "Our intention was to honor the icon using a secondary image of her performing with Patti LaBelle in the full screen graphic, but the image of Ms. Franklin was obscured in that process, which we deeply regret."
That explanation didn't hold up, however, when people began doing a little more digging. The photo that Fox used was from a 2014 event called "Women of Soul: In Performance at the White House." The PBS-hosted show did feature both singers, but the original AP photo shows that the two never shared the stage.
For her part, LaBelle hasn't commented on the mix-up but did pay respects to her "sister in song," with whom she long had a contentious relationship.
Rest in peace Aretha. ❤ pic.twitter.com/QT7HeY5SIf

— Patti LaBelle (@MsPattiPatti) August 16, 2018
Fox News hasn't released further comment after people punched holes in their explanation. As HuffPost pointed out, "Most outlets have made a mistake on a photo or caption at some point in time, but Fox News' supposed explanation raises more questions than it answers."
What are your thoughts on Fox News' "Queen of Soul" blunder? Was it Funny or Offensive? Vote and comment now…