Vegan Bodybuilder Touts Semen Smoothies To Combat Illness and Disease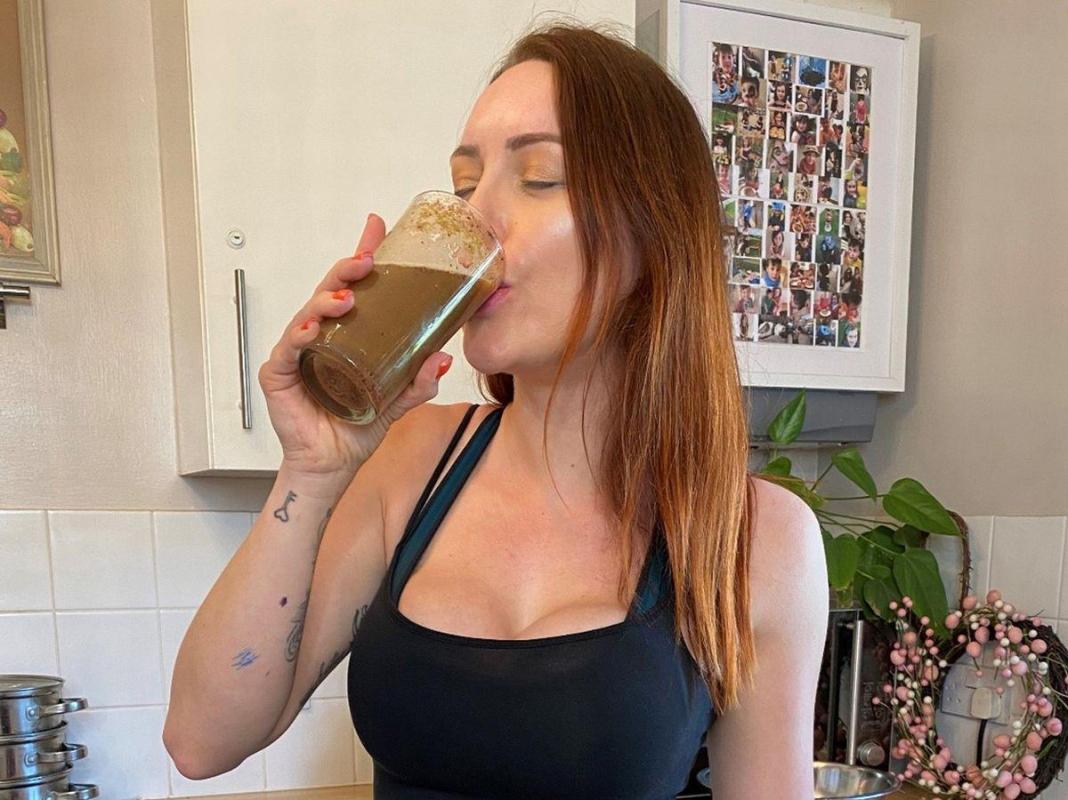 VOTE NOW! Is this Funny or Offensive?
Posted in:
A Different Kind of Stockpile
July 28th, 2020 – We're still a ways off from a COVID-19 vaccine, but there are recommended precautions to take in the meantime. You've got your hand washing, mask wearing, social distancing (for a brief fever dream, the President through injecting disinfectants was an idea), and now drinking semen is having its moment in the sun. A vegan bodybuilder from London says she regularly drinks semen smoothies to keep her immune system strong.
Tracy Kiss released a video back in March saying she was "stockpiling semen" to fight off the Coronavirus. While there is no backing from public health experts in semen's ability to combat the virus, the social influencer claims she hasn't had a cold or the flu in years.
"This is something that we can all stockpile at home especially during quarantine. I would recommend either seeking your partner or a male associate…a healthy, active lifestyle," Kiss said in the video.
In a now deleted tweet from ViceUK, Kiss said she was receiving her stockpile from her boyfriend, who drops it off on her doorstep to maintain quarantine rules. She suggests using the sperm fresh but understands that may not always be possible. If you plan on using it within 24 hours, the fridge will do but anything longer than that should be frozen.
Your roommate should be able to identify what's inside the ice cube trays.
While Kiss acknowledges that drinking semen may not be everyone's taste, she continues to vouch for it.
"The actual semen itself is so good for you. Each teaspoon contains over 200 vitamins and minerals including protein," she said. "I think if a lot more people knew the benefits of consuming semen, they would definitely treat it as the precious entity that it is."
Kiss also touts many fruits and vegetables as well as drinking less alcohol and eating less red meat as preventative measures for COVID-19. Semen hasn't taken a backseat, however, leaving its mark on Instagram again in the months following the original release of the video.
"Semen is something that the majority of us have probably tried at least once yet throw away on a regular basis without knowing that it is actually very good for you – if you don't believe me then google the 'health benefits of semen' and see all of the studies and research for yourself!" Kiss wrote in an Instagram caption during May.
Google will definitely give you some interesting results when you include the word "semen." And YouTube will also give you some interesting comments under Kiss' "Stockpiling Semen To Fight The Coronavirus" video. You can debate the merits of sprem as a preventative health measure, and you can try to determine if it's truly vegan considering, well, its origin story.
Would you give semen shakes a chance or are you sticking with a multivitamin? Funny or Offensive? Vote and comment now…