University Of Kansas Apologizes For Controversial Snoop Dogg Show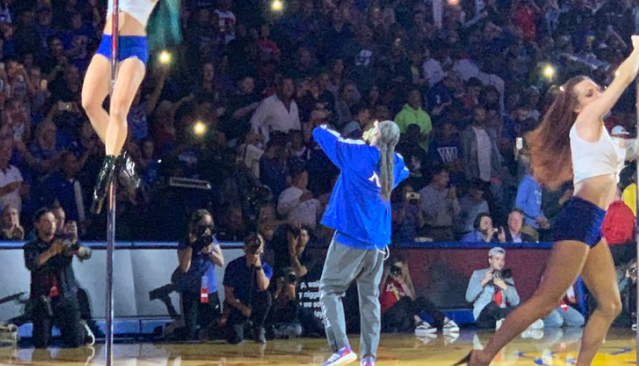 VOTE NOW! Is this Funny or Offensive?
Posted in:
La-da-da-da-dah It's the Motherfu**in' O M Double G
October 6th, 2019 – The University of Kansas expected a clean performance from Snoop for their basketball preseason celebration, but the rapper expected to be a dogg. After a controversial show Friday night, the school quickly apologized for the concert featuring women dancing on stripper poles and unedited versions of Snoop's hits.
The performance was part of "Late Night in the Phog," a preseason kickoff that has now become a 35-year tradition. Originally, the night simply included scrimmages from the men's and women's basketball teams, but over the years it has turned into a lively event featuring skits and musical acts.
"We strive to create a family atmosphere at Kansas and fell short of that this evening," athletic director Jeff Long said.
Snoop was a big get for the university and his appearance was heavily promoted around campus. According to Billboard, Hall of Fame coach Bill Self even got in on the hype. He was featured in a social media video wearing a flashy chain and Adidas shirt.
Snoop wore a No. 20 Kansas jersey with his name on the back and put on a 35-minute set inside the Allen Fieldhouse. But instead of watered down lyrics, he gave players, recruits, and their families all of the Gin and Juice. During songs, women gyrated on poles and fake 100 dollar bills were shot into the audience.
Director Long went on to say that he hadn't thoroughly vetted the performance prior to Friday night and took full responsibility for that mistake.
"We apologize to anyone who was offended by the Snoop Dogg performance at Late Night," he told the Kansas City Star. "We made it clear to the entertainers' managers that we expected a clean version of the show and took additional steps to communicate to our fans, including moving the artist to the final act of the evening, to ensure that no basketball activities would be missed if anyone did not want to stay for his show.

I take full responsibility for not thoroughly vetting all the details of the performance and offer my personal apology to those who were offended."
Comedian Roy Wood Jr. playfully took issue with universities putting restraints on standup acts but allowing Snoop to put on a risqué show. He also pointed out the obvious: what did the school think was gonna happen when stripper poles were rolled into the gym.
CAMPUS ACTIVITIES BOARD: the comedians must to do a clean show

ALSO CAMPUS ACTIVITIES: pic.twitter.com/pFEN7WtwGG

— Roy Wood Jr- Ex Jedi (@roywoodjr) October 5, 2019
A Campus Activites Board has to book entertainment that's

1. Affordable
2. Will give a good show
3. Loved by the Students AND parents
4. Someone who hasn't performed there in the last 2-3 yrs.

It's a TOUGH needle to thread. Every now & then an on-court stripper pole slips by

— Roy Wood Jr- Ex Jedi (@roywoodjr) October 5, 2019
Snoop isn't new to the world of controversy and responded to outrage over his Kansas performance by not really giving into it. He took to Instagram and simply thanked his fans for letting him be authentic saying "Thank. U for letting me be me. This is America."
What did you think of Snoop Dogg's performance at the University of Kansas?