Stephen Colbert Flushes N.C. Bathroom Law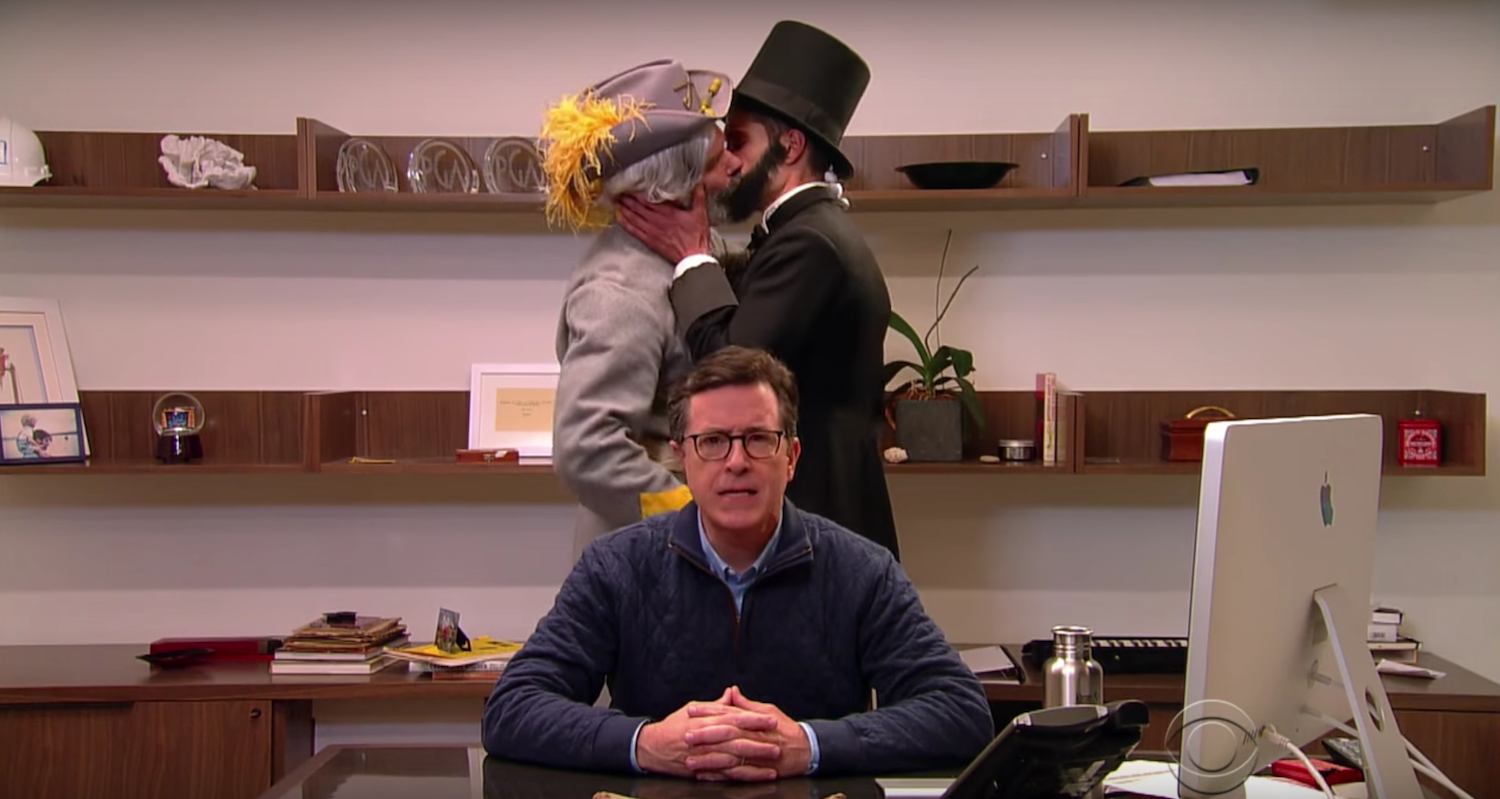 VOTE NOW! Is this Funny or Offensive?
Posted in:
April 27, 2016 – Nothing says unity like seeing Robert E. Lee and Abraham Lincoln shaking hands, and Stephen Colbert says nothing pushes a comedy bit like having them make out. Last week, the host of "The Late Show" opened an episode by sharing his decision to not withhold his entertainment unlike many artists that have done so recently as a symbol of boycotting North Carolina's recently passed HB2 law.
Colbert ran through a sampling of artists and businesses that have decided to withdraw from projects in the area. Pearl Jam and Bruce Springsteen have cancelled tour stops, PayPal cancelled plans for a new operations center, and the porn site xHamster blocked N.C. users from their site.
"Now where are North Carolina hamsters gonna go for their porn?" Colbert wondered.
The sampling of names Colbert gave is just a small blip on the list of heavy hitters who are denying consumers of N.C. There are, however, artists like Brandi Carlile who are opposing the law by
letting their Carolina fans sing
with them in the fight against LGBT discrimination. Being a small artist, she recognized that she couldn't make a big financial hit to the state by backing out but could be a sounding board for her fans who had been hit by the law.
"We're going to come together, let our voices be heard, not stand down, and make a joyful noise in the face of this insult of a law," she wrote on her site.
Abraham Lincoln and Robert E. Lee Get Dirty
Colbert had two people come together, and then keep coming at each other for his bit. In fact, Abe's top hat got very down (and dirty) as the scene played out. Colbert, known for his politically charged satire, used the mens' lip-locked unity as a backdrop while he explained that he could use the magic of television to bridge differences.
"I believe we must find common ground. And hold firm to those things that unite us all. We must cling to each other passionately and really, really just go for it," Colbert reports over cheers from the audience.
Coincidentally, The Flaming Lips were the musical guest for the night.
Watch it here courtesy of CBS and decide whether the Stephen Colbert Bathroom Law cold open was Funny or Offensive? VOTE and COMMENT now…