Tomi Lahren Wraps Herself In Controversy For Halloween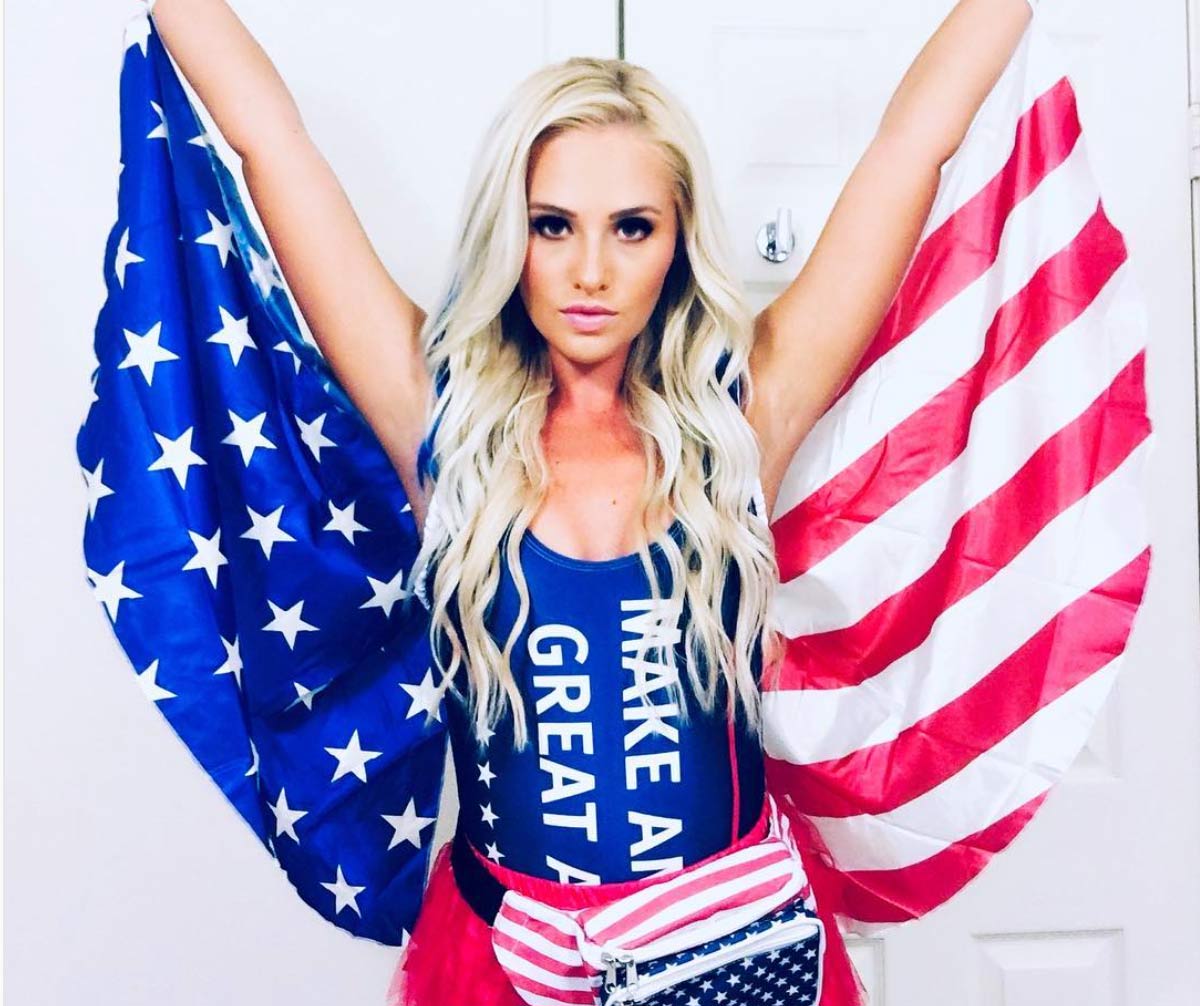 VOTE NOW! Is this Funny or Offensive?
Posted in:
Stars and Gripes
October 30th, 2017 – Conservative commentator and possible future Dancing With the Stars contestant, Tomi Lahren, made the news cycle again after fashioning her 2017 Halloween costume. Infamous for her online screeds about everything from "urban" gun violence to feminism, Lahren rose to prominence while calling former NFL quarterback, Colin Kaepernick a "whiny, indulgent, attention-seeking cry baby" for refusing to stand during the playing of the national anthem.
Now an Instagram photo of Lahren's patriotic Halloween costume has some critics accusing her of hypocrisy given what she has called Kaepernick's "disrespect" for the flag. Social media was awash with people rushing to indict Lahren as blatantly lobbying for attention while those on the right dismiss her critics in the press as hacks and confess only that the red-blooded pundit is showing her patriotic spirit. The former Glenn Beck acolyte tagged the photo with the following caption:
"Oh LA get ready to find your safe spaces! What am I? Well if you're a conservative, I'm American AF. If you're a lib, I'm 'offensive.' Let's go."
The outfit consisted of Lahren in a one-piece branded with Donald Trump's "Make America Great Again" campaign slogan, a star-spangled fanny pack and a set of wings fashioned out of an American flag. Critics of Lahren's flag-as-beachwear were quick to point out that such displays are specifically prohibited by US Code Title 4, Chapter 1, section 8, a portion of which reads: "No part of the flag should ever be used as a costume or athletic uniform."
For Halloween, Tomi Lahren dressed as a Flag Code Violation. pic.twitter.com/Ur24U6v2uB

— Nick Jack Pappas (@Pappiness) October 29, 2017
I recall Tomi Lahren complaining about NFLers "disrespecting the flag" more than a few times. And yet: pic.twitter.com/CdK4lvRu67

— Tony Webster (@webster) October 29, 2017
Do you guys like my @TomiLahren costume? pic.twitter.com/p3sBWvfa3O

— mike mulloy (@fakemikemulloy) October 30, 2017
Lahren detractors continue to voice their displeasure over her attention-grabbing display. Undeterred, Lahren, whose telegenic outrage recently found a new home at the Fox News, defended her sartorial exhibition as kosher in terms of flag etiquette. The ever-vocal tweeter posted a message explaining:
"People are simply expressing their patriotism and love of country by wearing an article of clothing that happens to be red, white and blue with stars and stripes."

Tomi Lahren Slaps Back the Haters After Getting Flak for 'American AF' Halloween Costume https://t.co/9hbxDUbWi0

— Walter White (@Not2White) October 30, 2017
Does Tomi Lahren need to brush up on the US Flag Code or have the PC police gone overboard again? Was her Halloween costume Funny or Offensive? Vote and comment now…