CNN Fires Jeffrey Lord Over Nazi Tweet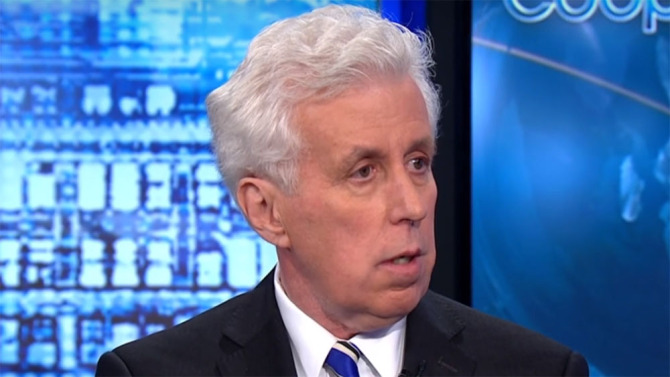 VOTE NOW! Is this Funny or Offensive?
Posted in:
Lord Giveth and CNN Taketh
August 10th, 2017 – Quick to distance itself from a tweet that proclaimed "Sieg Heil!" from commentator Jeffrey Lord, CNN let Lord go within hours of the tweet landing on Thursday morning.
CNN's statement:
"Nazi salutes are indefensible, Jeffrey Lord is no longer with the network."
Lord's tweet was a response to an argument with Angelo Carusone, president of the liberal group Media Matters for America. Lord accused Carusone and Media Matters of being fascists and "anti-free speech bigots" in a column for The American Spectator Thursday morning.
That column was a response to an earlier argument about Media Matters accepting a donation from George Soros. As the debate raged, Lord brought up fascism in describing Media Matter's ad boycott against Fox News host Sean Hannity. When Lord tweeted Carusone his column, Carusone responded "Your headline has a mistake in it." And asked, "Why do you expect anyone to take you seriously when you don't take yourself seriously." Lord's response: "Sieg Heil!"
And then the Twitter-verse weighed in from both sides:
GOOD RIDDANCE, JEFFREY LORD. We commend @CNN for firing @POTUS defender Lord for using Nazi salute on Twitter. Our full statement: pic.twitter.com/jmzHJamd35

— Anne Frank Center (@AnneFrankCenter) August 10, 2017
RETWEET A THANK YOU TO @CNN FOR FINALLY ENDING JEFFREY LORD'S EMPLOYMENT

This was long overdue.

Let's see where he lands.

The Trump WH? pic.twitter.com/u9vCVTIVTK

— Red T Raccoon (@RedTRaccoon) August 10, 2017
Media smears Jeffrey Lord for making "Nazi gesture" when he was clearly satirizing the left. https://t.co/Du3w9a7m3l

— Mike Cernovich ?? (@Cernovich) August 10, 2017
CNN just fired Jeffrey Lord for calling someone a grammar Nazi. The purge of Conservatives in media continues.

— Mark Dice (@MarkDice) August 10, 2017
Lord's defense for using the Nazi salutory: "I'm mocking people who are posing a serious threat to the American free press. That's what I'm mocking," as reported in a telephone interview with CNN. "Why would I delete something that mocks the Fascists at Media Matters Fascists?"
But that defense was hardly enough for CNN. Lord has been a controversial figure and its first pro-Trump supporter commentator since starting with CNN in August 2015.
CNN has already shown it's not soft on its personalities if they drop offensive tweet bombs.
Earlier this year they cancelled Reza Aslan's documentary series Believer when he called Trump a "piece of shit" on Twitter. They also parted ways with Kathy Griffin after her severed head Trump photo shoot. 
Do you think CNN did the right thing? How do you weigh in? Give us your thoughts below…