Missing > Killing
January 21st, 2020 – Jaboukie Young-White celebrated Martin Luther King Day by trolling the FBI on Twitter and, subsequently, getting his account suspended. The Daily Show correspondent kept his Twitter handle but changed the display name and photo to match the official one from the Federal Bureau of Investigation. And then he did what he does best online: parody.
"Just because we killed MLK doesn't mean we can't miss him, he tweeted."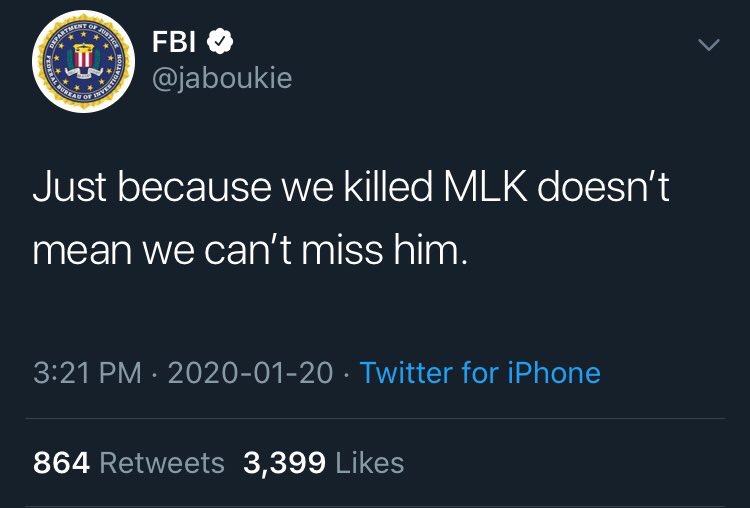 Twitter didn't waste any time giving the comedian the boot and deleting the tweet. Young-White's account is currently still suspended, but screenshots live forever. And, he has plenty of supporters still spreading his gospel.
Wow @jaboukie died for our sins pic.twitter.com/zj9WRgmcUn

— Camilla Blackett (@camillard) January 20, 2020
The way jaboukie uses his blue check is not what we deserve but it's what we need right now https://t.co/OWWDOGI0NK

— Ray 🌿 (@antalalakam) January 20, 2020
jaboukie got his account deleted in minutes for a legit joke, but an account i reported with the n-word in its header and tweets is still up 46 hours later.

— Wagatwe Wanjuki 🇰🇪 🇧🇸 (@wagatwe) January 21, 2020
Literally a day after his last suspension. @jaboukie is the only person using Twitter correctly pic.twitter.com/8AB5n5XkfP

— Chris Conroy (@ConroyForReal) January 20, 2020
This isn't the first time Young-White has changed his Twitter name and photo to impersonate a controversial figure. Just one day before the FBI spoof, he posed as "Gun Girl" and shared some interesting facts about the attention-seeking Kent State grad. The switch also landed him in Twitter jail.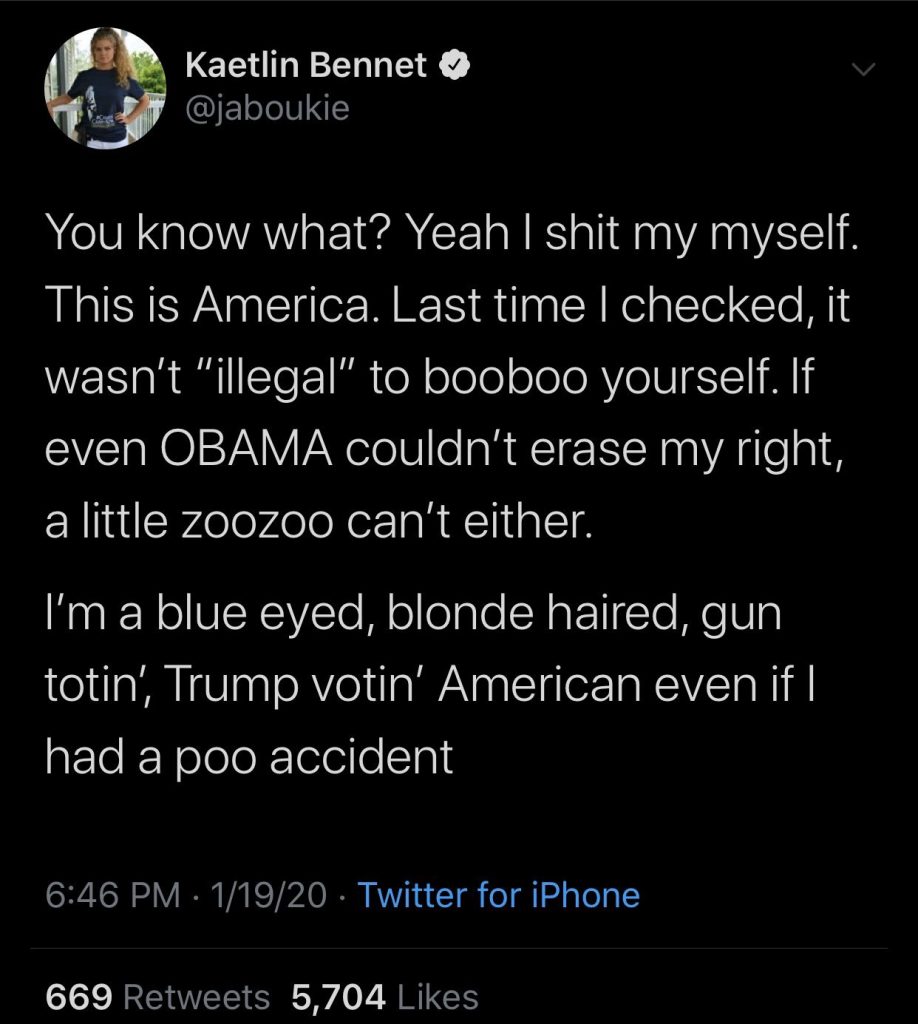 Young-White has also gone after Senator Ted Cruz and some Jellicle cats. The tweets were preserved by another Jaboukie-stan.
Jaboukie Theatre pic.twitter.com/KWNtkypXcE

— Trash-o-bin Writer🤦🏽‍♂️🔥🔯 (@TheHipsterRebbe) January 21, 2020
The 25-year-old comedian has built a solid career on the stage and in television over the past few years, but his following online has also skyrocketed. He's known for zoning in on topics of the day and giving them a viral spin.
As many predicted, several people who aren't necessarily champions of breaking down systemic and economic racism sent out tweets praising the late civil rights leader on MLK day. CNN journalist Jake Tapper issued a thread about the FBI's position on King while he was still alive noting "And then of course there's the anonymous letter FBI officials wrote King in which they suggested they had dirt on him and encouraged him to commit suicide."
The real FBI account issued a traditional tweet praising MLK Jr. early in the morning on Monday; prompting Tapper to juxtapose their current views from those during the 60s.
Hoover in 1964 gave a press conference in which he smeared King as the "most notorious liar in the country" https://t.co/skZnzVWAti

— Jake Tapper (@jaketapper) January 20, 2020
Young-White's juxtaposition just did a little assassination-blaming.
Do you think Jaboukie Young-White's FBI joke was Funny or Offensive? Vote and comment now…
Share this article