COVERGIRL Male Model Under Fire For This "Racist" Joke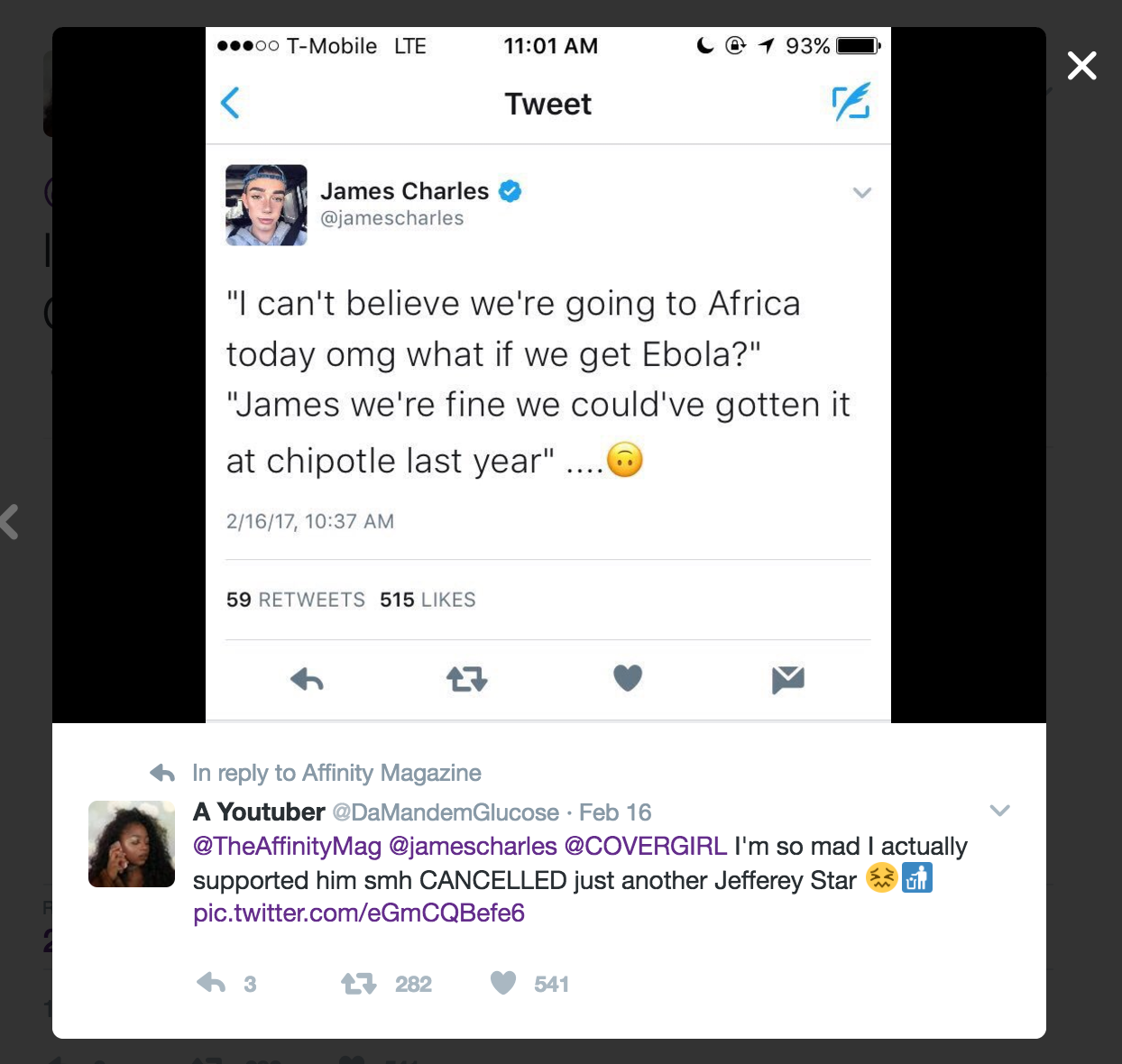 VOTE NOW! Is this Funny or Offensive?
Posted in:
A Make (Things) Up Tutorial
February 19th, 2017 – The first male face of cosmetics giant, COVERGIRL, is going to need more than blush to conceal his first high-profile misstep. The popular vlogger and Internet makeup expert, who was just tapped to represent the company, was looking less than fierce after posting (then quickly deleting) the standard-issue White Person Goes to Africa "joke" on his Twitter account.
Ahead of a school trip to the nation of South Africa, Charles' tweet mused about the dangers of contracting the deadly infectious disease, ebola, upon setting foot in Africa. As of March 2016 the World Health Organization, the international body responsible for monitoring global disease outbreaks issued a report declaring the illness had been contained and the ebola-related state of emergency in the western region of the continent was over.
The seventeen-year-old Instagram personality made matters worse in a hastily posted statement that expressed regret for making the remark in such a way that suggested he thought Africa was a country and not a continent. Charles issued a follow-up apology explaining the mistake and vowing to take responsibility for his words.
— James Charles (@jamescharles) February 16, 2017
The Internet was swift and merciless in its repudiation of Charles' comments. Former fans of the teen and COVERGIRL proceeded to drag Charles through the social media mud and even uncovered several since deleted less than flattering tweets Charles posted about Indians, Mexicans and African American women. The company issued a statement via its Twitter account in response to the PR fiasco saying:
"James Charles' tweet does not represent COVERGIRL's perspective. We agree his statements were inappropriate but appreciate that he has issued an apology. We are an inclusive brand and respect all people and cultures."
Despite the controversy, Charles remains a part of the new COVERGIRL campaign and no formal announcement has been made regarding the release of a planned commercial featuring the aspiring professional makeup artist.
Do you think James Charles' joke was Funny or Offensive? Should COVERGIRL have taken any further action? Vote and comment below.